Inspiration Article
Style and substance: a reliable paint you can hang your reputation on
Razor-sharp skill. A keen eye for detail. And a passion for results. The stand-out attributes of a professional decorator are even stronger when you have the right tools for the job – starting with a quality product such as Dulux Heritage – ensuring you've got the complete package to offer prospective clients. Not only can you rely on its unrivalled finish, but you can be assured of a smooth application, too, which means that using our paint is as enjoyable as it is efficient. We're ready to hang our reputation on it – are you?
Long-lasting luxury
Within the Heritage Collection are two quality finishes developed by professionals for professionals: luxuriously smooth Velvet Matt for walls comprises premium quality pigments for depth of colour and specially-blended clays for ease of application; and equally brilliant low-sheen Eggshell for woodwork packs just as much of a punch for top-notch trim. Both work in perfect harmony together for any paint project and deliver a beautiful aesthetic with genuine durability. It's colour you can count on – and confidence in every can. We're so confident that you and your customers will love Heritage paint that it is covered by the Dulux Promise, meaning the exact results you expect, or your money back.
'I've been really impressed with Heritage paint. I've been renovating my family home and have used it in every room so far'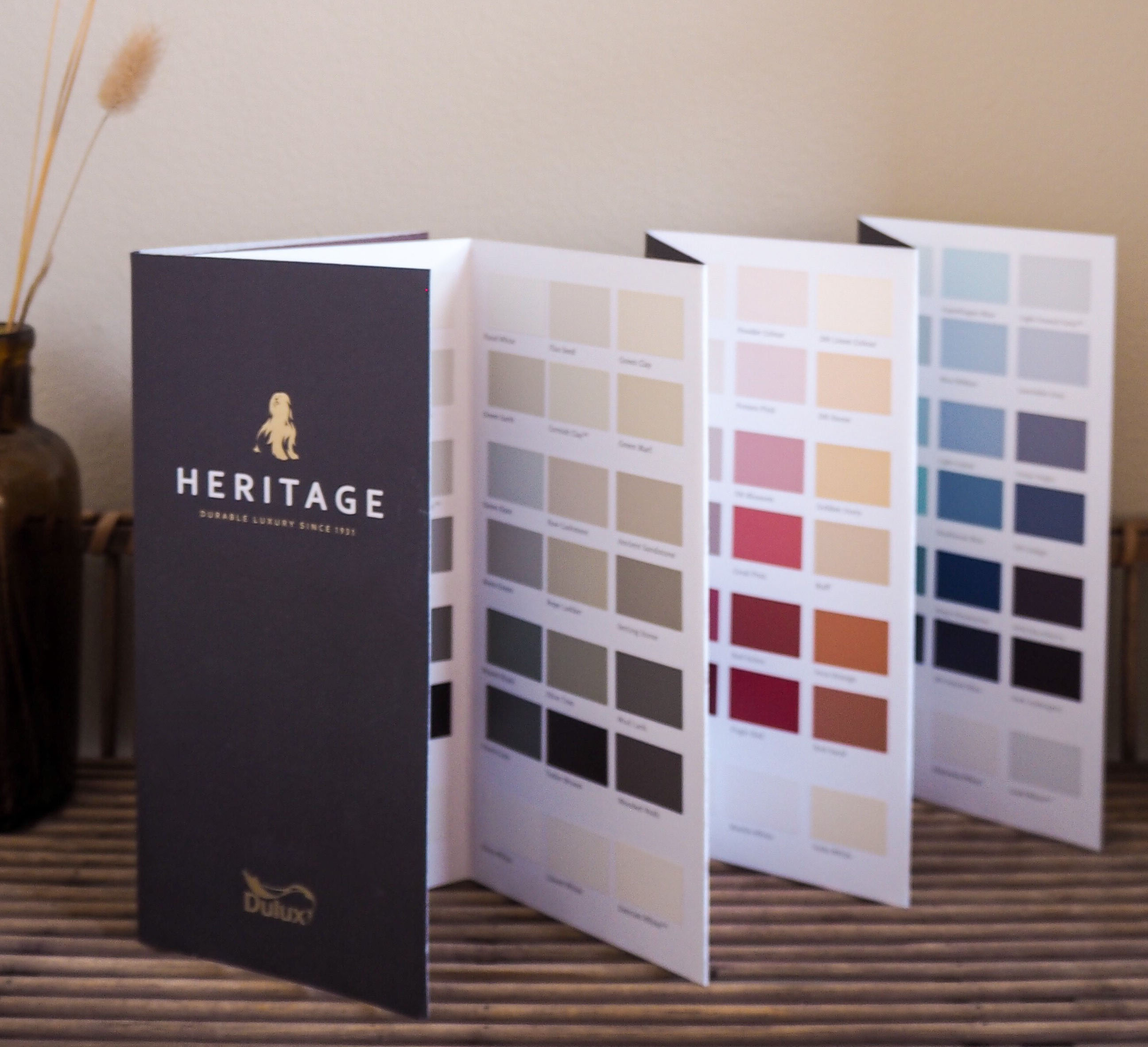 Rich colour palette
What's more, there are a total of 112 colours to choose from as part of the Dulux Heritage collection – all carefully curated by our panel of esteemed experts – resulting in a palette that's truly timeless for even the most prestigious of projects. We've taken the classic shades of yesteryear as favoured by the Victorians and Edwardians – the likes of duck egg and deep aubergine – and given them a thoroughly modern twist for truly contemporary homes. What's more, we've incorporated the colours and tones that are trending right now – and ones we predict will fly in the years to come – ensuring a palette that's future-proofed and will remain relevant with your client base. Indeed, there's something to spark the imagination of even the most discerning of customers and fire up creativity for any space in the house, from a living room to an entrance hall. Whether strong or subtle, all our hues are full of charm and character, and serve up something distinctly different to what is commonly found on shelves.
'Loving the Heritage range and so are our customers'
An education in colour
Better still, our raft of cutting-edge tools support you in selling-in colour to clients, whether it's printed collateral such as the handy fandeck or series of colour cards, or digital assets like the insightful 'Tasting Notes' articles or intuitive Colour Wall on our website. Everything is designed to help you dig into the detail behind each shade and equip you with the knowledge to have an authoritative conversation with clients about colour.
'If I could turn back time, if I could find a way... I'd redecorate my whole place with Dulux Heritage'