Inspiration Article
Masterclass: Woodwork Paint Finish with Heritage Eggshell
When it comes to redecorating, you tend to focus on your walls. But actually, you can really accentuate the qualities of each room in your home, by giving some love to your woodwork. Windowsills and frames, skirting boards, doorframes... giving them a lick of paint can really tie a room together.
Most people gravitate towards eggshell paint for wood, and for good reason. But what is eggshell paint? Well, eggshell isn't quite as glossy as silk or satin paint. It's an inbetweener. Think of it as matt with a subtle sheen. Use it right and it can give your room a really elegant and classic finish, which complements the Heritage Velvet Matt finish beautifully here.
A good place to start is with Dulux Heritage Eggshell. It's a washable and durable paint designed to give your woodwork and metal a smooth, low-sheen finish. It's formulated with premium pigments to guarantee you get an excellent depth of colour. If you're wondering, does eggshell paint need a primer, it's worth knowing that it's actually self-undercoating, so you can get a great finish from just two coats. It's why so many choose eggshell paint for skirting boards as it is quick and easy to apply.
Here are 4 simple ways you can champion the interior woodwork in your home:
1. Tie the room together using similar colours on the walls and woodwork
You tend to think of whites as being striking and crisp, maybe slightly cool. But actually, if you go for a gentler white, you can get a simple, clean look that has warmth too. Here, we went for Romney Wool on the walls with China White on the door and window frames. Painting similar colours round the doors and windows helps the room feel bright and breezy. Yet at the same time, there's a hint of yellow in China White, which accentuates the sunshine spilling in from outside.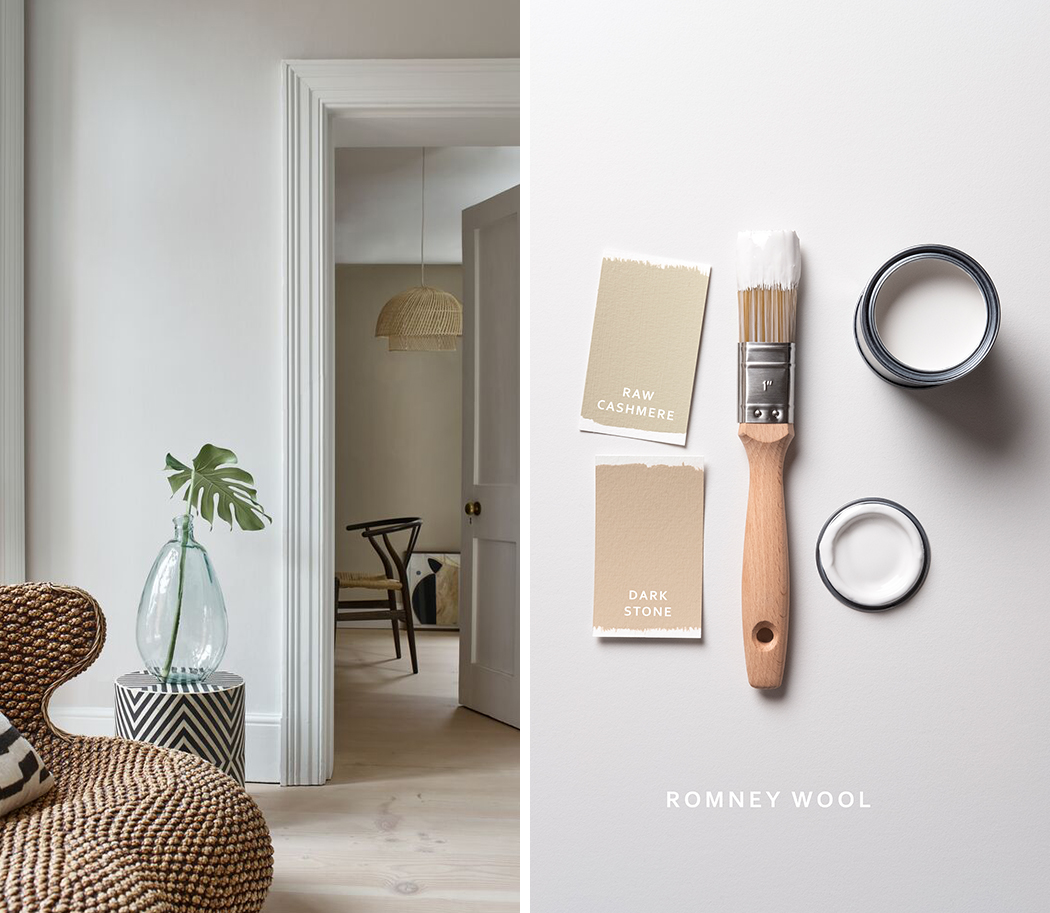 2. Don't be afraid to be add colour to your woodwork
Cool eggshell colours like blue are great for giving your space a classic and calm vibe. Blue is a colour most of us feel comfortable around, making it a good choice if you're looking to create a room for working in. Here's a tonal combination we think works really well. We teamed DH Oxford Blue, on the walls, with Deep Ultramarine on the door. Opting for a blue door over a white door helps it subtly standout, without taking away from the feel of the room. The result is a room which feels classic and modern at the same time. Furnish with a 60s-style desk and chair and you have the ultimate contemporary office or study.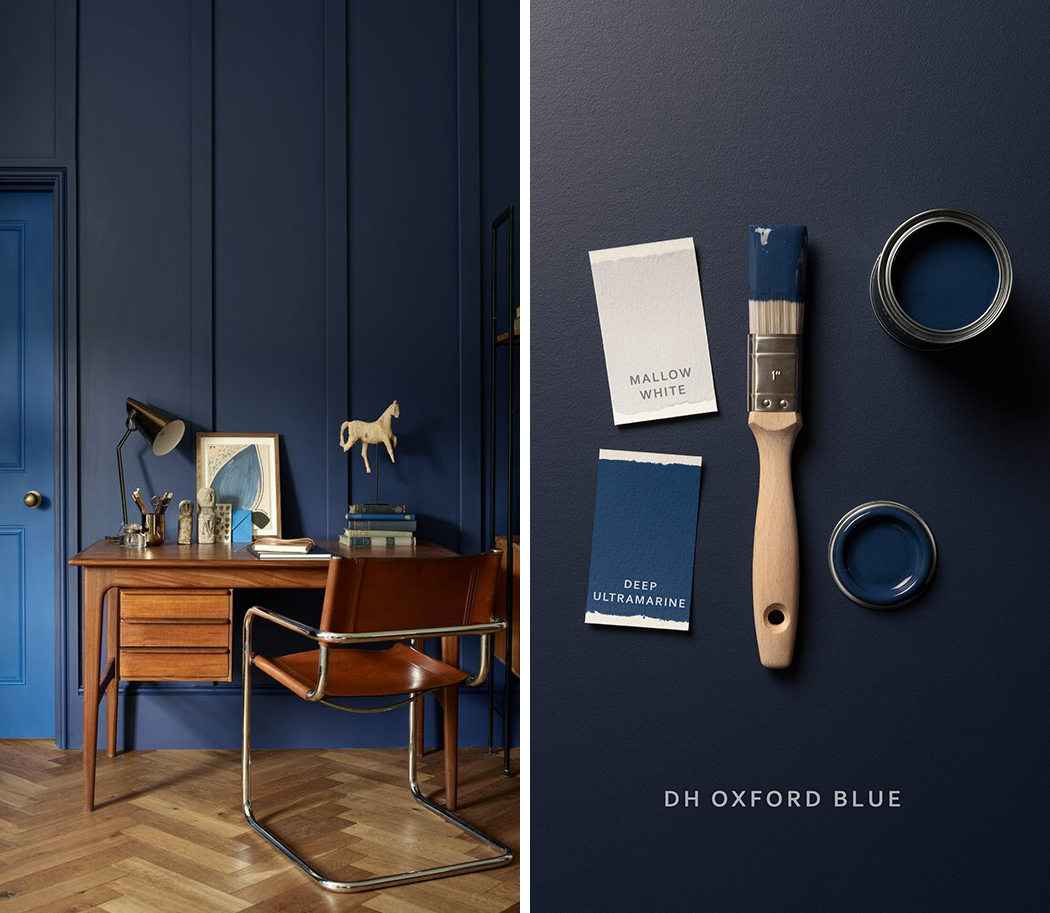 3. Go for eggshell on your furniture for a chic contrast
There's no rule that says you have to limit your use of eggshell paint to your door and window frames. In fact, for a really striking look, it's worth considering taking it a step further and painting your furniture too. For example, here we started by painting the walls in silky soft Potters Pink, which we then echoed in our choice of throws and soft furnishings. Yet, what really makes the room sing is the contrast between Potters Pink and Mud Lark, which we used on the panelling and wardrobes. It's a beautiful deep brown, which recalls the sturdiness of tree trunks, lending the room a timeless, luxurious feel. Eggshell paint is for wood, so don't be afraid to use it on furniture!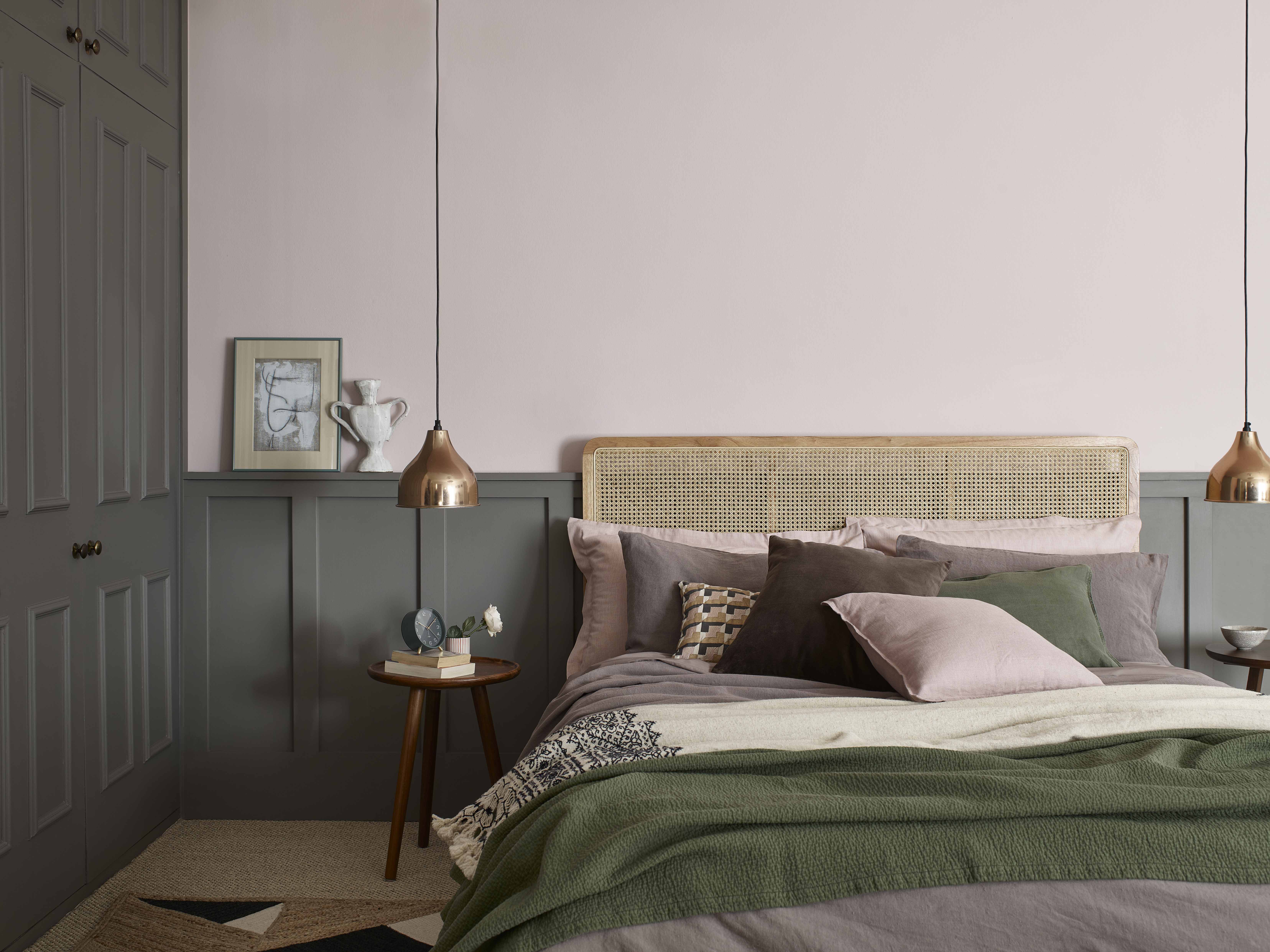 4. Add character to your home by painting the panelling
What is eggshell paint best used for? Right now, we'd say trying out the latest interior trends! If you want to go a for a country cottage style in your home, then painting the panelling in eggshell is a great way to get the look. What's great is that it gives your room instant character. Plus, if you select the right paint combination, you can add even more interest. Here we've gone for Pumice Brown, which is a warm neutral eggshell colour with soft pink undertones. Notice how it gives the room a real sense of history, which we've counterbalanced with the more Modernist lighting and furniture.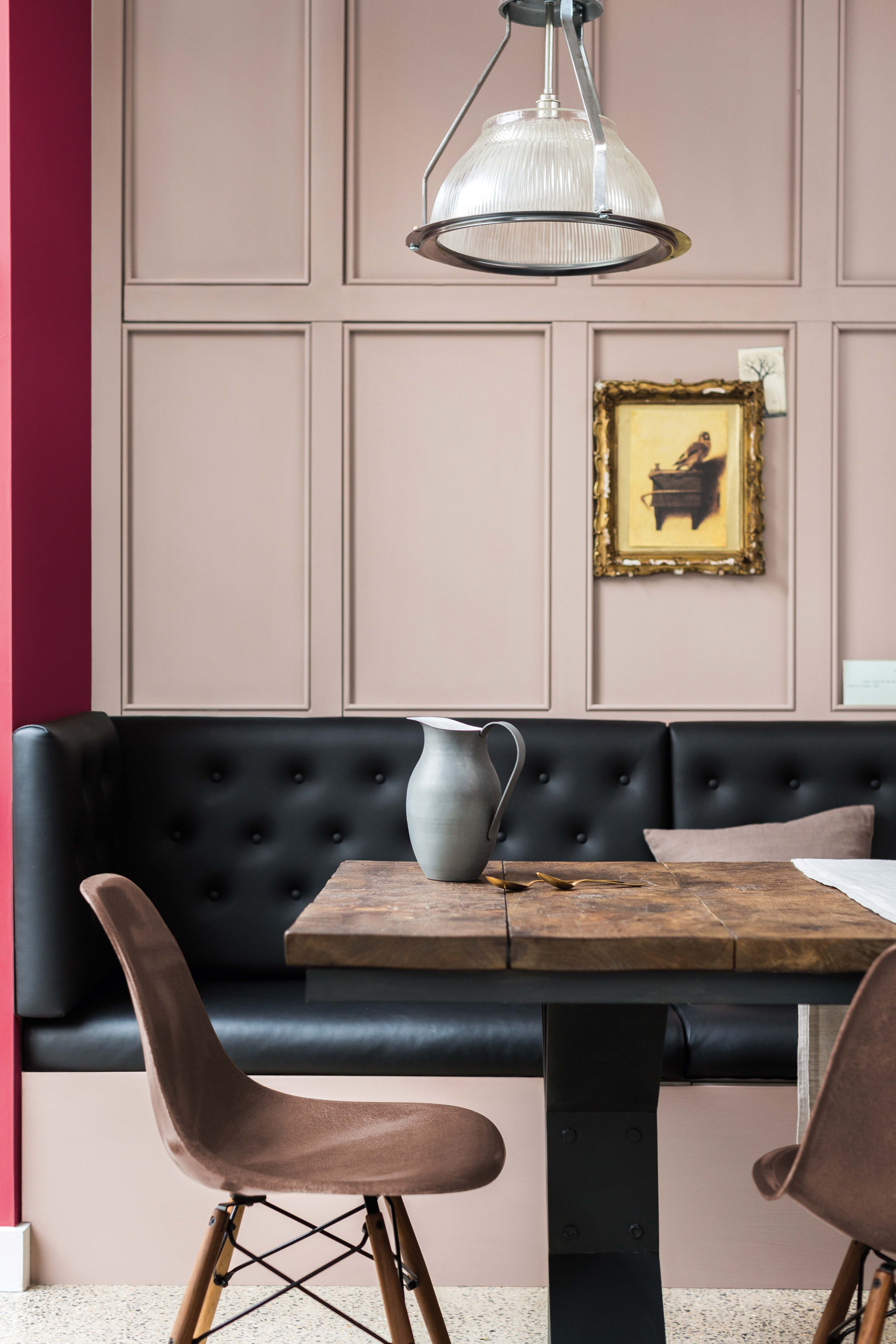 Apply your eggshell paint like a pro
If you were weighing up eggshell vs satin, or eggshell vs gloss, we hope we've helped you see why eggshell paint isn't just for skirting boards! Now it's time to make sure you have the right tools to apply it like a pro. To get the best finish, we'd recommend using a synthetic bristle brush and lightly dampening the surface to allow the paint to flow smoothly for a fabulous finish. It's also good to know that Dulux Heritage Eggshell is a water-based paint which means it dries quicker than solvent-based paints, so you could easily apply two coats in the same day. Water-based paints also have less odour so if painting on a chilly day, you won't need all the windows open!
If you've decided that eggshell paint is the perfect choice for you, explore our stunning range of classic Dulux Heritage colours here all of which are available in our eggshell finish.