Inspiration Article
Tasting Notes: DH Blossom
A classic colour in our heritage collection, DH Blossom is inspired by the pretty flowers that once bloomed in the fabulous gardens of Victorian cottages, and feels as contemporary today as it did back then. Petal-pink with a hint of yellow and a dash of grey, it's a gloriously soft hue with a grown-up edge, and has a timeless look with a versatile quality. Pep-up cool, north-facing rooms or tone-down south-facing spaces flooded with light. Beautify your bedroom with a sense of calm or give your dining room a touch of grandeur. Like an irresistible strawberry mousse – best swirled onto surfaces using slow, tactile strokes – the ingredients in this inspiring mid-tone make it utterly delicious, no matter what room you decorate.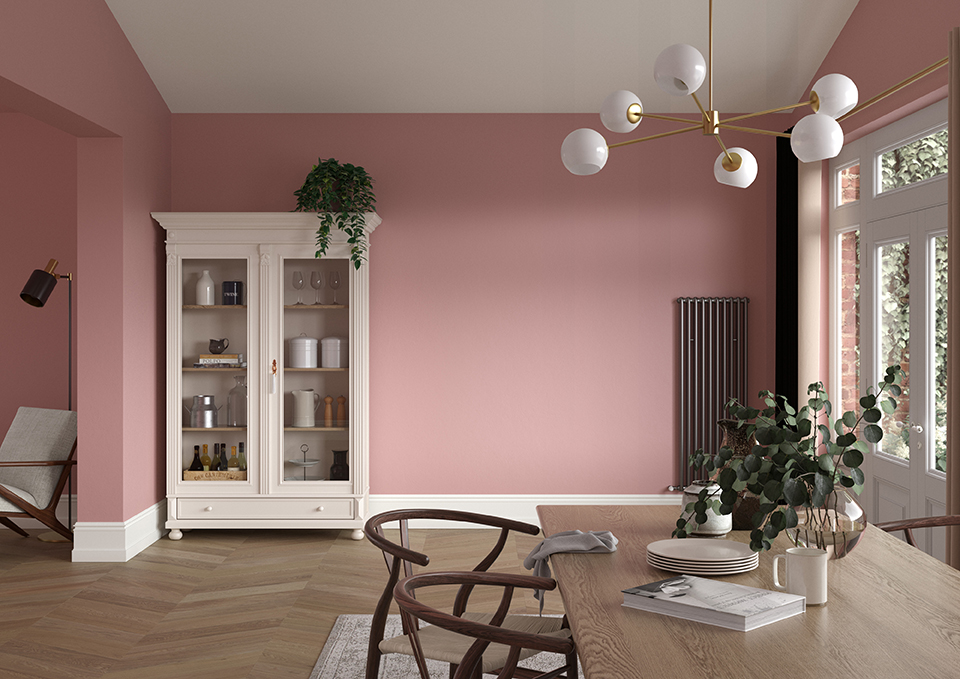 Dripping with drama
A simple but stylish way to make an impact with DH Blossom is to use it as one statement colour in a space like an open-plan kitchen. With the dusty-pink shade flowing continuously from wall to trim, and blending seamlessly from zone to zone, it brings instant drama and makes rooms feel decidedly bigger than they are (perhaps it's the secret the Victorians were sitting on all along?). Co-ordinate with a ceiling in a colour such as China White for a look that's clean and modern, then add contemporary fixtures and fittings to complete the look, whether a chic spin on a chandelier or a twist on a traditional radiator. The result? A perfect blend of past and present.
Immersive inspiration
To take DH Blossom further – and add lashings of charm and character – paint the beautiful petal-pink over panelling in a bedroom. No panelling? No problem. A skilled carpenter can easily create period-style detailing in even the most contemporary builds, without breaking a sweat or the budget. For even more punch, paint woodwork accents such as the bedroom door and surrounding frame to create an immersive space that cocoons and comforts. Spot-on for lulling you to sleep.
High fashion
It may be the oldest trick in the book, but painting the cornice above the rest of the wall in a lighter colour will make the ceiling seem higher than it is. In this luxe living room, we've plumped for contrasting but complementary Pale Nutmeg and DH Blossom, resulting in a space that feels impressively grand. Soft furnishings that nod to bygone eras, such as a button-back sofa in sympathetic olive green or cocktail chair in matching pink, add to the glamour.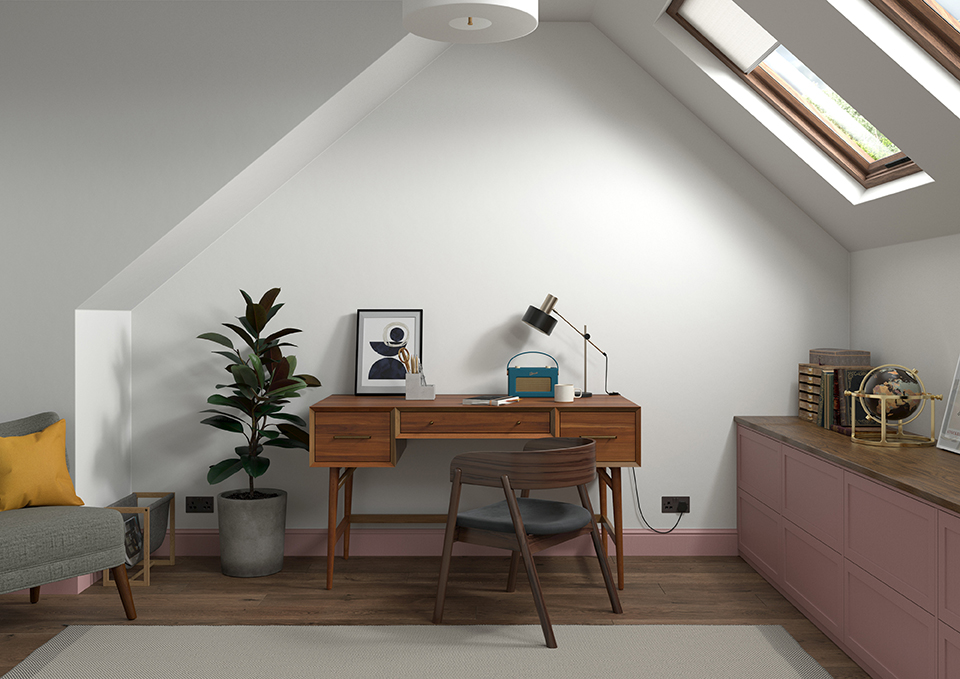 Finishing flourishes
Sometimes, it really is all about the details, such as in this contemporary home office with crisp, clean walls in Mallow White and look-at-me woodwork in DH Blossom. While the white is dominant on the wall in front of the desk, it's the pink that really pops, complemented by matching cabinetry that's as stylish as it is functional for storage. A happy compromise for those who want to flirt with colour but not commit to whole surfaces in rosy hues.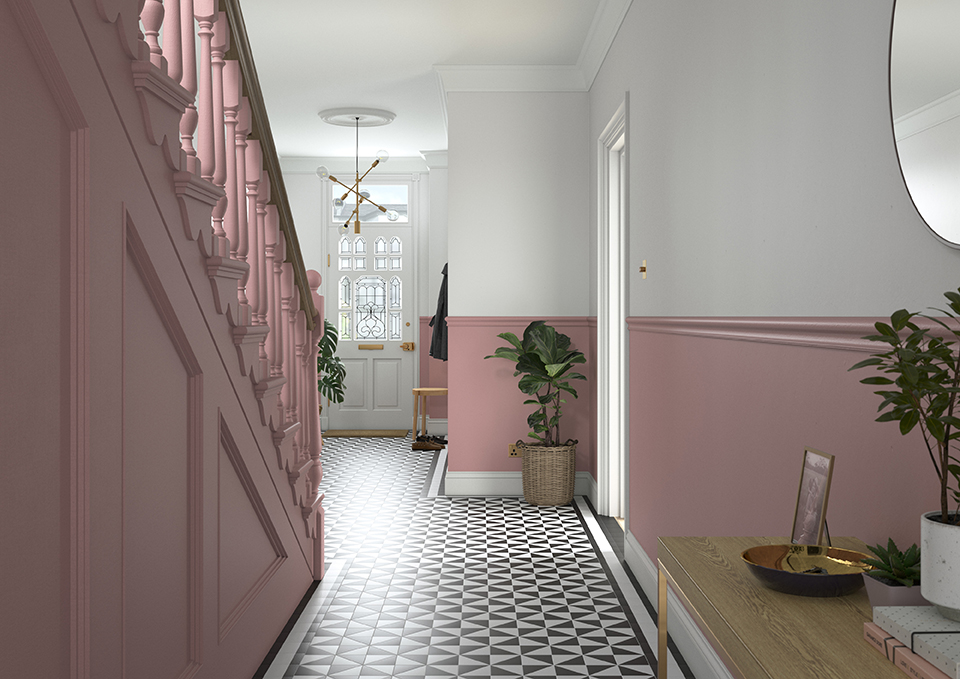 Layered luxury
A split-wall effect is a tried-and-trusted technique that elongates narrow spaces such as hallways and shines a light on architectural detail. DH Blossom and China White work in perfect harmony here, while a matching staircase that picks up on the pink creates a powerful opening statement. Talk about making an entrance!
Commit to colour
Not only does DH Blossom look beautiful, but it feels gorgeous under your fingertips, with a velvety matt finish for walls and an eggshell with a soft sheen for woodwork. Perfect for creating spaces that are cosy and comfortable, team it with pinks and greens, and pair with natural materials such as buttery leathers and characterful woods. Seriously on-trend but oh-so traditional, it's no wonder it's the shade that everyone is talking about. Try it today by ordering a tester or commit to colour by choosing a can.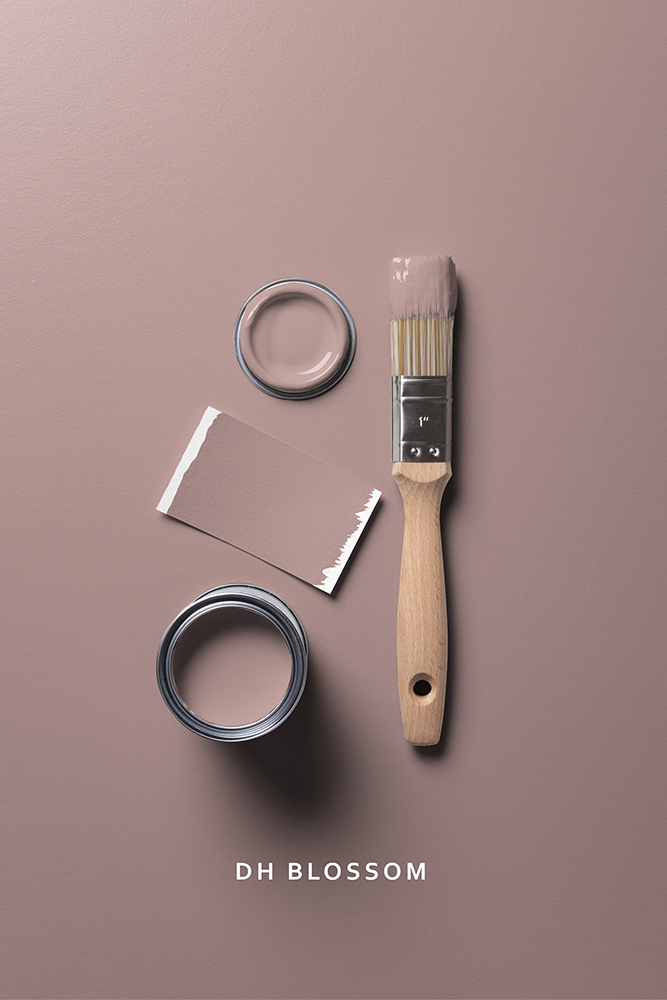 Share your Heritage colour story with us on social using #MyHeritageHome and tagging @DuluxHeritage – you could feature on our Instagram and Facebook pages.