Inspiration Article
Tasting Notes: Raw Cashmere
It's not often you can say that a colour works with every other colour, effortlessly, is it? But that's exactly what Raw Cashmere, a refined mid-tone neutral, brings to the table. Soft and sumptuous, it's one of the most versatile shades in the Heritage Collection, and lies somewhere between sandstone and khaki. A subtle hint of green connects it to the natural world, too, and creates both cosy spaces and a sense of expansiveness. Spot-on for rooms you want to kick-back and relax in, like your bedroom or living room, it can help you unfurl and unwind, rest and sleep. Dreamy, right?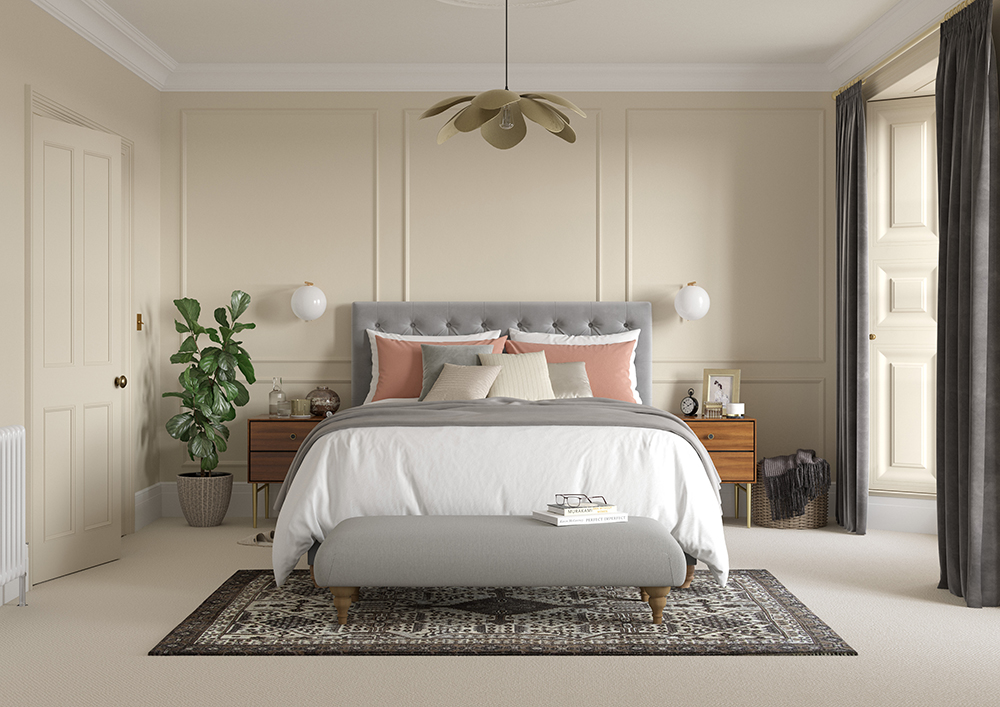 Simply dreamy
Soft and soothing, Raw Cashmere makes for a calming environment on the walls and door in a bedroom, complemented by fresh Wiltshire White™ on the skirting and cornice. Bring the whole look together with an on-trend painted ceiling in warm Linnet White – a natural partner for the khaki pigments in Raw Cashmere. The result is a room for pure relaxation that would lull even the lightest sleeper into a deep slumber. Finish with accents in blush pink and luxe accessories in bolder shades.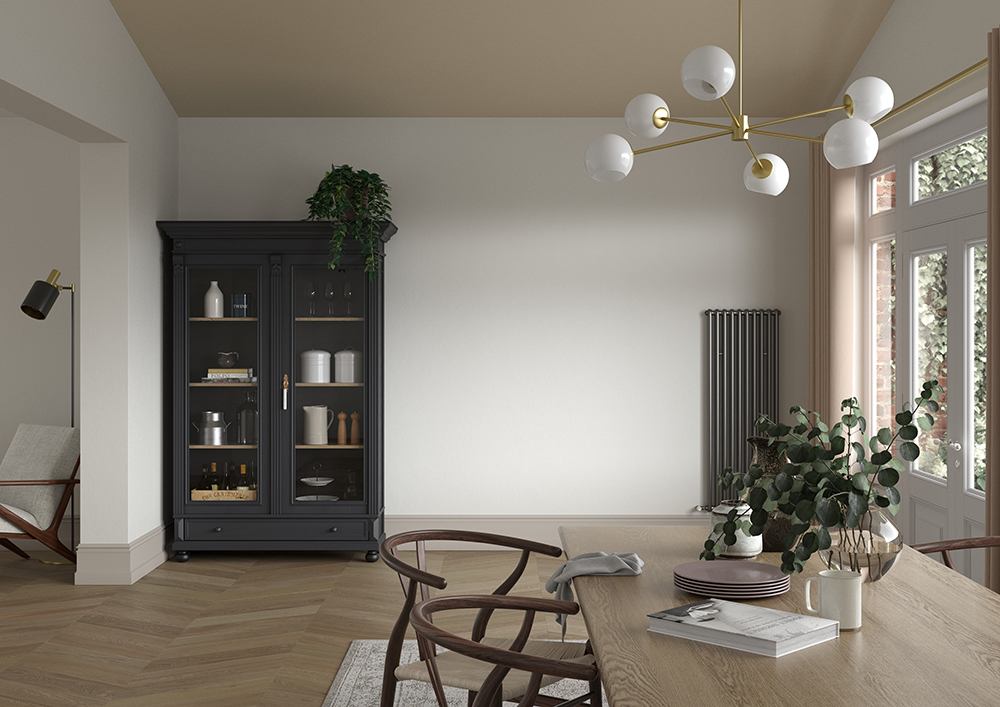 Natural selection
Connect the view outdoors with your dining room interior using Raw Cashmere. Its green tint means it will pick up on natural foliage in your garden and seamlessly bring the outside in. Here, we've offset pale Romney Wool™ on the walls with cosy Raw Cashmere on the ceiling, resulting in a balanced space that feels light and bright, but equally intimate. Finishing touches come in the form of woodwork in muted Pebble Grey and a dresser in glamorous Ravens Flight.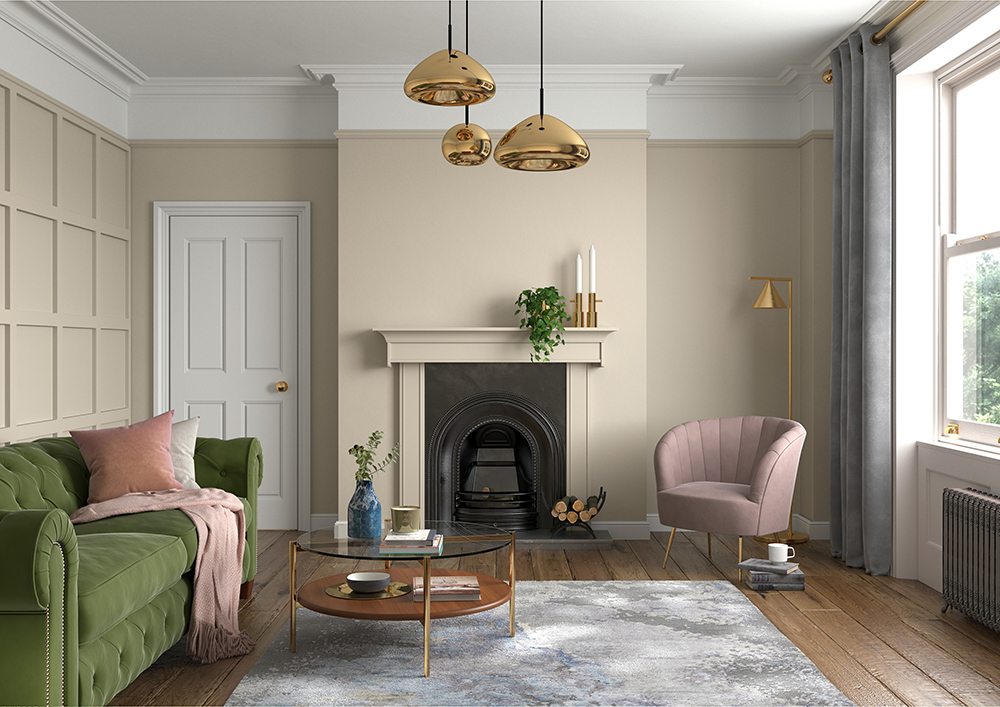 Seriously laid-back
A living room is for unwinding at the end of a long working day, so the colours should create a sense of calm. Raw Cashmere is just the thing, washing away your worries when painted on the walls, while woodwork and a ceiling in gentle China White adds to tranquil tones. Enhance Raw Cashmere's natural softness with tactile materials and textures, whether in a chic velvet green Chesterfield, or layered cushions and throws in cool pinks. The perfect spot for a bit of you-time.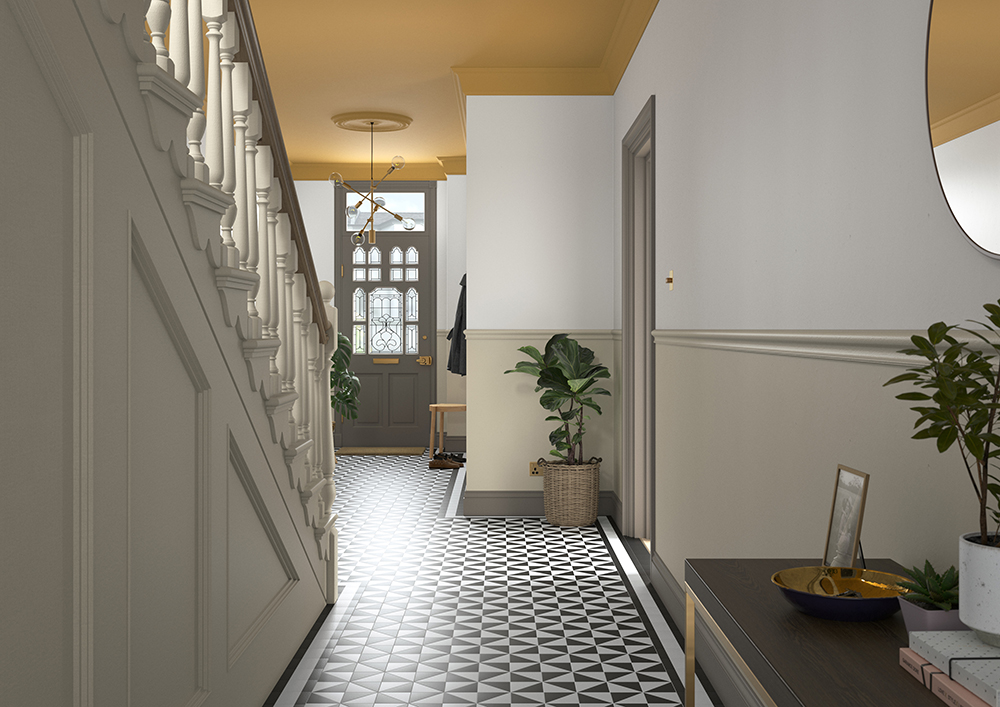 Beautifully balanced
Carve out a subtle but stylish hallway using Raw Cashmere on the wall and staircase, then add flair with a trendy painted ceiling in Brushed Gold. The opulence is toned down a touch when teamed with Raw Cashmere, making for a beautiful but balanced look. Here, the upper-wall has been painted in ethereal Roman White while the woodwork is restful Mud Lark, allowing the surrounding shades to do the talking.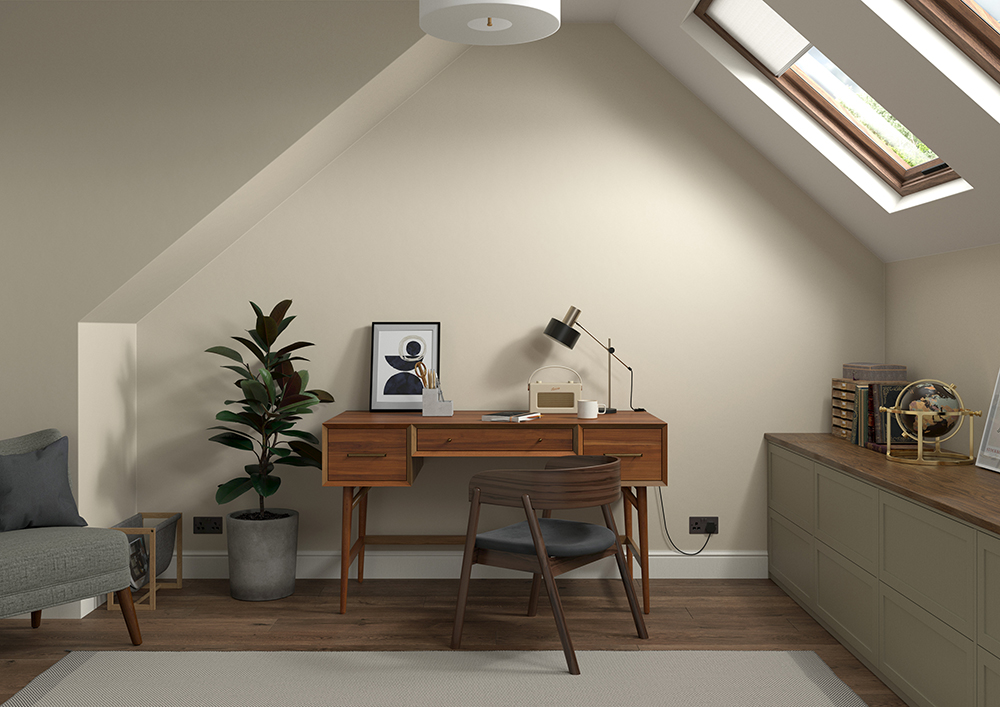 Work it
Instilling focus and concentration in a home office starts with inspired colour choices. We've opted for Raw Cashmere on the walls to add softness to a designated work space, together with sunlit Grecian White™ on the woodwork and ceiling to maximise space and light in a converted loft. Combined, the look is smart but comfortable, with a cabinet in Olive Tree adding further warmth.
Commit to colour
Not only does Raw Cashmere look beautiful, but it feels gorgeous under your fingertips, with a velvety matt finish for walls and an eggshell with a soft sheen for woodwork. Perfect for creating spaces that are calm and tranquil, the soft mid-tone has a hint of green that connects it to nature, and is an adaptable colour for relaxing rooms. Try it today by ordering a tester or commit to colour by choosing a can.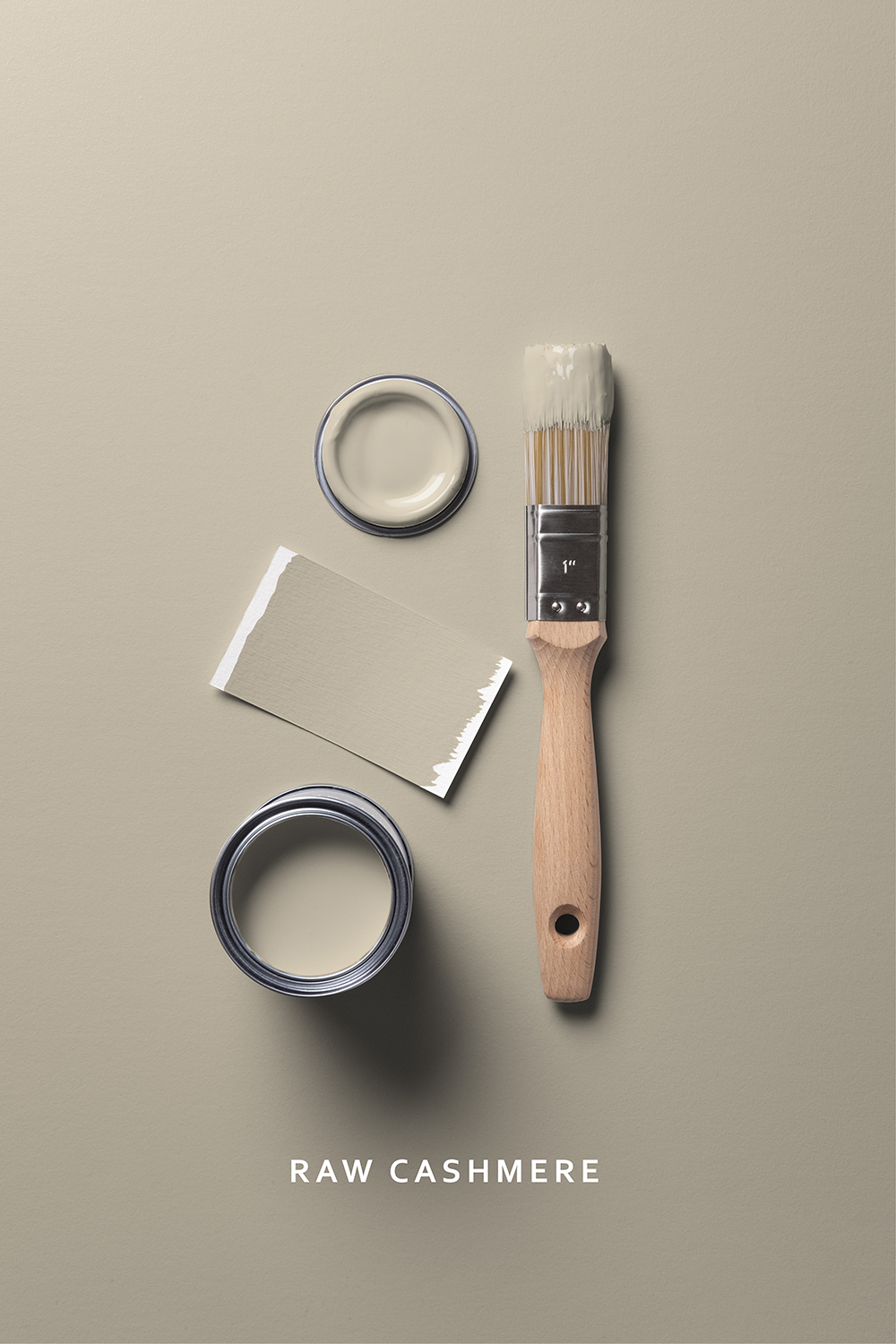 Share your Heritage colour story with us on social using #MyHeritageHome and tagging @DuluxHeritage – you could feature on our Instagram and Facebook pages.