Inspiration Article
Masterclass: Create boutique hotel vibes from the comfort of home
You don't need to go away to get away, as the hotel-at-home trend proves, with everything from fine thread-count sheets to fabulous designer toiletries helping to recreate five-star accommodation from the comfort of your own bedroom or bathroom. But it's not just about the styling: colour is key to creating the kind of chic environments that have become synonymous with some of the world's best stays. Here, we reveal the design secrets that hoteliers have long been keeping to themselves, and show you how to harness them in your own home. It's time to check-in and check them out…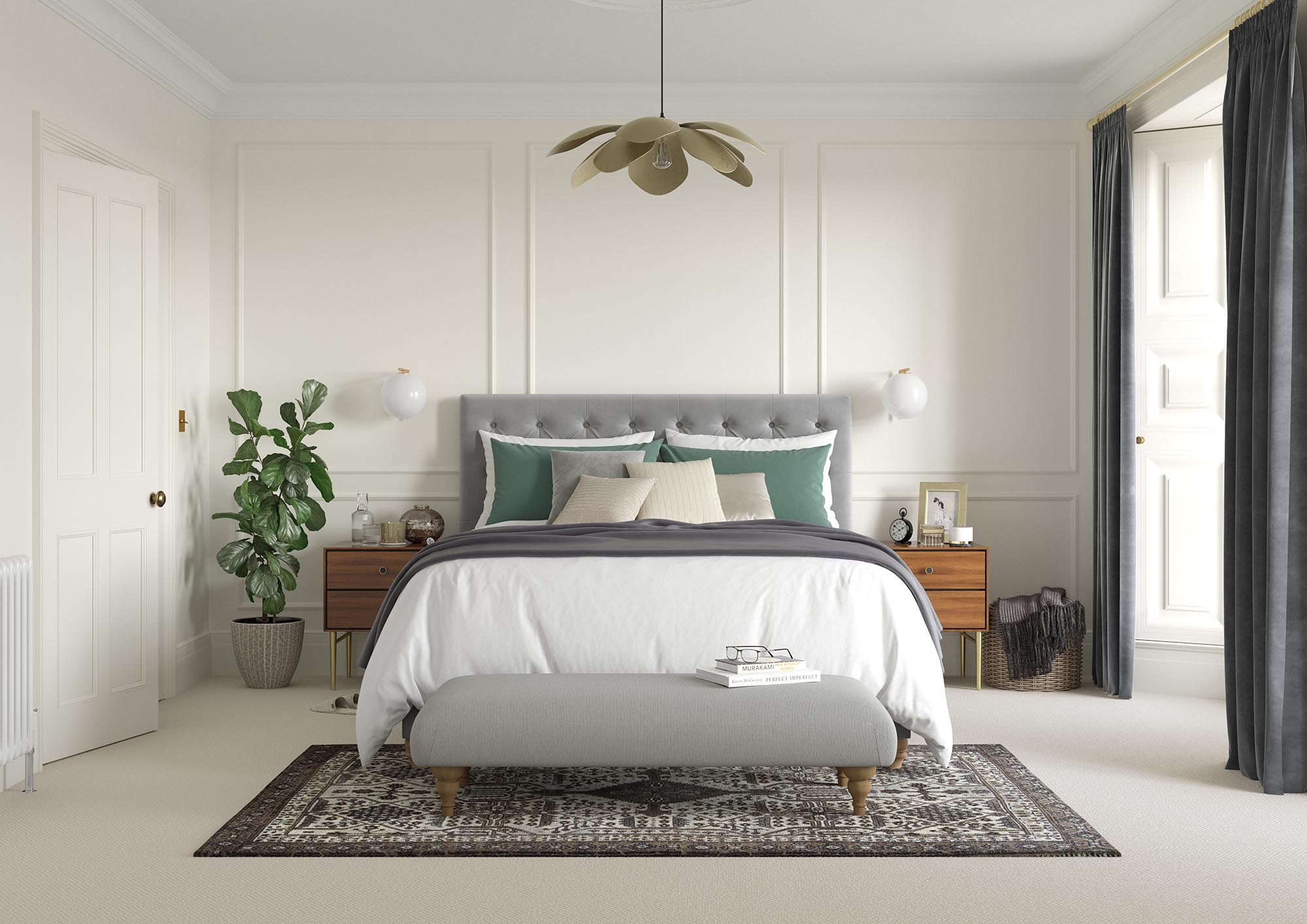 Make your bedroom a boutique
A memorable hotel experience usually begins with a marvellous hotel room. Good lighting. Quality linen. Luxurious amenities. Good news, then, that it's not that difficult to recreate the décor with a lick of paint and a little know-how. While styles vary wildly, some hotels opt for a crisp colour on the walls with matching woodwork for an unfussy backdrop, all conducive to relaxation. You can never go wrong with a neutral, whether the sunlit tones of Grecian White™ (above) inspired by the glamorous islands of the Cyclades, or spring-like Indian White evoking the exoticism of far-flung shores. For an equally soothing shade, albeit with a little colour, plump for pastels: create a Cotswold bolthole with Stone Green or a Miami dream with Sky Blue. Once a colour scheme has been sorted, it's time to have fun with furnishings, starting with a beautiful bed as the star of the show (invest in the biggest and best your space and budget will allow), followed by highly-styled bedside tables with low-level lamps. You can never have too much texture, either, so layer up that bed, and if you've got room, an occasional chair screams opulence.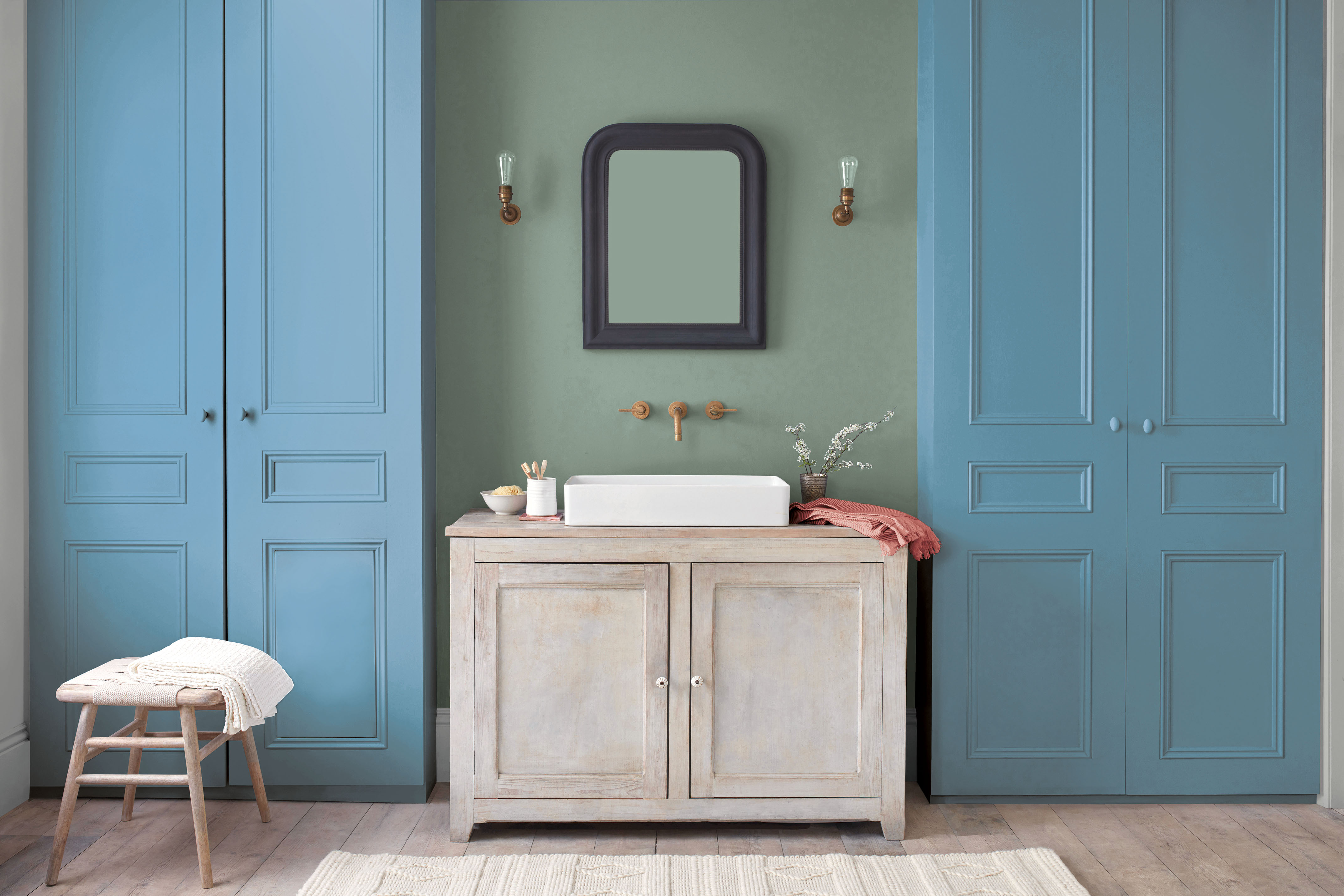 Style your bathroom as a spa
From jacuzzi baths to power showers, there's something so seductive about a hotel bathroom, and that's before you've even coveted the toiletries at your disposal. But why wait until checking-in somewhere other than home to seek much-needed sanctuary? We all need downtime, preferably daily. Fortunately, soothing shades can create a cocooning environment in your own bathroom when selected carefully, with subdued colours like blues and greens simply melting the stress away… Why not combine both for maximum impact? Sage Green and Boathouse Blue can be used together to create a harmonious but striking look (above), paired with a neutral vanity unit and pink accessories.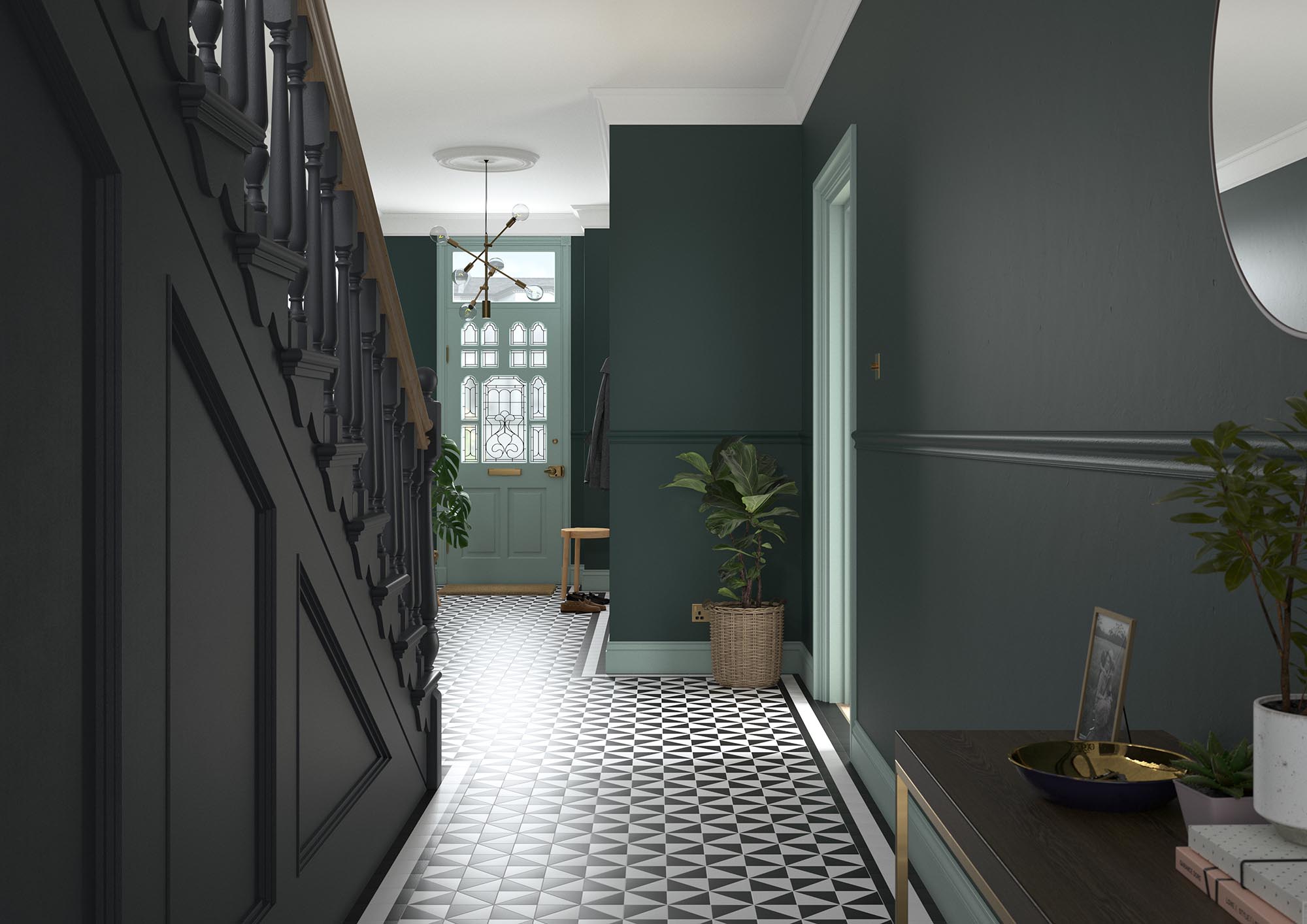 Give your lobby some luxury
Nothing welcomes you quite like the grand lobby of a luxurious hotel. Luckily, you don't need epic proportions to make an entrance, simply a flair for the dramatic. While light and bright rooms are favoured in the bedrooms upstairs, hotels often use dark and decadent colours and patterns in their public spaces, both of which help to create a feeling of intimacy in even the largest rooms. Luckily, dark colours work just as well in small areas, meaning you can recreate the look wherever you live. Go big and bold with grey or blue – deep Forest Grey or sumptuous DH Oxford Blue look slick and sophisticated – or take it one step further with Ravens Flight, a cool black with Art Deco credentials. Otherwise, glamorous Mallard Green looks utterly luxurious, with the rich green adding warmth and grandeur in equal measure. Whatever dark you decide on, offset with oversized mirrors, metallic accessories and lush plants, and guests will be hard-pressed to leave…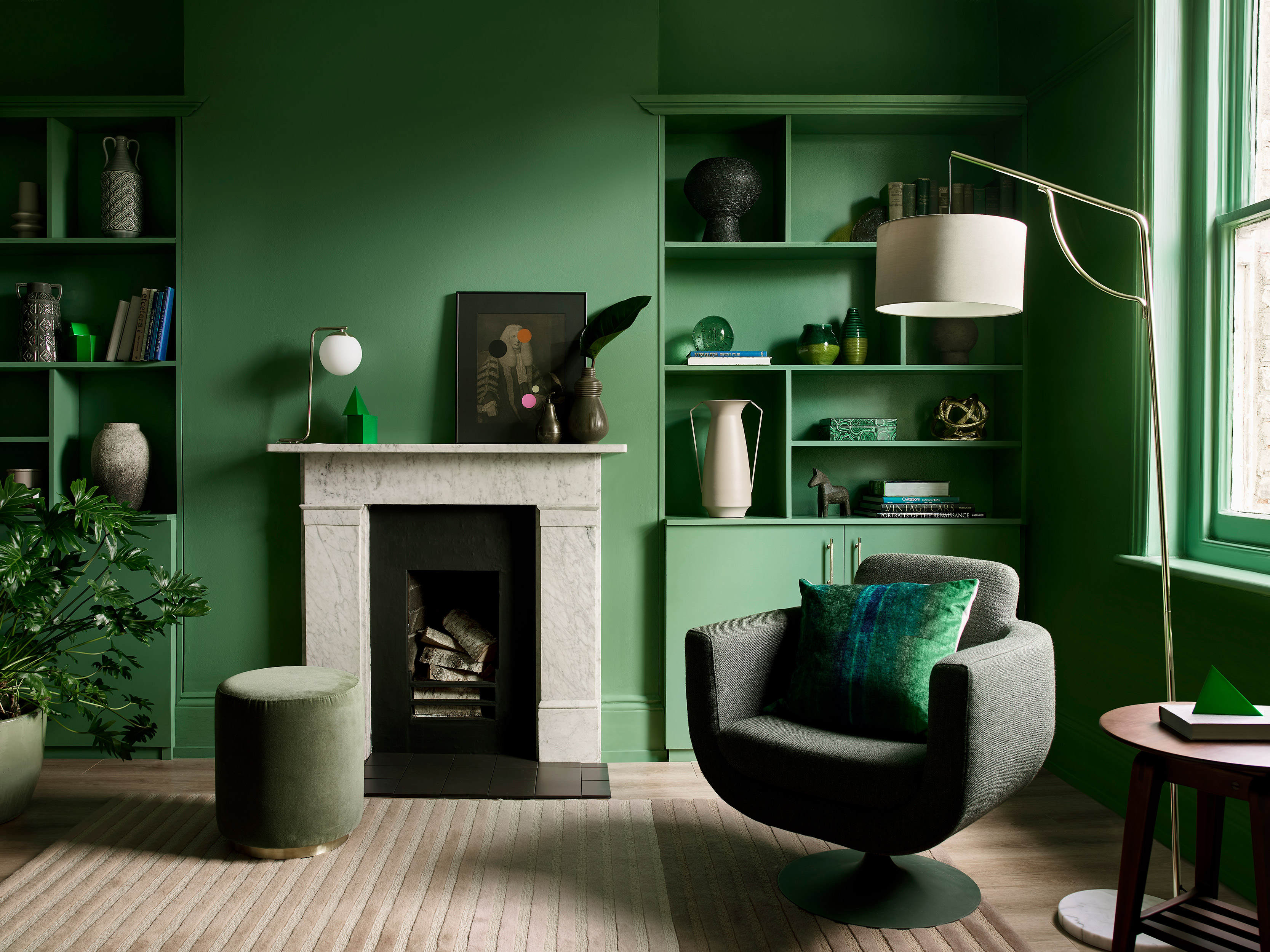 Carve out a chic communal space
Is there anything nicer than dressing for the evening and coming down for a pre-dinner cocktail? Rather than staging your living room around the television, make a period fireplace or two sofas facing each other the main feature, just like they would do in a luxury hotel (the TV can be hidden away in a cabinet or take its rightful place in a discreet corner). Next, paint your communal space the colour of a classic drawing room – take your cues from Downton Abbey – whether in cooling blues or refreshing greens. Colour-drenching everything, such as DH Grass Green on the walls and the woodwork, will put a modern spin on the palette and add a professional flourish. Beloved by the Victorians, who loved its long-lasting radiance, the lush green nods to nature and feels at once classic but contemporary. Finish by adding statement seating that's structural rather than slouchy, don't forget low and flattering lighting, and fill shelves with objects d'art and treasure tomes for interest and depth. Now all that's needed is someone to serve you that cocktail…
Three more hot hotel tips
Invest in good quality linen and towels to envelop yourself in luxury. Nothing beats the sensation of crisp, white cotton on your skin in bed, or a thick, fluffy dressing gown around your shoulders after a bath.
Set the mood with low-level lighting for a soft and flattering glow. Add flickering candles in clusters around the house. And pipe chill-out music from speakers to add to the ambience.
Finally, don't underestimate the power of smell, and use diffusers across different spaces to give your home a signature scent. Always opt for the same fragrance for strength and consistency.
Commit to colour
Not only does Dulux Heritage look beautiful, but it feels gorgeous under your fingertips, with a velvety matt finish for walls and an eggshell with a soft sheen for woodwork. Try it today by ordering a tester or commit to colour by choosing a can.
Share your hotel-at-home style on social using #MyHeritageHome and tagging @DuluxHeritage – you could feature on our Instagram and Facebook pages.