Inspiration Article
Colour Confidential: Influencers who are inspiring us with white
Last year, we predicted that white would be taking the interiors world by storm in 2022, and we weren't wrong. A craving for simpler times has led us to revisit the colour often seen as cold and clinical. Fresh iterations of the shade are anything but sterile – the curated off-whites in the Heritage Collection are full of warmth and depth – and help us to create spaces for rest and reflection, calm and concentration. Better still, white provides an unfussy canvas for experimenting with colour elsewhere, and is one of the most flexible hues there is – working in any room and with any colour. It's no wonder some of social media's biggest rising stars are shouting about white. Here, we caught up with four of them to take a look inside their homes, and find out how they get white so right.
Use the right white for better light
"Our house is large but dark," says Ashley, the homeowner behind @MrsKsKitchen, "so neutrals naturally bounce what little light we do have around rooms, and make it feel cheerier than the dark colours I've experimented with in the past!" With a crisp and clean style that's in keeping with the 'English country living' premise of her account – a recognisable aesthetic that has seen Ashley gain more than 10 thousand followers – she's a master when it comes to layering neutrals. She explains: "I use tonal shades to bring warmth and interest to my whites – and I play with different paint finishes to add texture and depth. A standard white would look too modern!" In the kitchen – the heart of any country home – the mother-of-two has used delicate Wishbone White on the walls and woodwork for a colour-drench that allows key pieces of furniture such as the dining table to take centre-stage. A wall-mounted vintage cabinet upcycled in white and a transparent glass chandelier on the ceiling add to the look. "Interiors are a real passion of mine and I'm finally at a point where I think I've got the balance right between giving a nod to trends and paying homage to the period heritage of my house."

Allow your accessories to do the talking
Covid has caused many of us to change how we decorate over the past couple of years. Emma from @HomeOnTheGrove – with more than 37 thousand followers enjoying snaps of her Grade II-listed cottage – is no exception. She explains: "I've spent more time than ever working at home and the front room is where I spend most of my day. Before, the room was painted dark, and I began to find it too overpowering. I wanted a lighter and airier space that I would want to spend time in, so I chose lively Wiltshire White™ with its slight hint of yellow to add a touch of warmth." Finished with a statement fan overhead and a vibrant orange sofa, the white backdrop allows Emma's fixtures and furnishings to "do the talking", and creates a calming backdrop for her busy life. Her top tip? "Ensure the rest of your room has texture to bring your white to life and stop it feeling flat. Think wooden floors, velvet sofas and woven cushions. A simple floor lamp fitted with a warm bulb can soften the mood of the room in the evening, too!"
Open up spaces and dial down the noise
"Anyone who has tried to decorate north-facing rooms come across the same challenge – how can I turn a naturally dark space into a light one?" That was the problem faced by @LetsCreateAHome – an up-and-coming Insta account by interiors-lover Nikolina that documents her first renovation of a 1930s fixer-upper – when she moved back to the UK from Denmark. She says: "I could have removed walls or replaced windows, but I had a specific budget to create my dream interior, so I went with the easiest and most cost-effective choice: paint! I chose a pure white without any grey pigments to create a clean and fresh effect that the rooms were missing." Certainly, Nikolina's kitchen-diner in gentle China White is a light and bright space for eating and entertaining, all without breaking the budget! "More than ever, we are trying to create homes with more space and less noise," she says, "and interiors are becoming less about what is trendy. White gives us the perfect canvas to find a stillness and create a timeless space." When it comes to adding stylish touches to white, Nikolina reveals it's all about incorporating colour, texture and shape, whether in a bold red vase, gleaming brass textures, or flowers and greenery. She says: "When you work with white, it's tempting to think that everything goes, but this is where things go wrong. Find your style and stick to the theme!"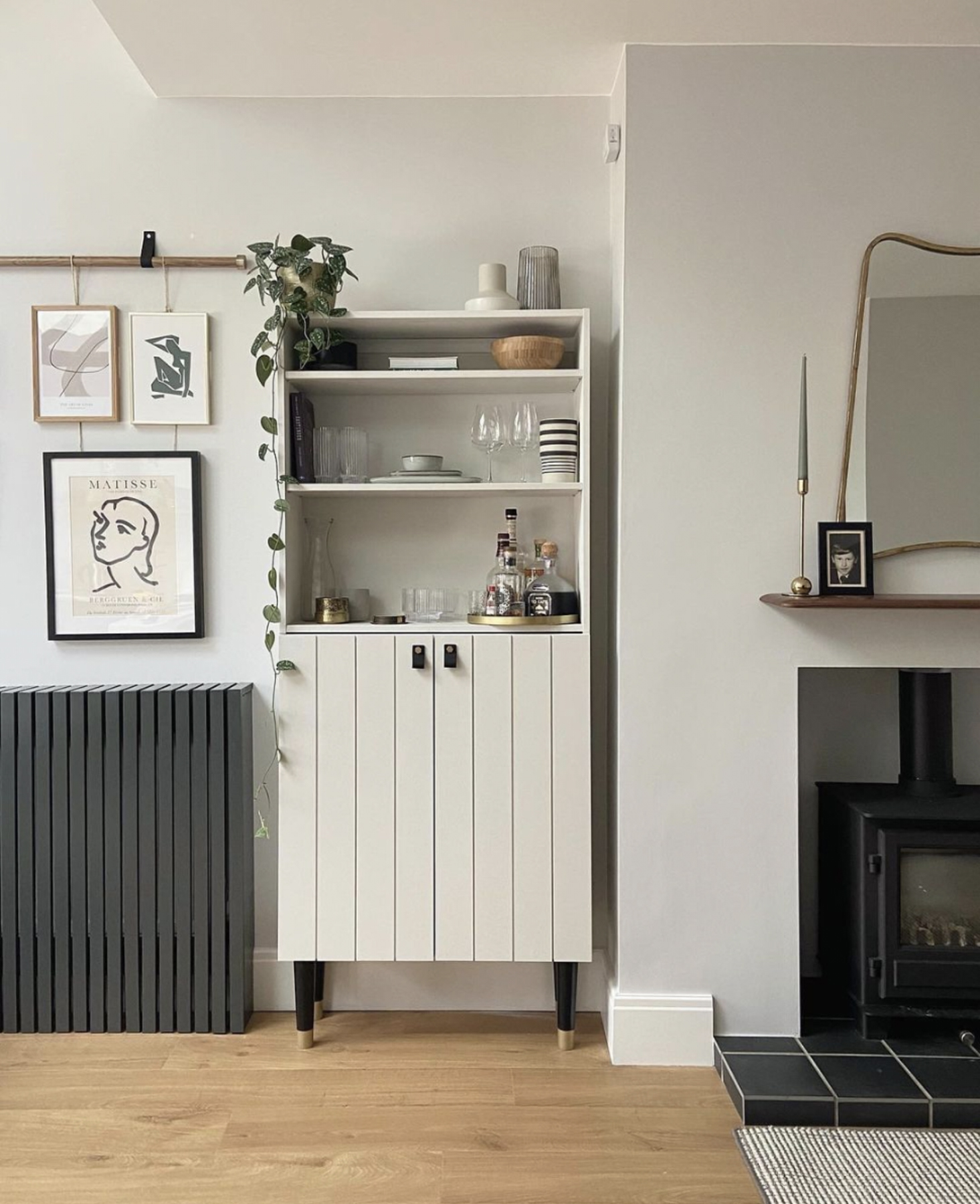 Use white as a blank canvas
Says Alice Hawkins: "I'm a big fan of using white and neutral paint colours on walls to create a blank canvas that showcases interesting pieces of furniture. I then add different textures and layers with fabrics and artworks!" As the interior designer behind the @Alterior.Living Insta account – with 11.3k followers – her quietly sophisticated Altrincham home is a masterclass in nailing neutral. "I chose Romney Wool™ for my open-plan kitchen as I picked dark navy units with a light quartz top," she explains, "so the paint complements this, and makes the room feel spacious and fresh!"
Three more ways to wow with white
1 Match white walls to white skirting for a look that's seamless and stylish. Not only will it hide unsightly skirting, but it adds height to a space, too. Otherwise, plump for something punchy, focusing the eyes upwards and making your white pop.
2 Experiment with white in different finishes to add texture and interest: luxuriously smooth velvet matt on walls looks great contrasted with low-sheen eggshell on woodwork.
3 Finally, consider fixtures and furnishings in dark materials and bold colours, offsetting white and creating depth.
Nail your neutral
Still not sure on the right white for your space? Browse our article on nailing the ultimate neutral.
Commit to colour
Not only does Dulux Heritage look beautiful, but it feels gorgeous under your fingertips, with a velvety matt finish for walls and an eggshell with a soft sheen for woodwork. Try it today by ordering a tester or commit to colour by choosing a can.
Share your ways with white on social using #MyHeritageHome and tagging @DuluxHeritage – you could feature on our Instagram and Facebook pages.