Inspiration Article
Masterclass: Brilliant ways to beautify your bathroom… without breaking a sweat
There's nothing quite like viewing a potential new home and getting that elusive 'feeling'… only to step into a bathroom that, quite simply, needs to be ripped out and replaced. It can be crushing. But don't despair! Some bathrooms can be brought back from the brink with the clever use of colour, which needn't cost the earth or take a lot of time, together with a few style updates to make the space look fresh again. And it's not just those moving into new homes who should take heed: perhaps you've been in your property for a while and simply want to spruce things up? Either way, we'll show you how to beautify your bathroom, quickly and easily – a lick of paint is all it takes.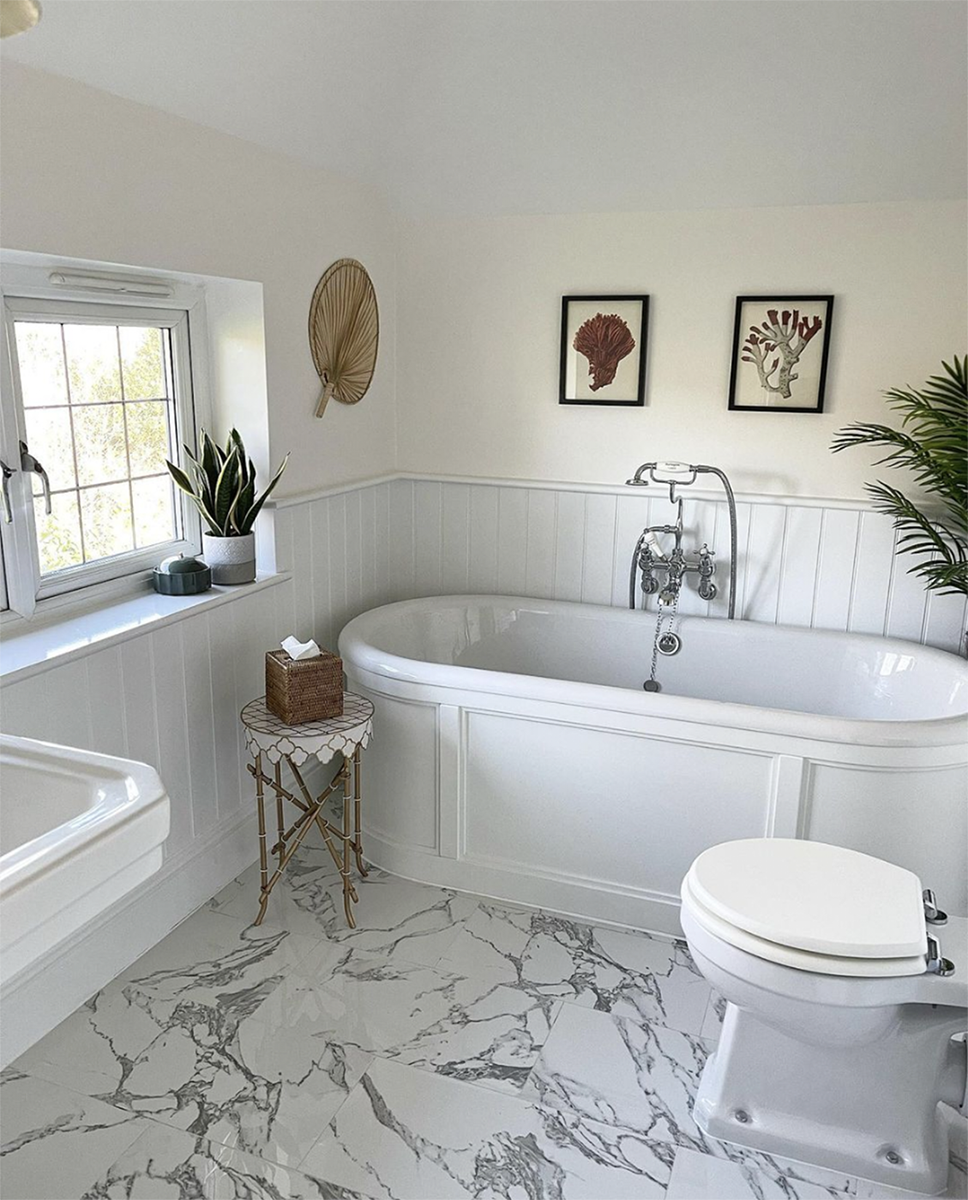 Think outside of the box
Is your bathroom a boring old box? It is without a little imagination! To add instant character and charm, make like @IfOurWallsCouldTalk and install economical but impactful tongue-and-groove panelling three-quarters of the way up the wall, finished with elegant, rounded edging for a professional flourish. Faux period detailing such as this adds interest and depth, while painting the woodwork in a pristine white such as Wiltshire White gives it contemporary polish. Above, paint the rest of the wall in a contrasting colour to make the panelling pop, or go similar with something like Mallow White for a cohesive and on-trend look (contrasting finishes in low-sheen Eggshell and luxuriously smooth Velvet Matt creates textural differentiation). If layering neutrals, also be sure to add colour elsewhere, such as in furniture, accessories, plants and artworks.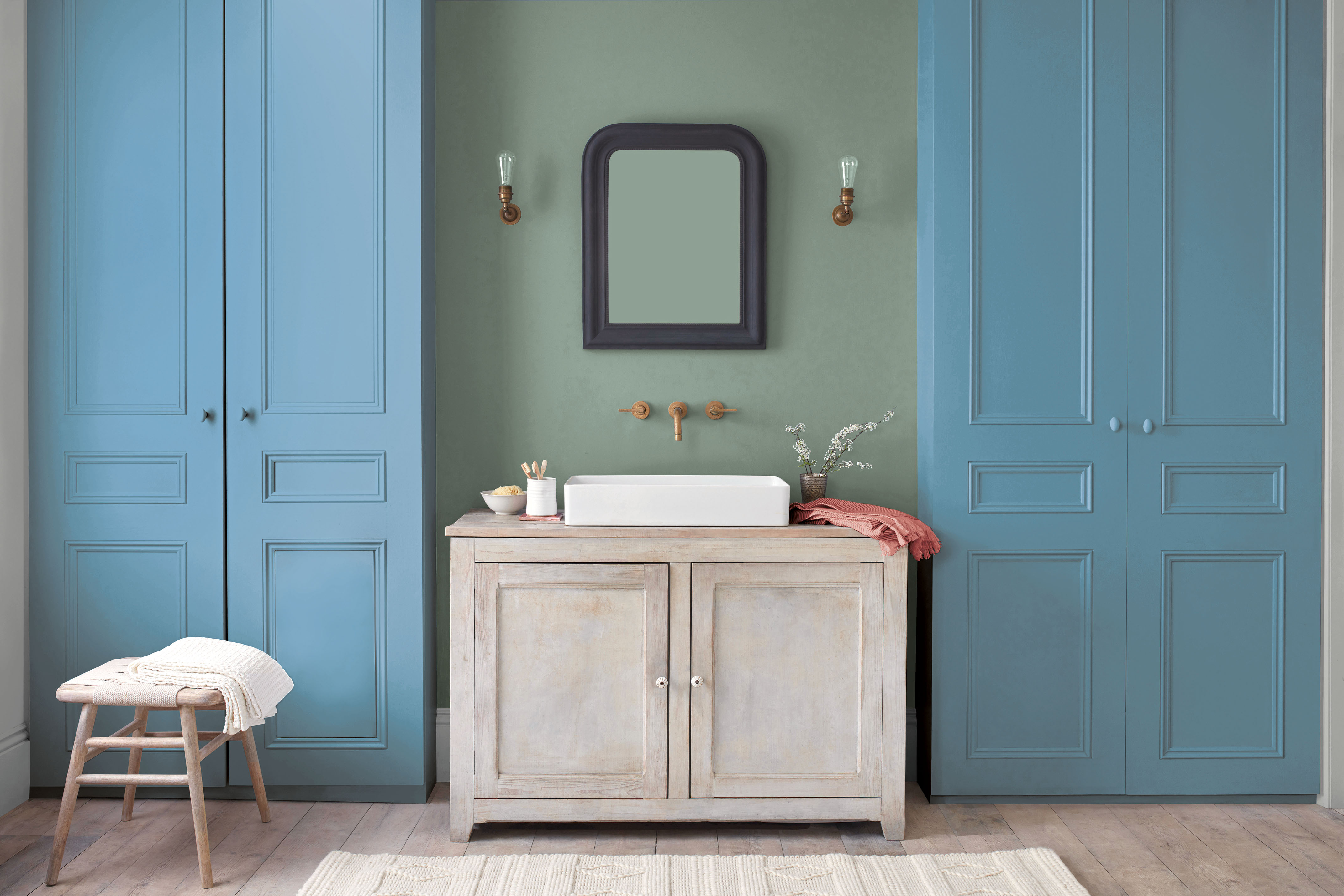 Curate a natural colour palette
Nature-inspired palettes are all the rage right now. So why not tap into the trend and make your bathroom a biophilic dream with colours that draw on the serenity and calm of Mother Nature? Here, the homeowners have contrasted a neutral vanity with herbaceous Sage Green on the wall above, teamed with breezy Boathouse Blue on the adjacent cupboards. The harmonious combination breathes new life into the bathroom while a central black mirror brings the whole look together. You can almost hear the waves crashing…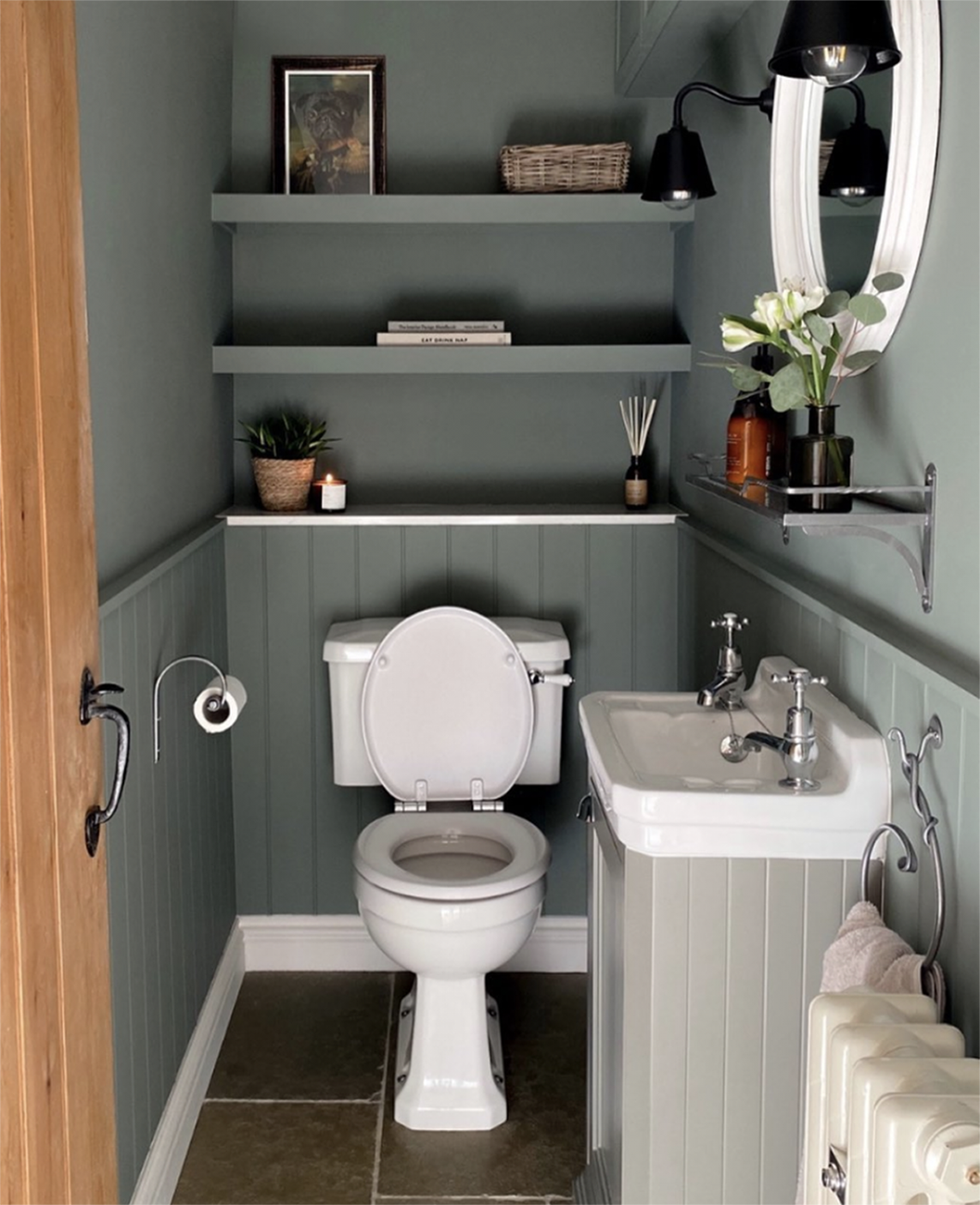 Don't be afraid of the dark
Ask any interior designer and they'll tell you the same thing: dark, brooding colours are perfect for small, cramped spaces. While the intuitive thing to do would be to go light and bright, a downstairs loo or similar can benefit from shadowy shades to make more of a statement of them, such as this WC by @OurOwnCornerstone painted in bold Waxed Khaki. By drenching the panelling, walls and shelves in one colour, the homeowners have created a rich and luxurious look, offset by white in the toilet, sink and mirror. Proof, as it was needed, that the #StyleItDark trend isn't going anywhere anytime soon.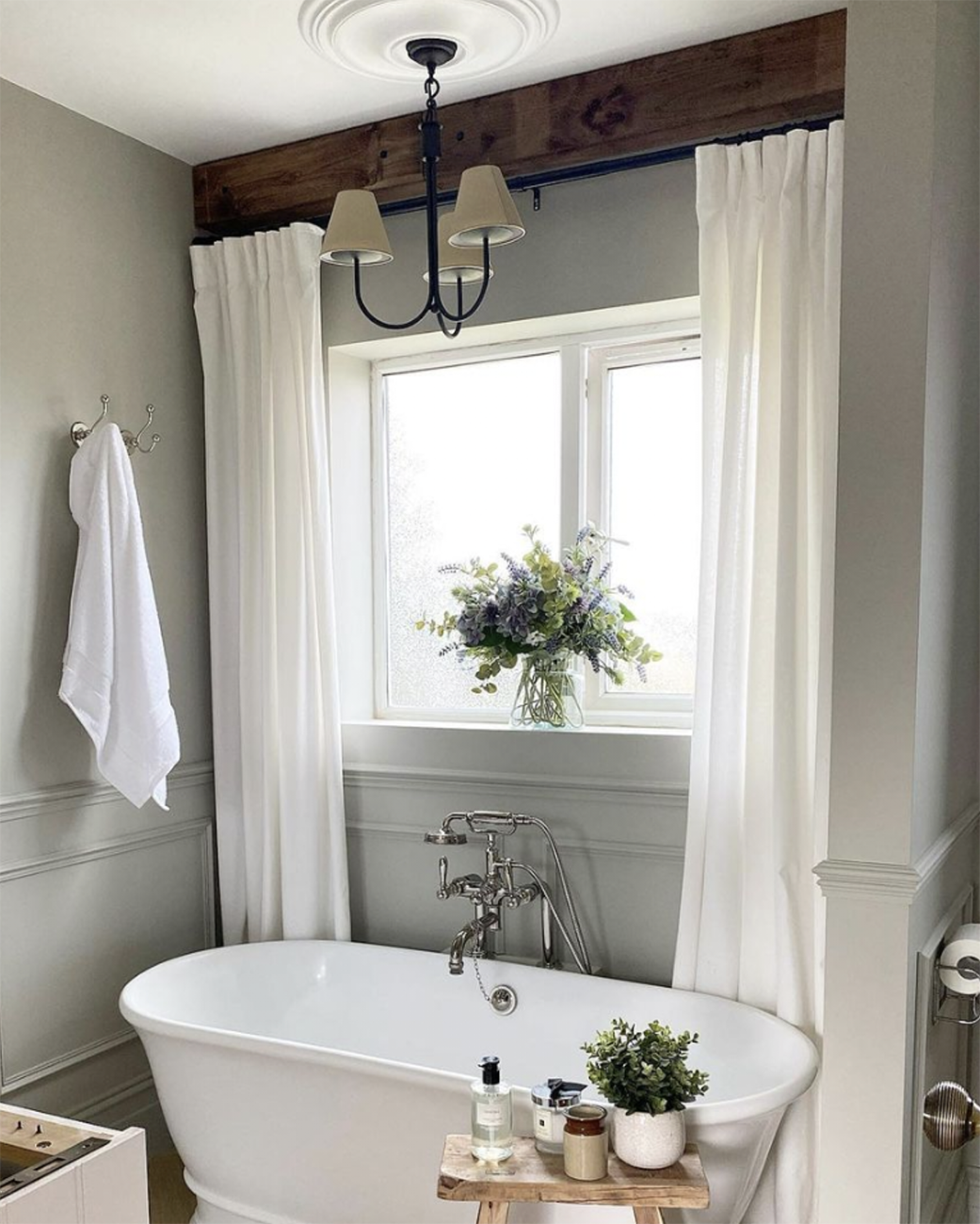 Softly does it
Likewise, enveloping your bathroom in a soft shade such as muted Stone Green like this space by @ScopeStake82 can make it feel bigger, especially when the colour is painted all the way up the wall – and even onto the ceiling for those who dare. The effect is cosy and cocooning, perfect for an environment in which to unwind, with the colour evoking all the style of a spa from the comfort of home.
Three more ways to beautify your bathroom
1 Don't underestimate the art of window-dressing in a bathroom: blinds can be patterned and colourful, not just plain, while curtains (yes, in a bathroom!) recreate all the luxury of a boutique hotel.
2 Likewise, bathroom lighting has come on leaps and bounds in recent years, with more stylish choices available that meet the necessary safety criteria (just look at the range offered by Pooky.com). Architectural shapes, industrial styles and colourful shades can all make a statement!
3 Finally, framed prints and artworks add interest and depth to bathroom walls, while adding even more colour and personality. Remember: a bathroom should be just as reflective of you as the rest of your home.
Commit to colour
Not only does Dulux Heritage look beautiful, but it feels gorgeous under your fingertips, with a velvety matt finish for walls and an eggshell with a soft sheen for woodwork. Try it today by ordering a tester or commit to colour by choosing a can.
Share your bathroom beauties on social using #MyHeritageHome and tagging @DuluxHeritage – you could feature on our Instagram and Facebook pages.