Inspiration Article
Masterclass: Spruce-up your bedroom for the best sleep of your life
From simply relaxing to falling asleep, we spend a significant amount of our lives hunkering down in our bedrooms, and for many of us they're a sanctuary away from the stresses of the everyday. Which is why it's essential that the bedroom is as calming as it is stylish with colours picked to help create peace and tranquility. Here, we tap into the psychology behind picking a colour for your bedroom, from restful pinks to soothing blues and laid-back purples. With the scene set for the best sleep of your life, all you'll need to do is close the door after a long day, and look forward to nothing but sweet dreams…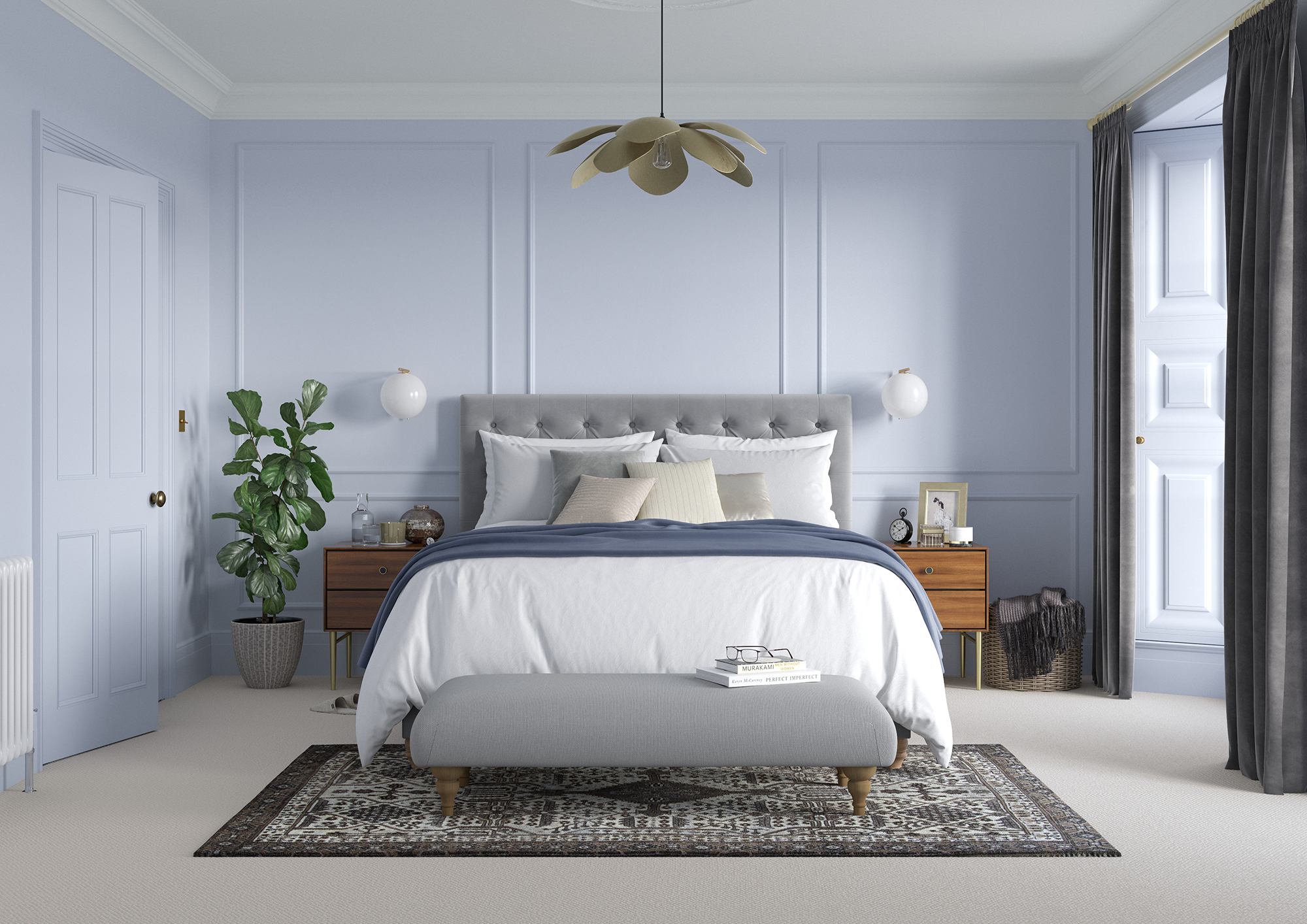 Laid-back lavender
Relaxed at night and refreshing by day, lavender may be a surprising choice for a bedroom, but it's rooted in science – while purple itself continues to trend. Here, we've washed both the walls and woodwork in Lavender Grey – a blue-based purple with a dash of black that adds a smoky undertone – for a soft and serene space conducive to fantastic sleep. With regal connotations, it's also utterly luxurious, creating a look of chic comfort befitting of a boutique hotel. Indeed, you may never want to check-out…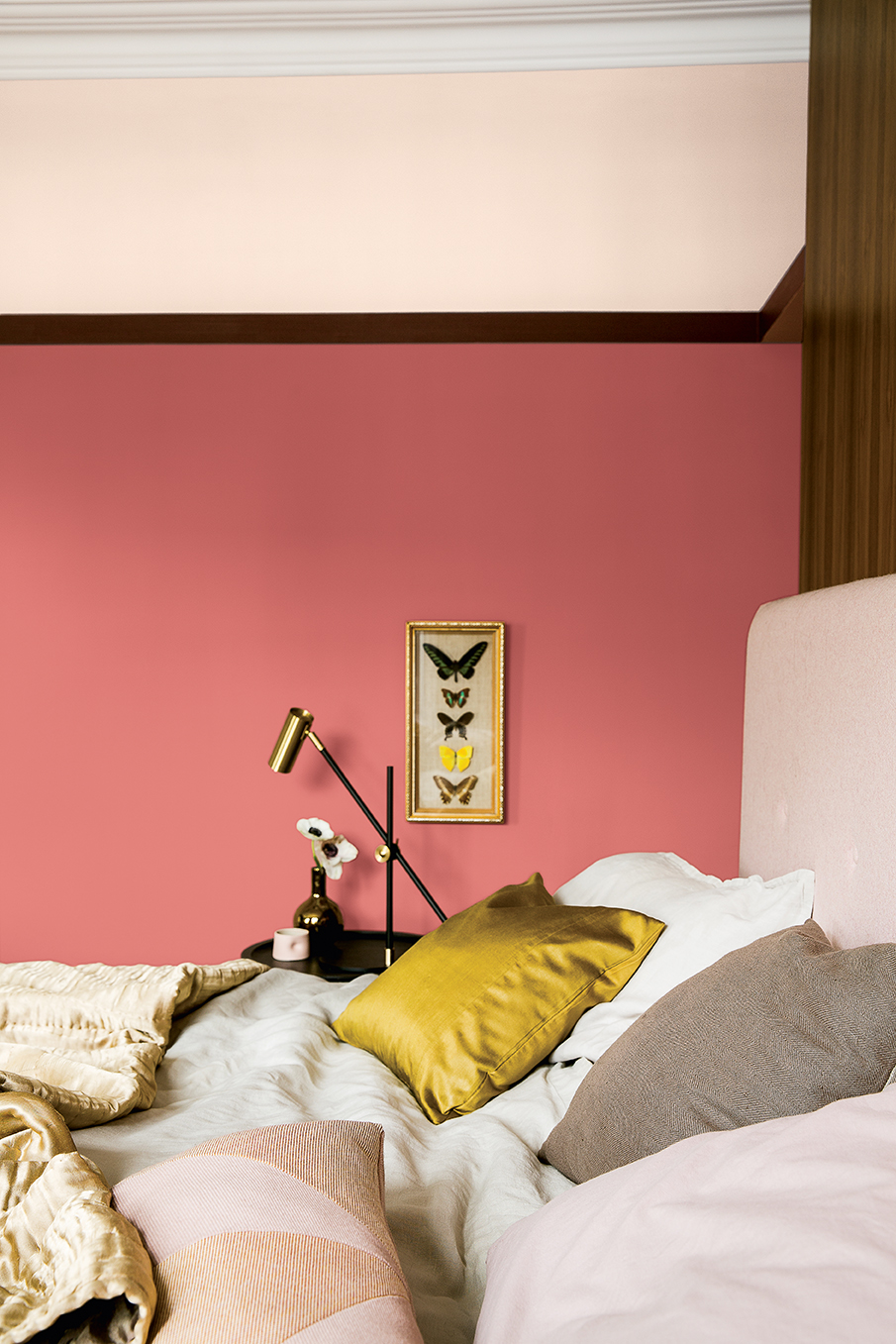 Comforting coral
Symbolising luck and good fortune, coral has long had positive connotations, so it's hardly surprising that it's becoming an increasingly popular choice for bedrooms. Adding comfort and warmth to any space, Coral Pink from the Heritage Collection is a mature interpretation of the colour, and looks impactful without being overpowering when used on a single feature wall. Better still, coral feels completely seasonless, making your bedroom feel cosier in winter, while spicing it up in the summer.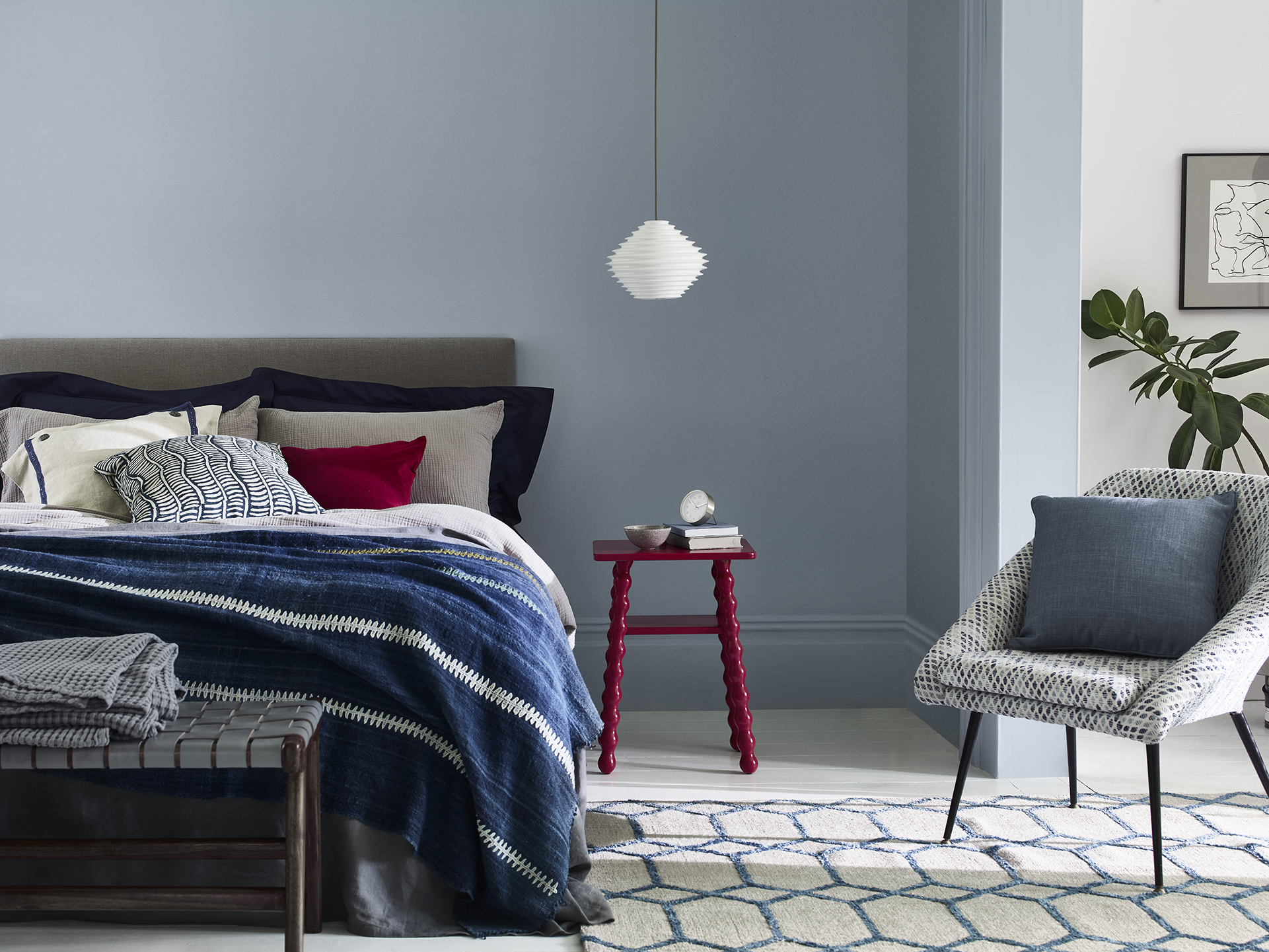 Soothing blue
Seriously laid-back and easy to live with, blue is a forever favourite for a bedroom, and is loved as much for its serenity as it is its versatility: cool and calming, or deep and dramatic. Here, we've used greyish Blue Ribbon for a soft and sophisticated backdrop against the bedhead, offset with warm and gentle Edelweiss White elsewhere in the space. Deeply calming, it evokes all the relaxing qualities of the sky and sea, allowing your troubles to wash over you as you shut your eyes…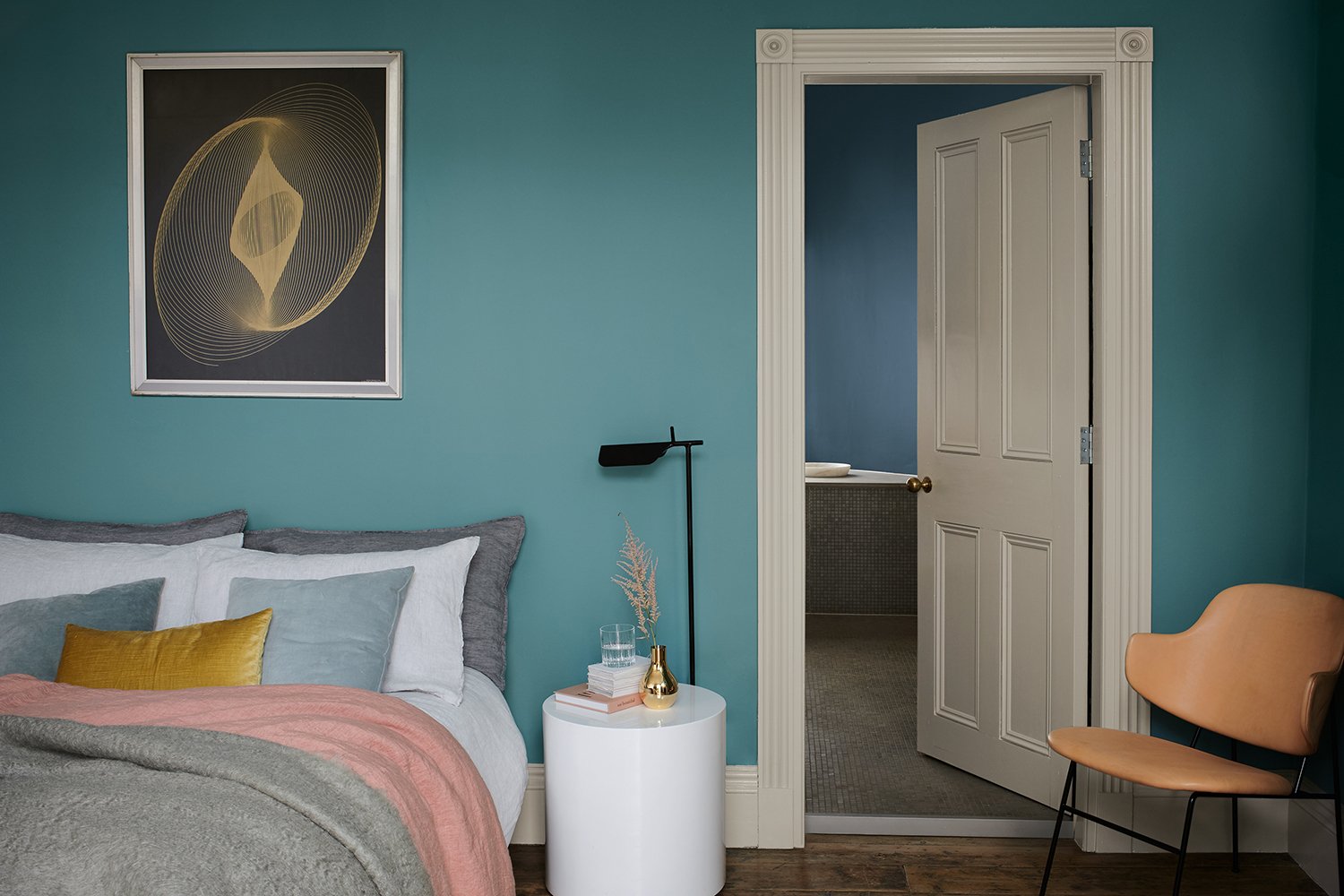 Serene green
Evoking the essence of the ocean – its crashing waves and murky depths – relaxing Maritime Teal is a blue-green that instantly connects a bedroom to nature. No wonder, then, that the Victorians favoured soft, uplifting colours such as this for their sleeping quarters. Here, it has been used on all four walls to create a cocooning effect that comforts and consoles, with muted Stone Green on the woodwork adding quiet sophistication. Instilling a sense of security, green will always be a go-to for getting good shut-eye.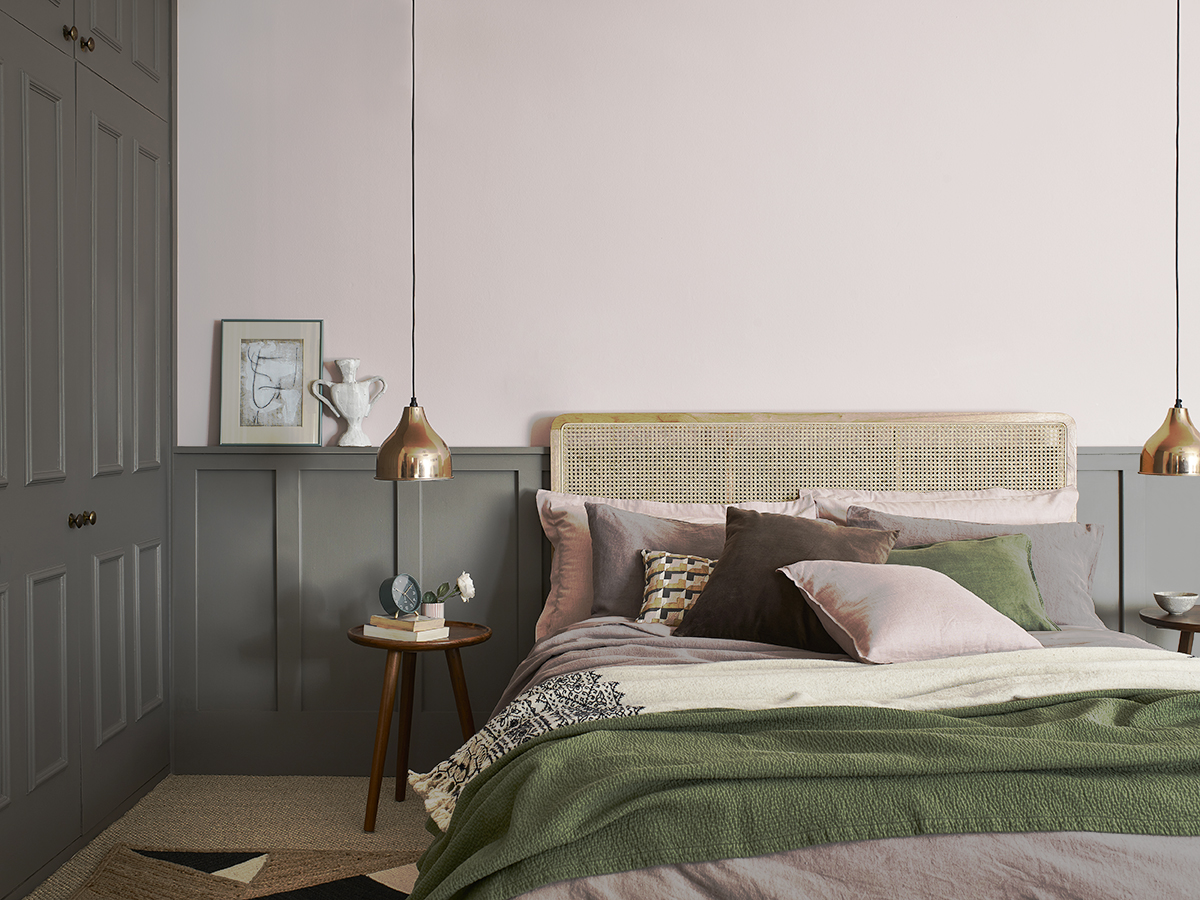 Peaceful pinks
A breath of fresh air, ultra-feminine Potters Pink is suitably understated for a bedroom, and creates a peaceful look and feel. Light and bright, the soft petal-pink has been combined here with equally restful Mud Lark, together evoking the tranquility of nature. As a non-threatening colour, pink has a gentle tenderness that makes it the perfect bedfellow, meaning you can rest easy as you slip beneath the sheets.
Three more ways to style your bedroom for sleep
1 It sounds obvious, but great sleep begins with a great bed, so invest in a quality piece of solid furniture topped with the right mattress that offers the right balance of comfort and support. Then, treat yourself to decent linen – crisp, soft and white – with two sets so one is always good to go when the other's ready to change. Plus, it pays to have two duvets – lightweight and warm – for swapping in and out during seasonal changes.
2 Consider lighting carefully with a window treatment that conceals brightness by night but doesn't obscure it during the day: curtains or blinds with blackout lining should do the trick. Elsewhere, keep lighting low and flattering, from dimmers to table lamps and sconces, with low-wattage bulbs to lull you to sleep.
3 Finally, minimise visual clutter with neat storage solutions, from side-tables with drawers to laundry baskets for clothing and shelves for books. Electronic devices should also be hidden away – or, better still, left at the door. Clear bedroom, clear head – and better sleep.
Commit to colour Not only does Dulux Heritage look beautiful, but it feels gorgeous under your fingertips, with a velvety matt finish for walls and an eggshell with a soft sheen for woodwork. Try it today by ordering a tester or commit to colour by choosing a can.
Share your bedroom spruce-ups on social using #MyHeritageHome and tagging @DuluxHeritage – you could feature on our Instagram and Facebook pages.