Inspiration Article
Tasting Notes: Red Sand
Love. Passion. Fear. Red is associated with so many real feelings and emotions, but it's often underused in our rooms, until recently when it has soared in popularity. As our confidence to experiment with colour has grown, so has our interest in using red in our interiors, with more than just that shade on fire-engines to have fun with. Fortunately, the Heritage Collection is home to some of the hottest, from lipstick reds to burnt oranges and rusty terracottas, and has opened up a whole new world of rouge to dip into. Taking its cues from its namesake stone, Red Sand is deep and earthy, and creates a warm and welcoming atmosphere wherever it's used. With its connection to nature, it's a cocooning colour that can feel cosy and autumnal, or exotic and summery. Seeing red? You will be…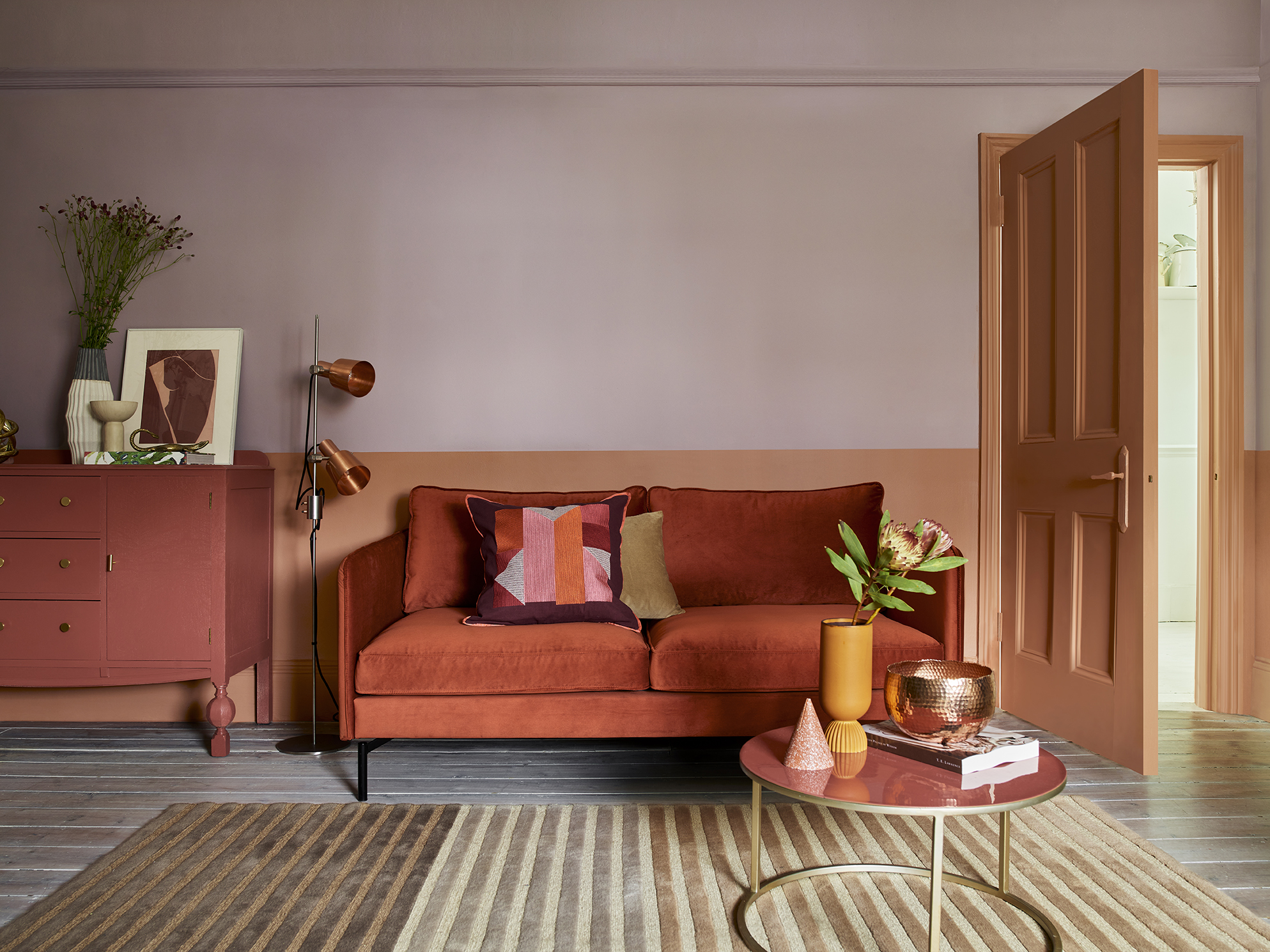 Let the sunshine in
A scorched shade such as Red Sand is a simple way to turn a cool British lounge into a warm Mediterranean sunroom. While rain may be running down the windows outside, the colour enables you to create seriously cosy vibes for your interiors, with Red Sand used here as an accent on the bottom-half of the wall to complement Dusted Heather as the hero on the upper-half. Painting the woodwork – skirting, door, frame – adds further punch, while a pop of a tonal red (deep Red Ochre, in this case) on upcycled furniture completes the look.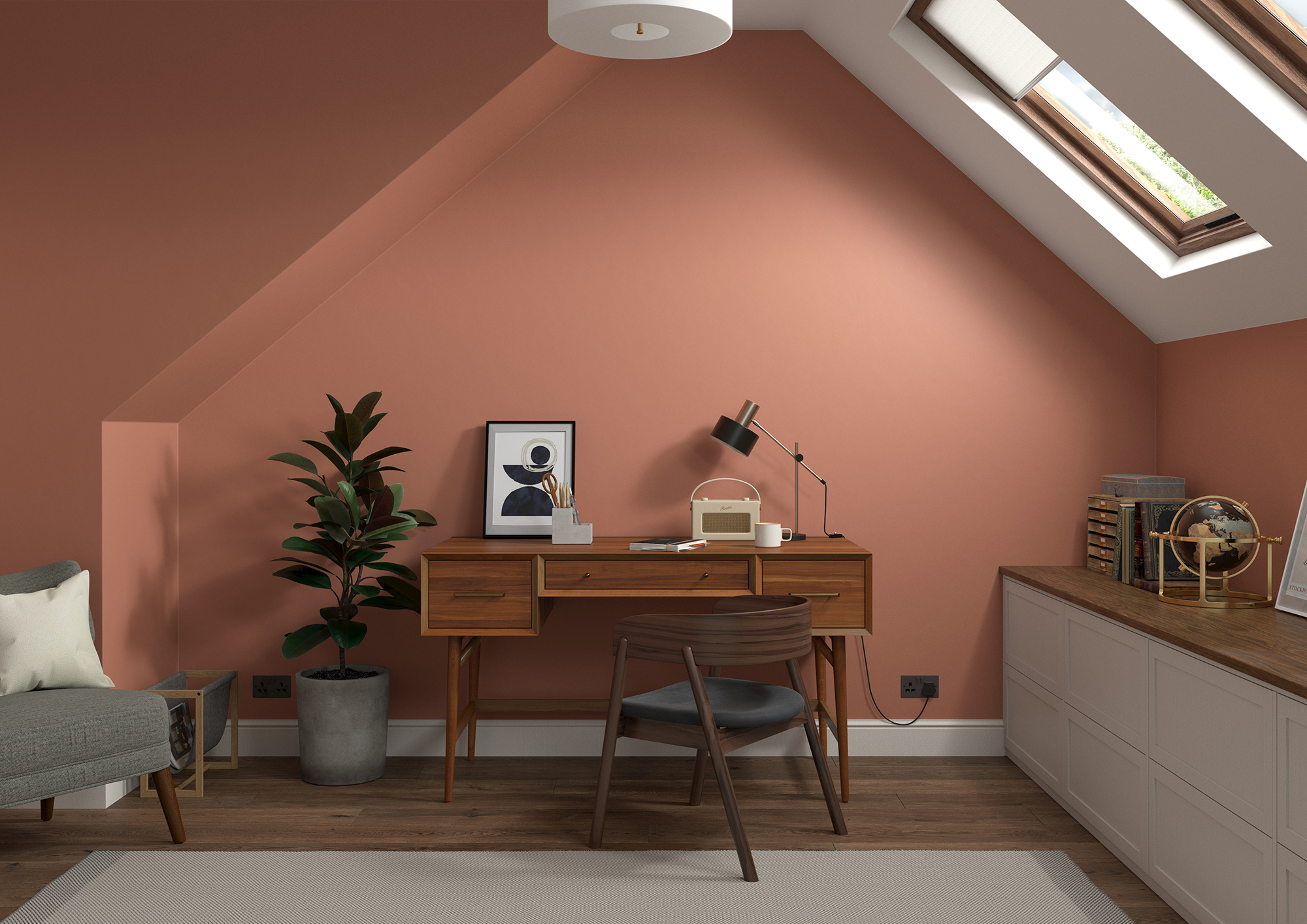 Sandstorm
Infusing a space with energy, Red Sand is a confident choice for an inspiring home office, carving out a bold place to work that feels at once creative and calm. Plus, by painting cramped and awkward angles in a converted loft space, the whole room feels bigger than it is. Neutrals elsewhere, such as Linen White on the ceiling and Pale Nutmeg on the woodwork and cabinets, also means that red really is the star of this show.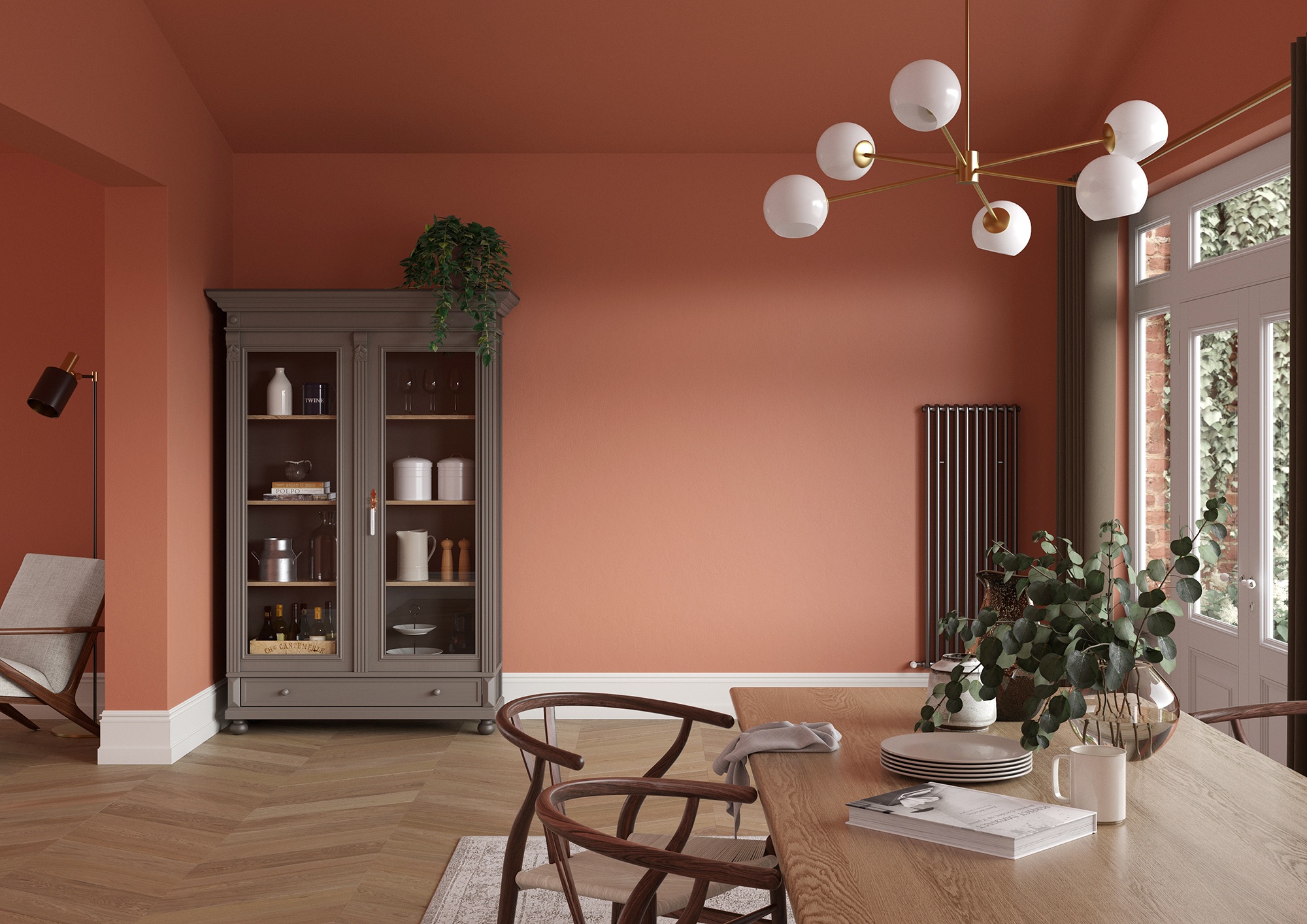 Red everything
Transport your dining room to the heart of Marrakech by transforming your walls with Red Sand. Evoking all the exoticism of the dessert, the baked earth tone warms up even the coolest of spaces, and sets the scene for drinking and dining on long, sultry nights (even when it's chilly outside). Choose colour-saturation for maximum impact with the walls and ceiling broken up by woodwork in pale Romney Wool™ and upcycled furniture in velvety Wooded Walk.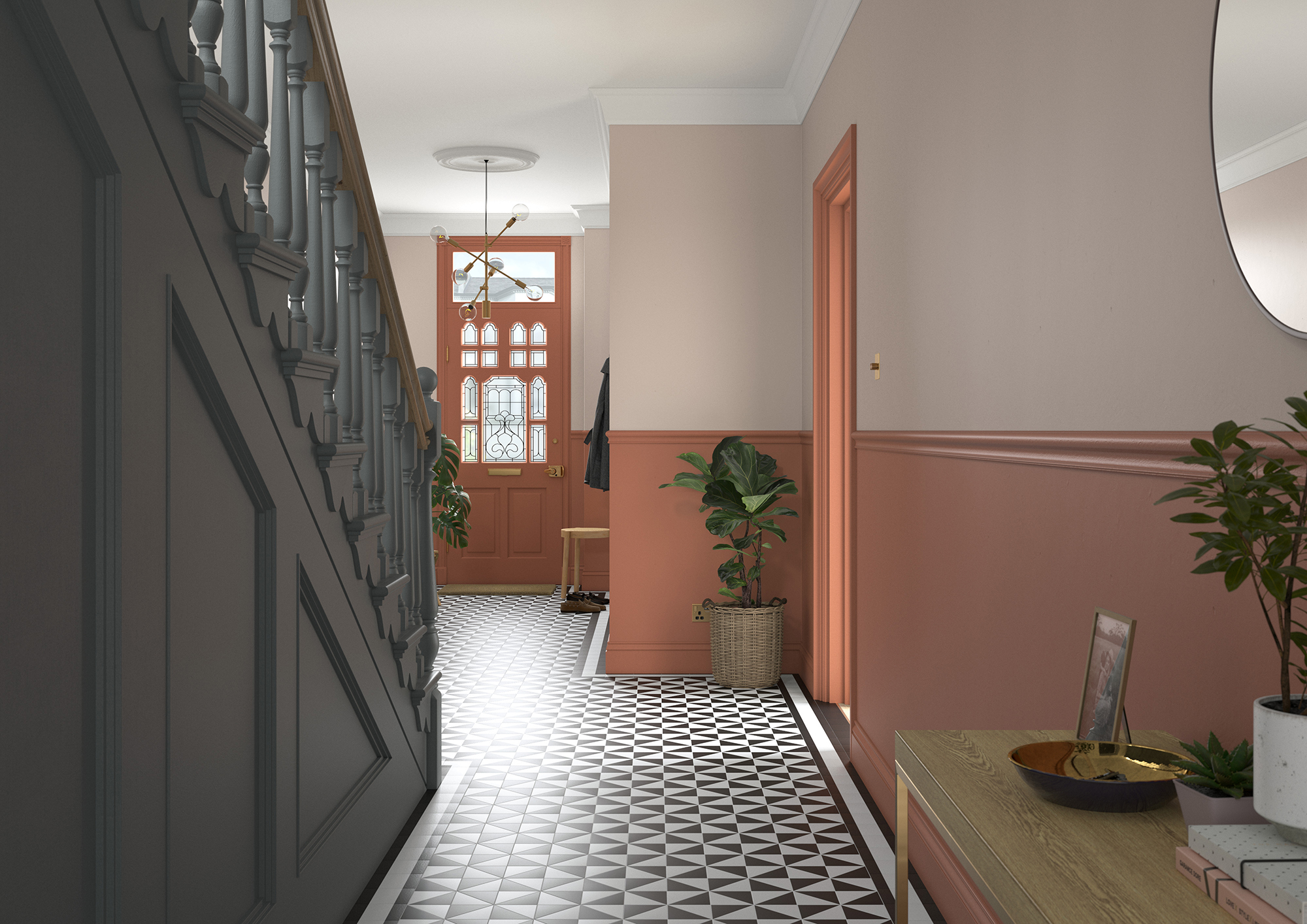 Seeing red
Providing a warm and welcoming embrace as you step through the door, Red Sand on the woodwork and lower-wall in this hallway has been paired with Biscuit Beige on the upper-wall, creating the feeling of a cosy hug when you come home. Complementing the reddish tones are soothing neutrals in understated Forest Grey on the stairs and delicate Linen White on the ceiling.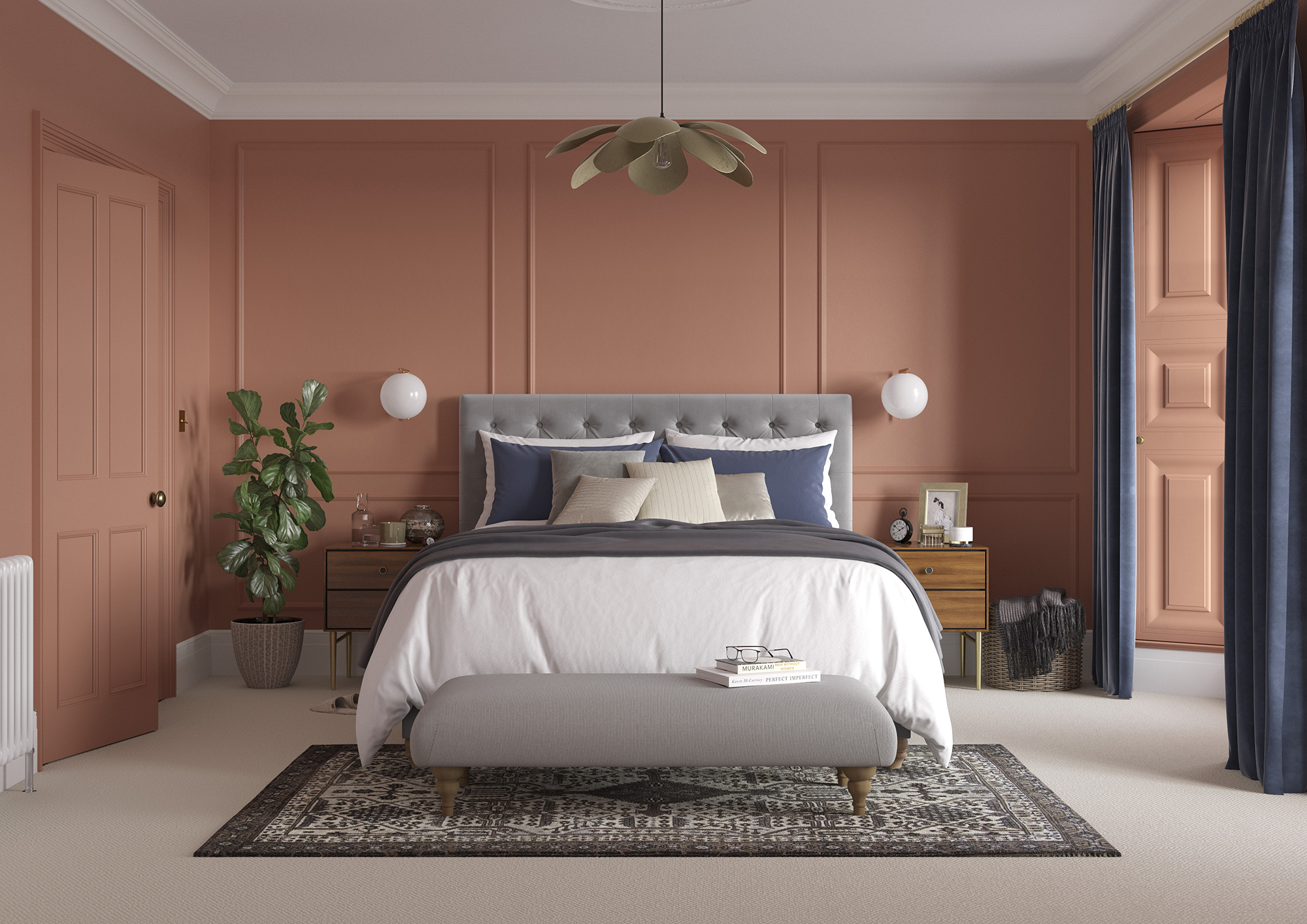 Get fired up
Sure to fan the flames of passion, deep Red Sand is a bold choice for a bedroom, but works well on the walls and door here paired with crisp Chalk White on the ceiling and gentle China White on the cornice and skirting. Flooding the room with sunshine – whatever the weather – extra edge is given to the space with deep-blue curtains and gleaming brass accents.
Commit to colour
Not only does Red Sand look beautiful, but it feels gorgeous under your fingertips, with a velvety matt finish for walls and an eggshell with a soft sheen for woodwork. Team with tonal in oranges and beiges; co-ordinate with whites and browns; or add a designer flourish with greens and greys. Try it today by ordering a tester or commit to colour by choosing a can.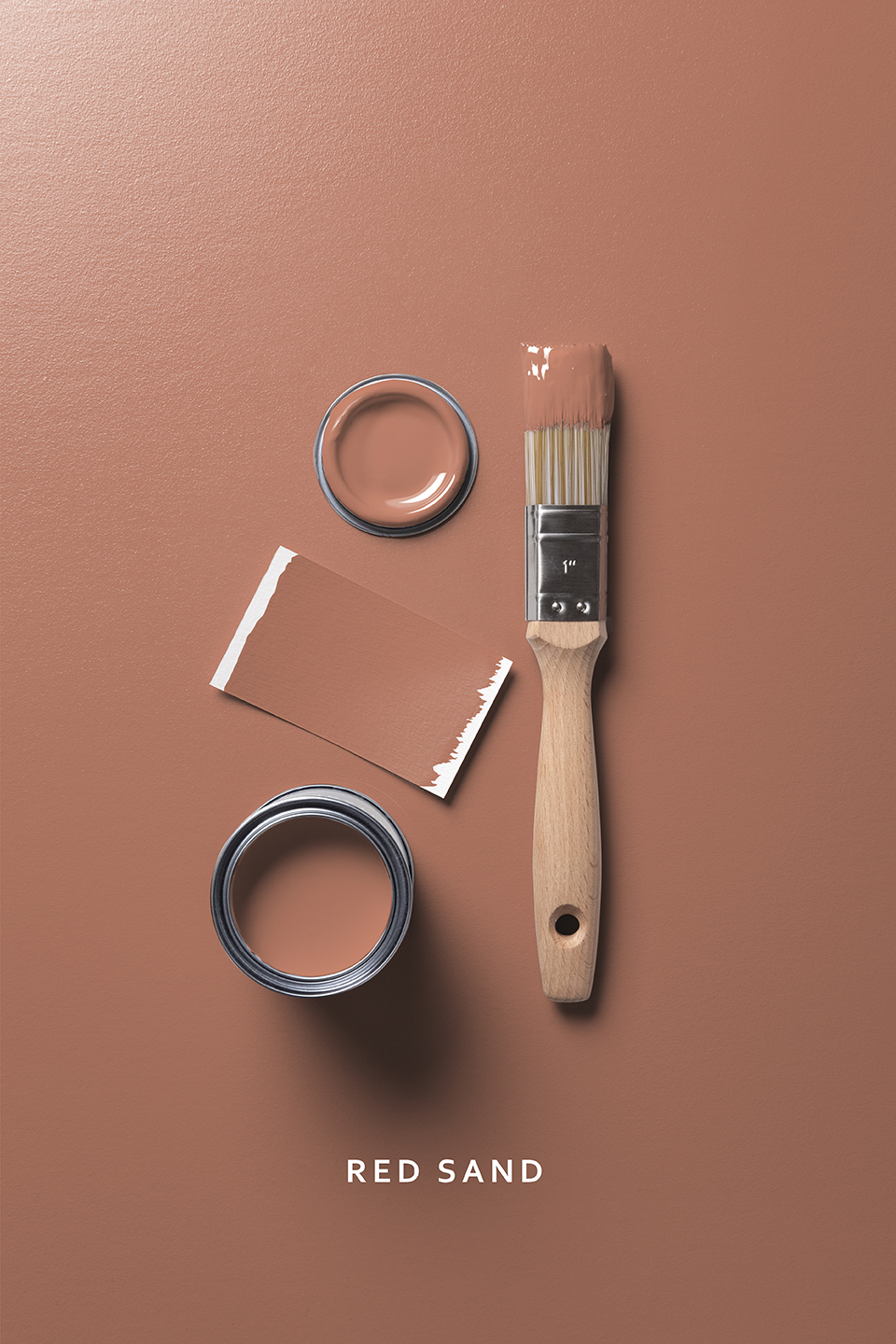 Share your Heritage colour story with us on social using #MyHeritageHome and tagging @DuluxHeritage – you could feature on our Instagram and Facebook pages.