Inspiration Article
Colour Confidential: Style it Dark
You might assume that a dark colour palette is a no-no for your home. No one likes the idea of living in a home that feels darky and dingy – or like the walls are closing in on you. But actually, darker shades have the power to make a space feel cosy and dramatic... or even make your room feel more spacious when used cleverly.
Pick a deep, dark colour palette from the new Heritage range
Of course, you need to select the right colour to begin with. And that's where the Dulux Heritage range really comes into its own. You have 112 colours to choose from, some inspired by beautiful moments in British design history, and others reflecting today's contemporary trends. Here are 4 shades that add splendour and sophistication to any space.
Try an opulent shade of chocolate
Cherry Truffle is a deep bitter chocolate with a hint of red, which gives it decadent warmth. Banish all thoughts of 70s brown from your mind as this shade is one that feels luxurious and modern. Pop this velvety shade in a north-facing living space for a lavish, cocooning interior. Combined with rich red accessories and furnishings it will dial up the drama beautifully, while pairing it with moreish Pale Walnut on the ceiling will subtly emphasise your room's features for an understated brown living room colour scheme.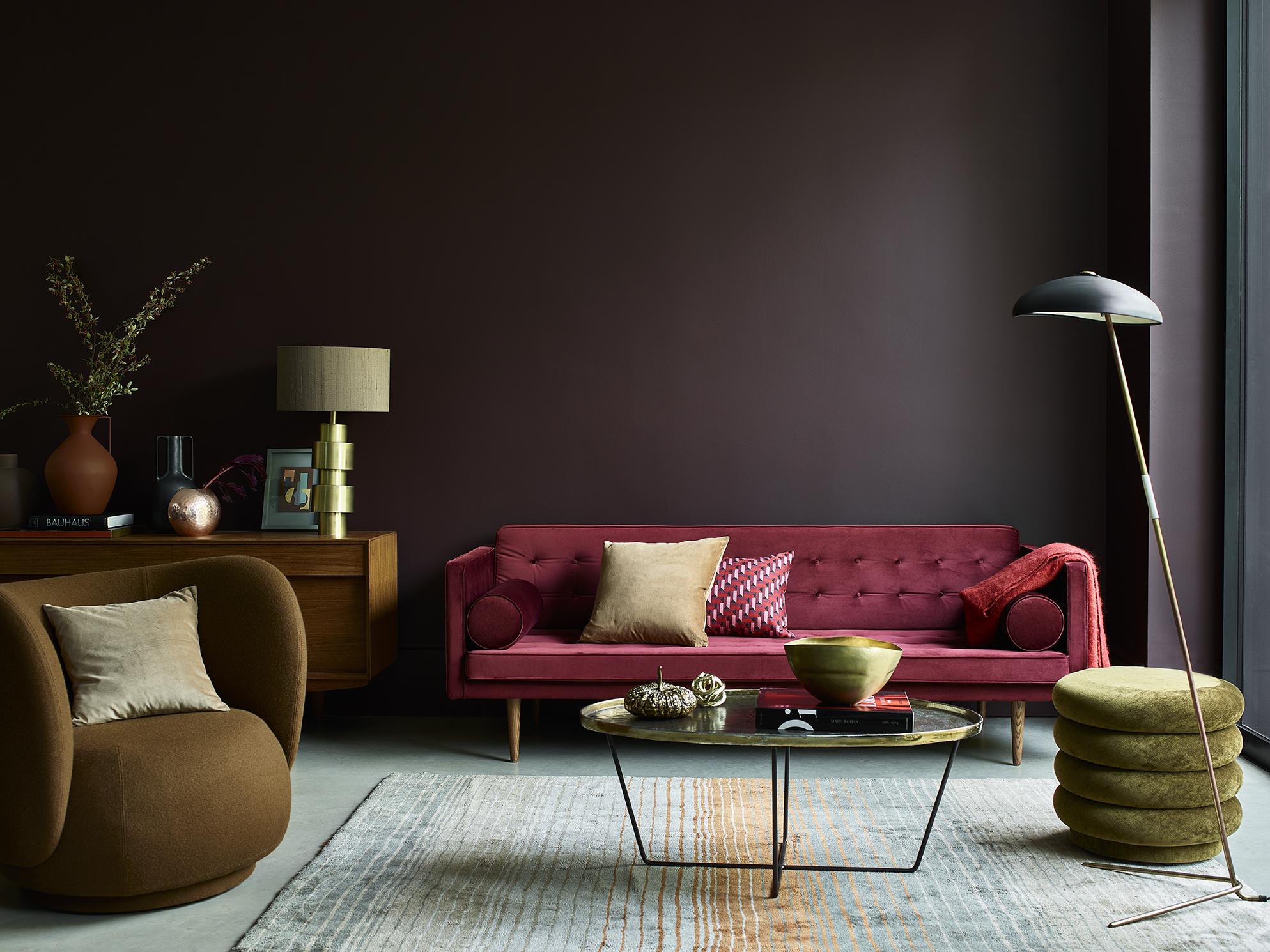 How about a splash of sumptuous blue?
DH Oxford Blue is a deep, sumptuous navy that once upon a time would have been exceptionally expensive to create. With its origins rooted in the Edwardian period, DH Oxford Blue is a versatile colour long associated with luxury. Create a sophisticated living room or a stylish home office with this rich velvet navy, which looks its best in a room with layered lighting.
You can put this shade on centre-stage by combining it with crisp Mallow White or add a touch of maritime luxe by teaming it with Deep Ultramarine for beautiful a dark blue colour scheme.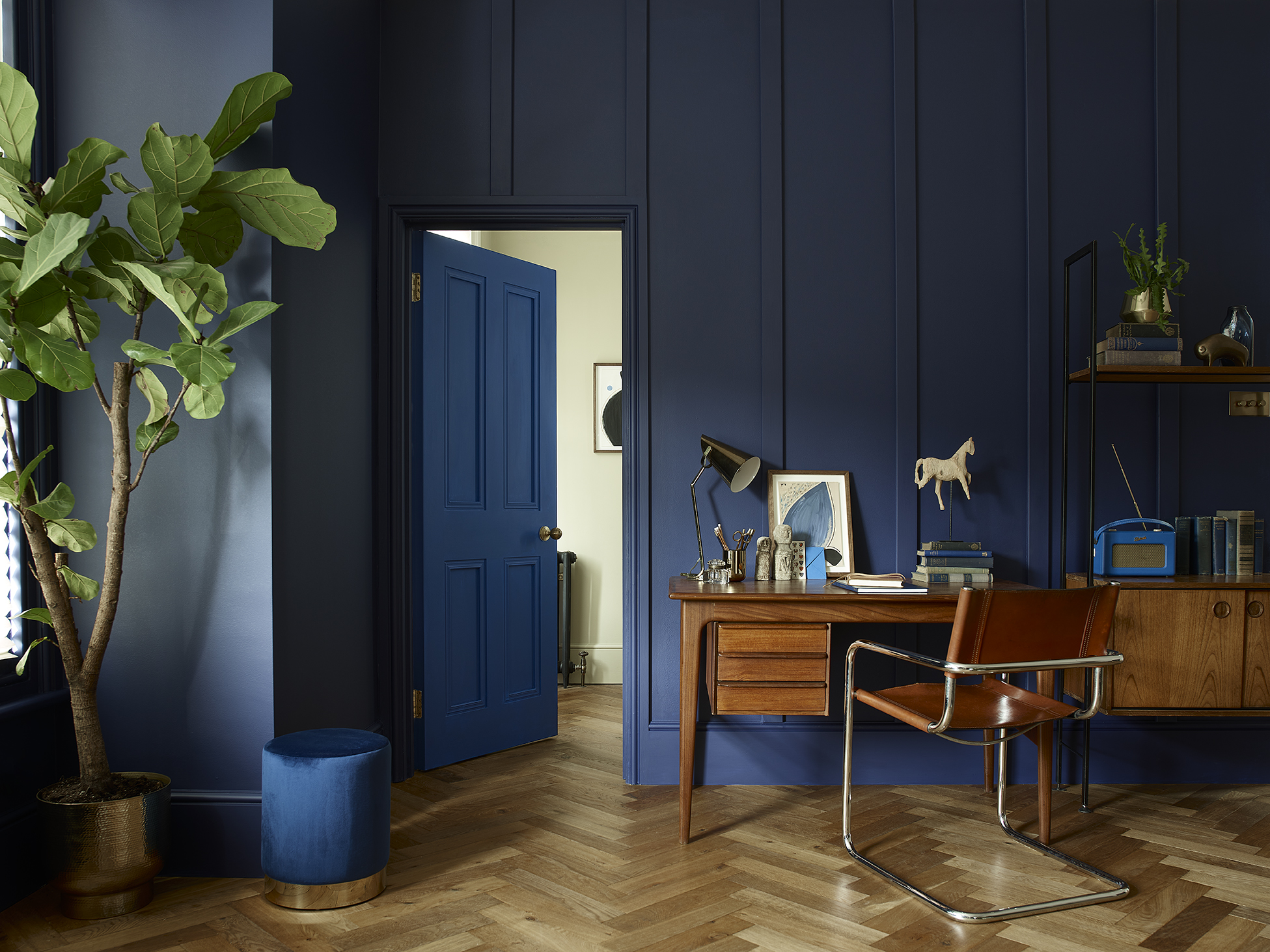 Embellish your space in elegant black
Ravens Flight is a luxurious cool black that captures all the depth and wonder of star-filled midnight skies. A true Art Deco favourite, this darkest of our deep shades adds grandeur and glamour in equal measure. Add it to your walls to give your room a retro flavour, or combine with Dulux Heritage Eggshell on your woodwork to create a space that feels strikingly modern and seamless.
Experiment with deep, plush purple
Wild Blackberry is a deep plum that envelops the walls like a velvet gown and creates a dynamic and imaginative space. Despite its intensity, deep purple has a restful and soothing quality making it equally desirable for your bedroom or dining room. If you're looking for dark living room ideas, why not try it as a feature wall in one corner of the room, or pair with deep blue accessories to create an elegant plum and navy living room.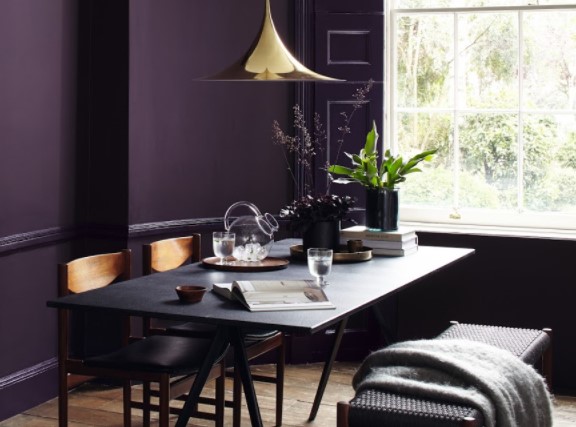 4 ways to make a dark colour palette work
1. Start small with a feature wall
If you're tentative about experimenting with a dark colour palette, why not ease your way in by painting a feature wall. Choose a room that has an obvious focal point. For example, you could go for the living room, and paint the wall that surrounds the fireplace. Or how about a corner of the room, where you have an armchair near a window as we have here with Cherry Truffle. Both of these dark living room ideas have the potential to look and feel really elegant.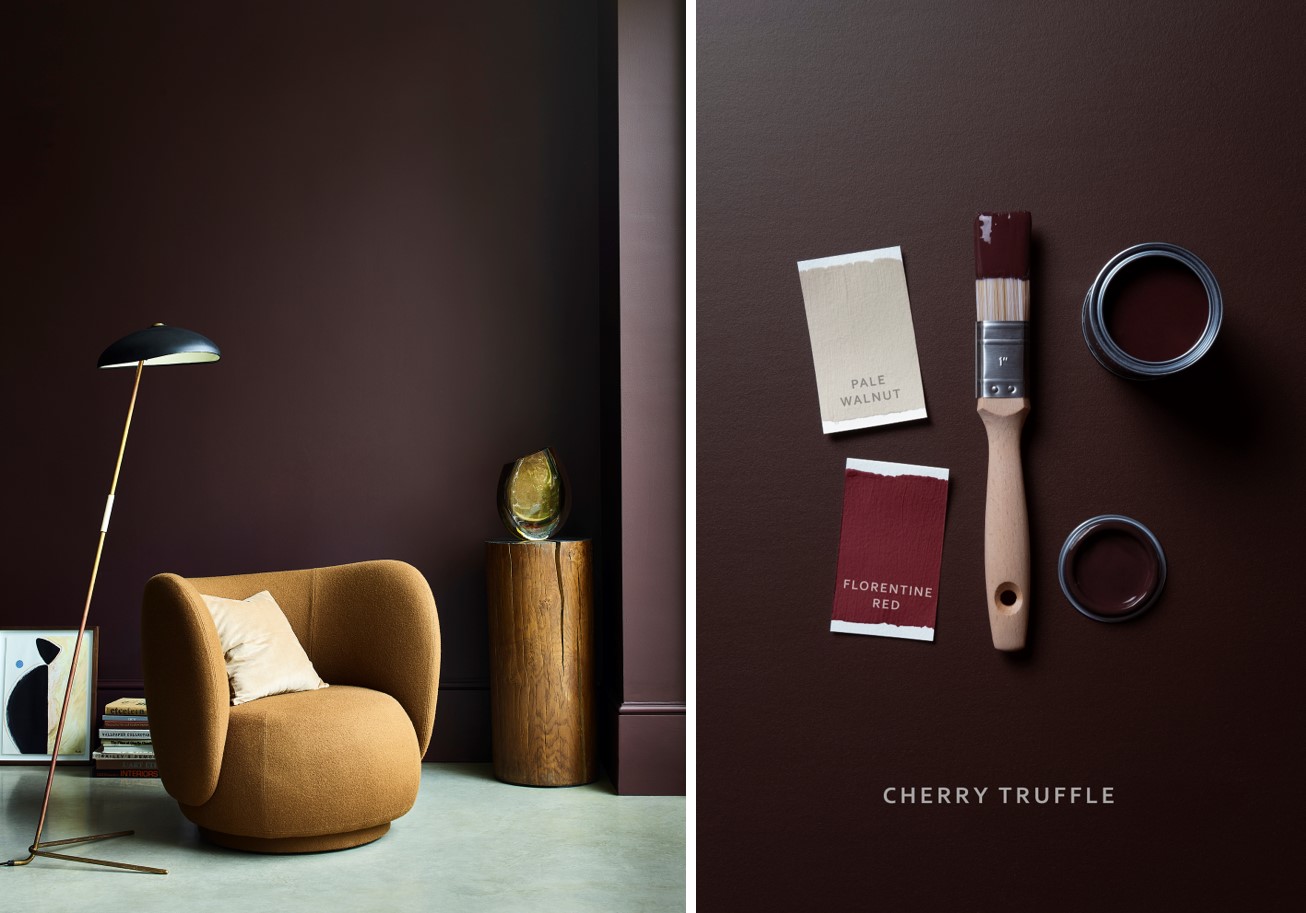 2. Make a big statement in a small space
You might not realise it but painting rooms that are smaller in size – a bathroom or hallway, for example – are a good way to experiment with dark colours. This is particularly the case if the room lacks windows. The lack of natural light helps to embolden the darker shades and give them a real presence and by using the same shade on all walls, it feels as though the seams just melt away. Try a dark green colour scheme by combining Waxed Khaki with Midnight Teal as your starter for ten – you'll be impressed with the results.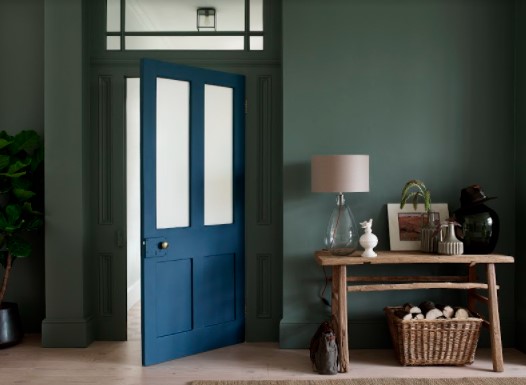 3. Make a large and airy space feel more cosy
Darker colours can draw the walls in on a room. But that's not necessarily a bad thing, especially if the room is on the large side to begin with. In fact, a dark colour palette can give the space a sense of intimacy. In the example below we paired Florentine Red with Romney Wool to make the space feel warmer. Likewise, if you went for dark red paint colours in your lounge, or even a dark blue living room, you can create a really welcoming atmosphere. And lots of darker shades have a rich opulence to them, too, so, as well as warmth, you'll find you end up with a room that feels both stylish and sophisticated.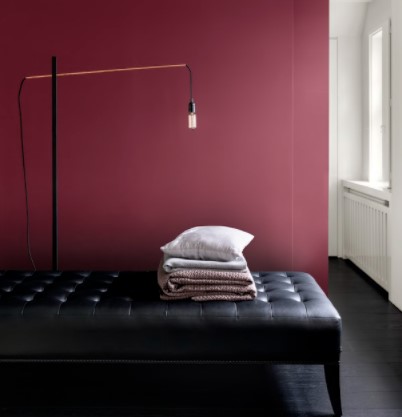 4. Add a stylish contrast with your dark colour palette
Always remember that every room has five walls not four. The fifth wall, of course, is the ceiling and if you're looking for dark living room ideas, why not turn it into a focal point? Try the walls in a soft white, then apply a deep purple or blue tone to the ceiling. Instantly you have a room with real wow factor.
For more advice on Heritage colours and how to style them, discover the complete Heritage range here.