Inspiration Article
Masterclass: Cosy up with colour
The days are getting longer, and the nights are getting darker, which means your home calls for a cosy update with colour. Luckily, a lick of paint is all it takes to quickly and easily transform cool, summery spaces for chilling out into warm, wintery rooms for hunkering down. Think deep blues and rich greens. Brooding browns and ravishing reds. Even a royal purple can really pep things up for the colder weather! Teamed with luxe materials and sumptuous textures, it doesn't require a complete makeover to achieve a seasonal refresh, as our masterclass in toasty colours shows. What hues will you choose to hibernate with this winter?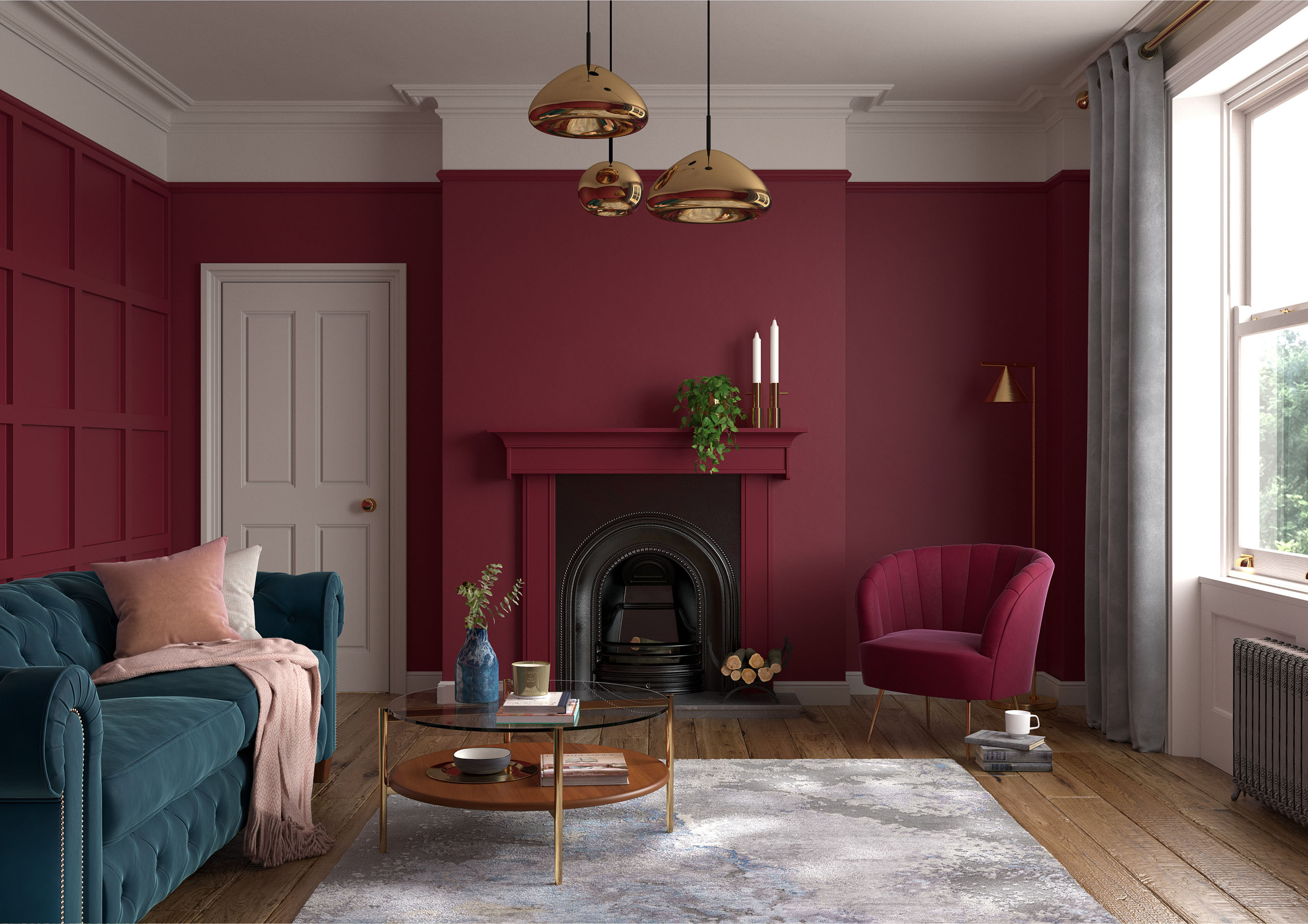 The bold and the beautiful
Dazzle in the depths of winter by using the decadence of jewel tones to glamorous effect. Walls are wonderful in Florentine Red – including detailing such as feature fireplaces and statement panelling – offset against soft furnishings in turquoise and pink. For lightness, keep the woodwork and ceiling bright in something like Pebble Grey, accentuating the whole scheme with lighting and accessories in shiny metallics such as copper or brass. The look is bold and beautiful with richness at every turn – the perfect antidote to the cold and grey outside.
Dark and moody
Baby, it's cold outside, so warm up your bedroom using a brooding colour like Dark Aubergine to make it feel as snug as a bug. Our deep tones add serious drama when used on all four walls with matching woodwork, particularly when contrasted with neutrals on the cornice and ceiling, such as China White and Panel White. Elsewhere, keep soft furnishings neutral to ensure the dark doesn't become depressing, and ensure your lighting is soft and low to bring out the best in your scheme.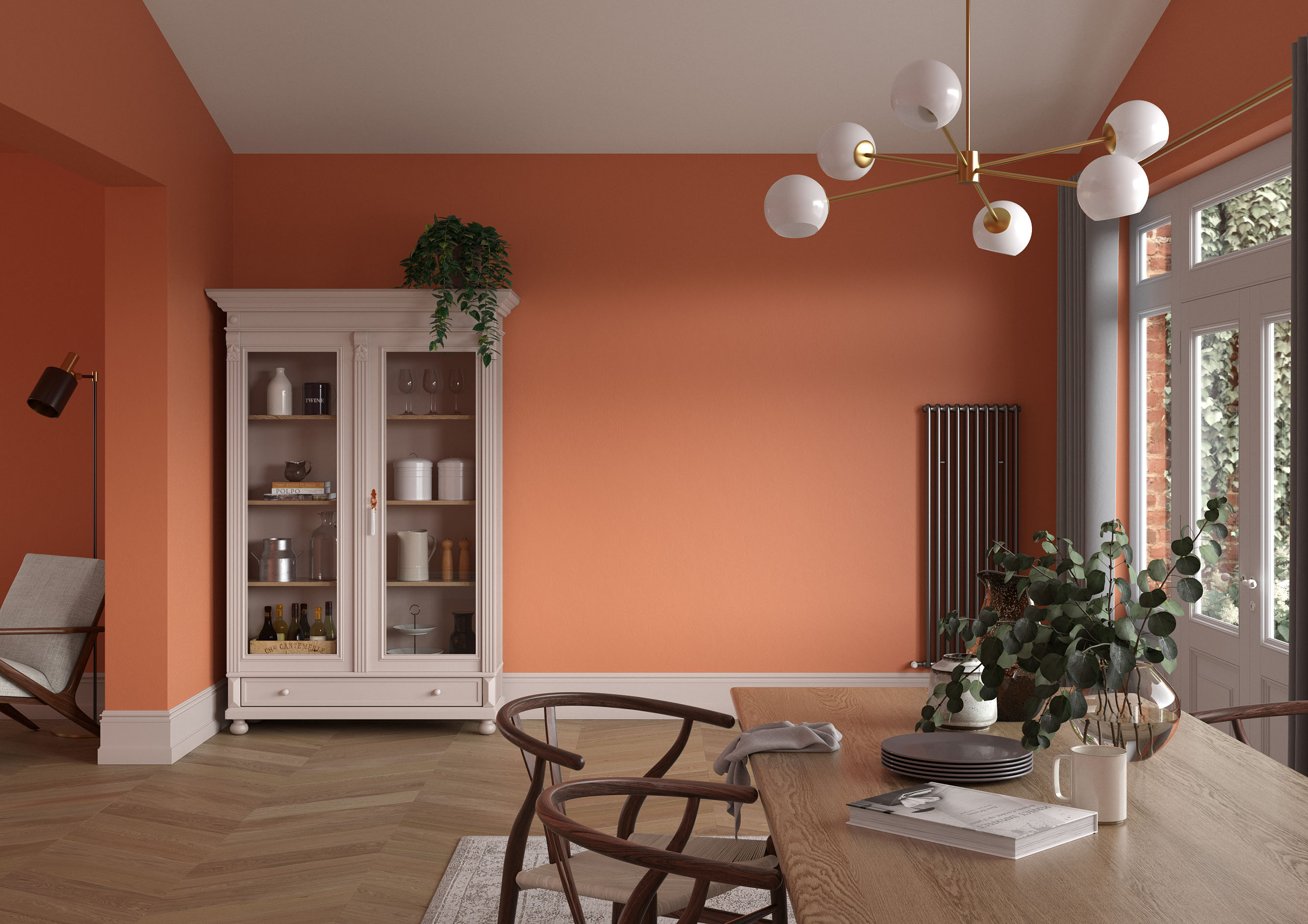 Turn up the temperature
Cosy doesn't always need to be dark, as this sun-baked shade demonstrates. In our Mediterranean-inspired dining room, Inca Orange has been chosen to counteract the cold, recreating all the warmth of sunnier climes. With such an eye-catching statement on the walls, slightly more muted shades have been used elsewhere, such as Pumice Brown™ on the skirting and dresser, and Mallow White on the ceiling. The result is a space that simply refuses to accept the changing of the seasons – and year-round summer inside.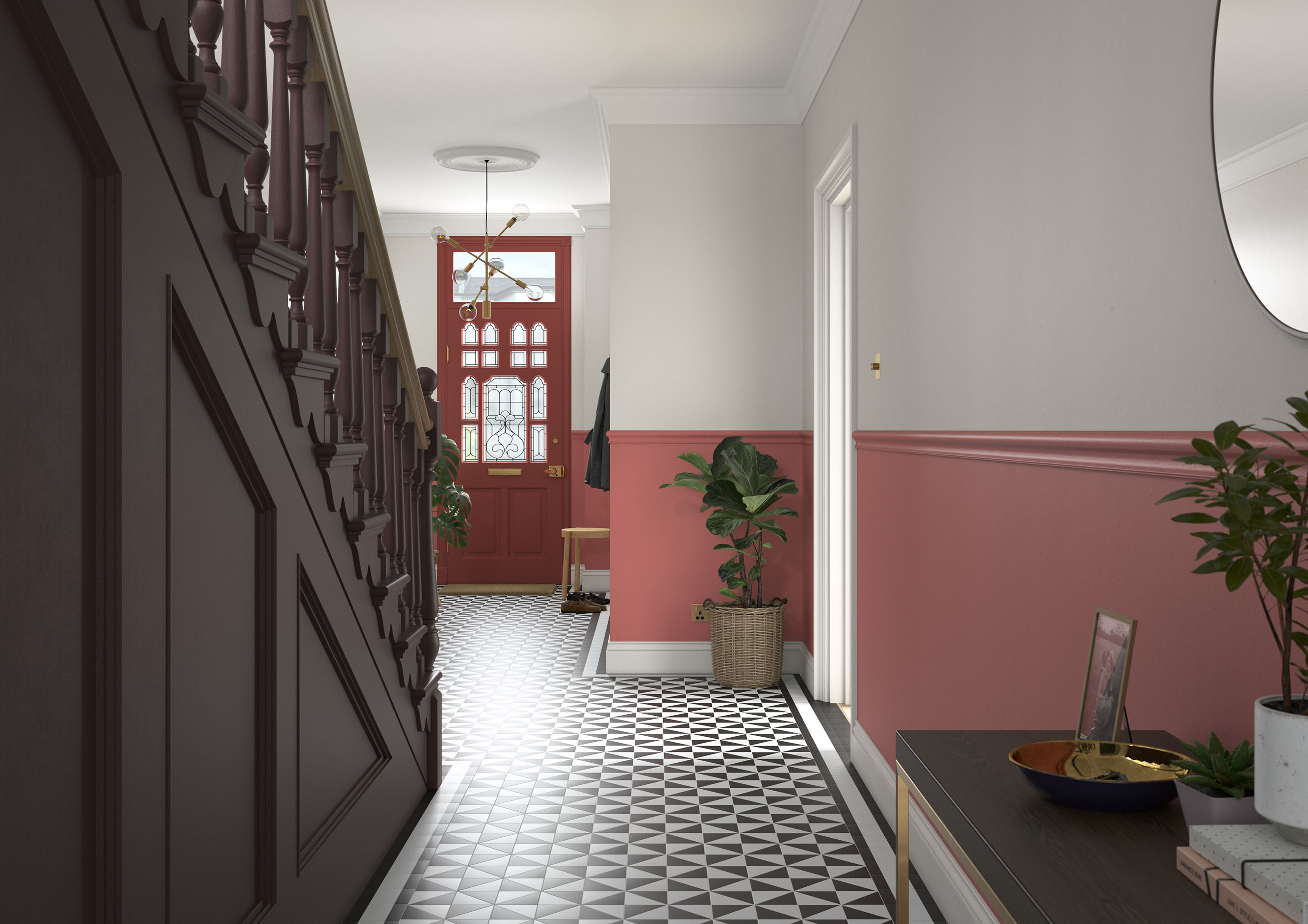 Opposites attract
If you love all the depth of dark, but all the brightness of light, why not plump for a palette that combines both? In this hallway, we've made a bold and confident choice by painting the entire staircase in Cherry Truffle – a bitter chocolate with a hint of red for decadent warmth – but we've offset it against Coral Pink on the lower-wall, a vibrant and impactful pink that takes its colour cues from the Caribbean. The result is a perfectly balanced hallway that feels balmy and harmonious.
Commit to colour
Whatever colours you choose to cosy up your home this winter, we guarantee they'll feel absolutely gorgeous under your fingertips, with a velvety matt finish for walls and an eggshell with a soft sheen for woodwork. Plus, as well as being hard-wearing and highly-washable, you can apply our products to your surfaces safe in the knowledge that they're provide long-lasting luxury, whether it's a high-traffic hallway, or a guest-filled dining room. Pick your palette today by ordering a tester or commit to colour by choosing a can.
Share your Heritage colour story with us on social using #MyHeritageHome and tagging @DuluxHeritage – you could feature on our Instagram and Facebook pages.