Inspiration Article
Tasting Notes: Dark Stone
Who doesn't want to recreate the colour of aged sandstone in their own home? With all the character of a classic house in the Cotswolds, sandstone has become synonymous with timeless style, and Dark Stone in the Heritage Collection delivers in spades. Developing even more warmth and depth over time, the shade is full of interest, and cosies in the winter but cools in the summer. Team with neutrals for perfectly tanned. Pair with darker paints for punch. Or simply use all by itself as a soothing backdrop. It's one of those rare colours that you can't really go wrong with – confidence in a can, if you will – so get inspired and give it a go.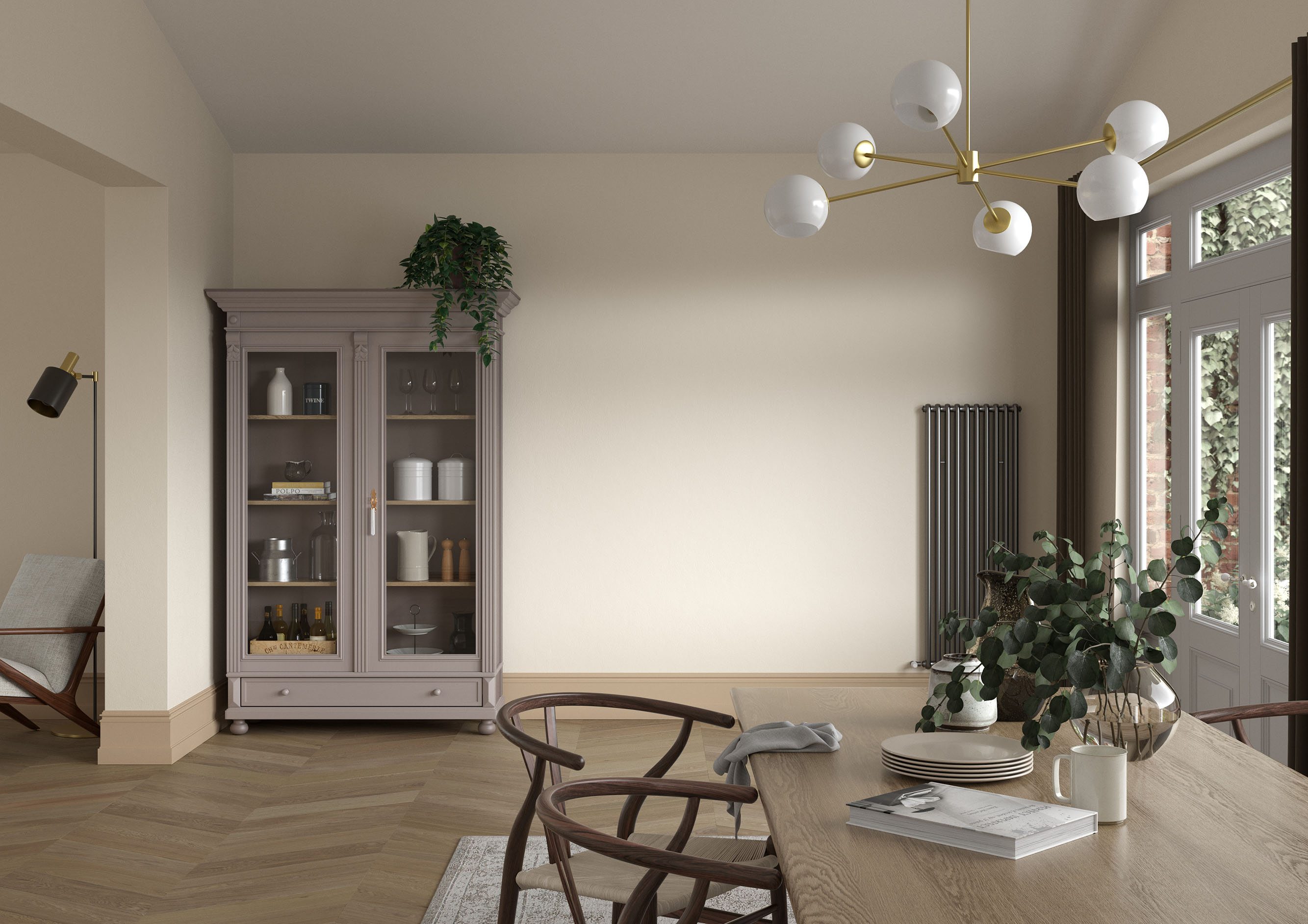 Beautifully baked
As the colour of baking – think warm croissants and buttered crumpets – it's no coincidence that Dark Stone works so well in a dining room. Sub-consciously, it appeals to our sense of taste, and gets us ready to tuck into piled-high plates of tasty food. Here, we've used it subtly on the skirting, complemented by paler Candle Cream™ on the wall to make it pop. We've kept the ceiling paler still in gentle Roman White™, keeping the focus firmly on the woodwork, while adding darker tones only in the rich Terra Ombra dresser. The effect is deliciously effortless.
Room service
Create that hotel-at-home feel by covering your bedroom walls in the creamy hues of Dark Stone. Understated and uncluttered, the effect is a relaxing space for restful nights, and the odd afternoon nap (Saturdays, especially). Offset against a duo of equally delicious whites – Ochre White™ for the ceiling and cornice, Piano White for the door and skirting – the dreamy cream is quietly confident. For more texture and interest, add more depth in soft furnishings and statement furniture.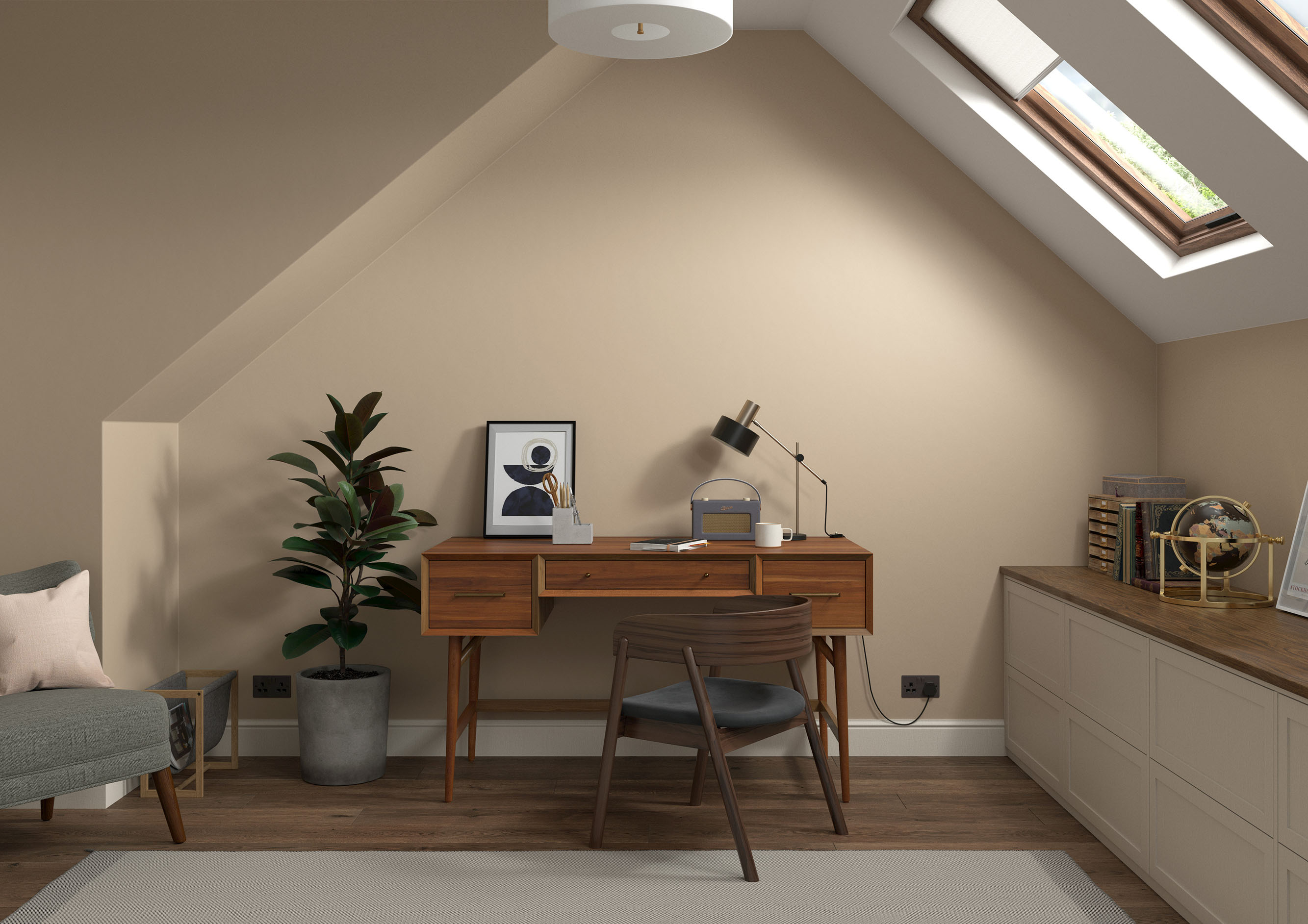 Mean business
Light and bright works well in a loft conversion to open the space and make it feel bigger. But sometimes, pale colours can lack punch and character, particularly for a home office where an air of confidence needs to be created. Enter Dark Stone, which works wonders on the awkward angles of the walls here, paired with delicate Roman White™ on the ceiling and muted Candle Cream™ on the woodwork. The look is soft but strong, complemented by masculine Mid-Century furniture and accessories in concrete and grey. A cabinet in York White™ closes the deal.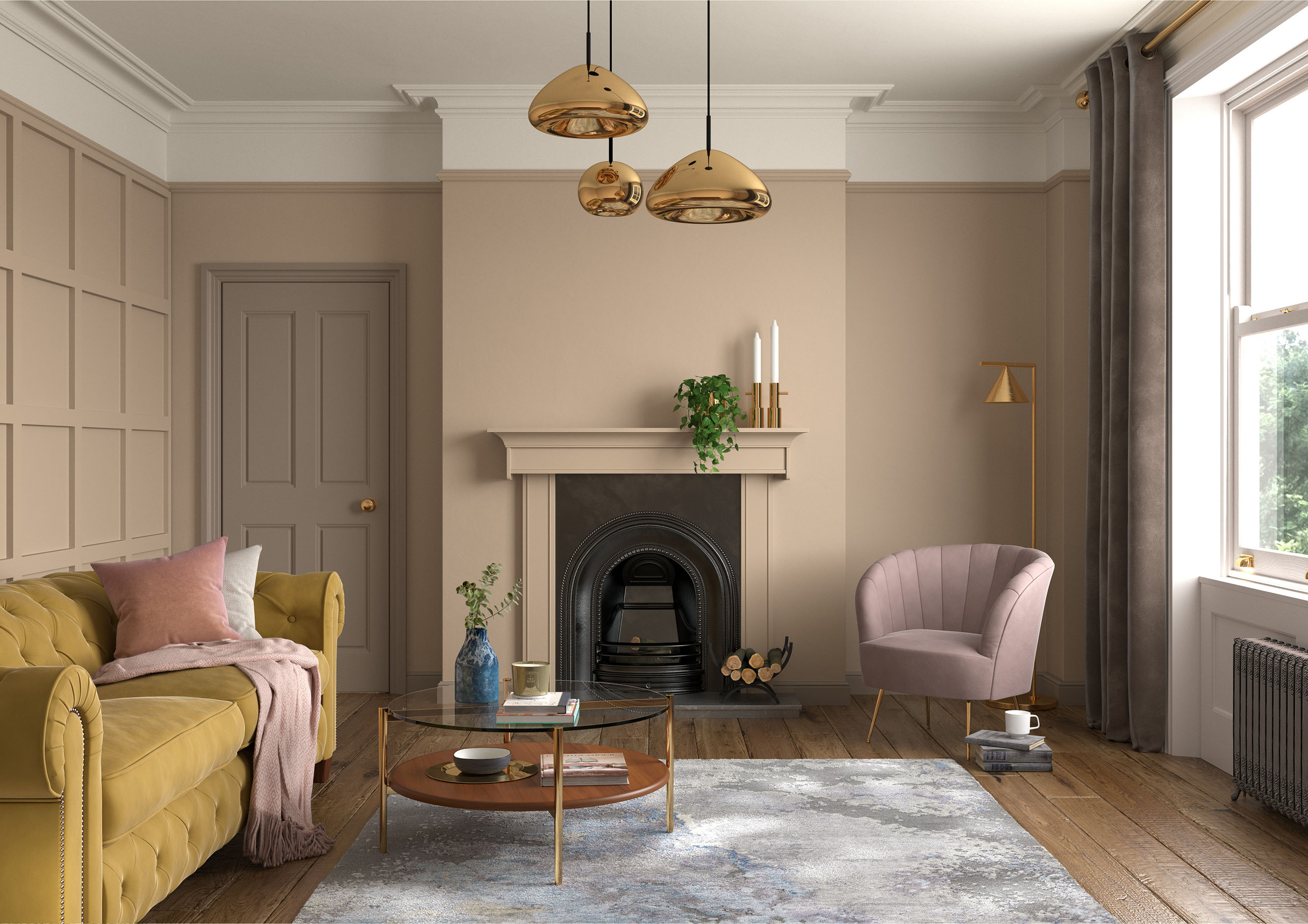 Cotswold cosy
Cosy up a living room in warm, earthy tones using carefully selected shades that also bring out its character. Dark Stone has been used on the walls here to pick out period detailing such as the fireplace and panelling, while Ochre White™ extending from the ceiling the picture rail is chosen to highlight the cornice. The introduction of a third colour, a brown-green hybrid by the name of Jenny Wren, completes the look and helps to create that distinctive Cotswold aesthetic.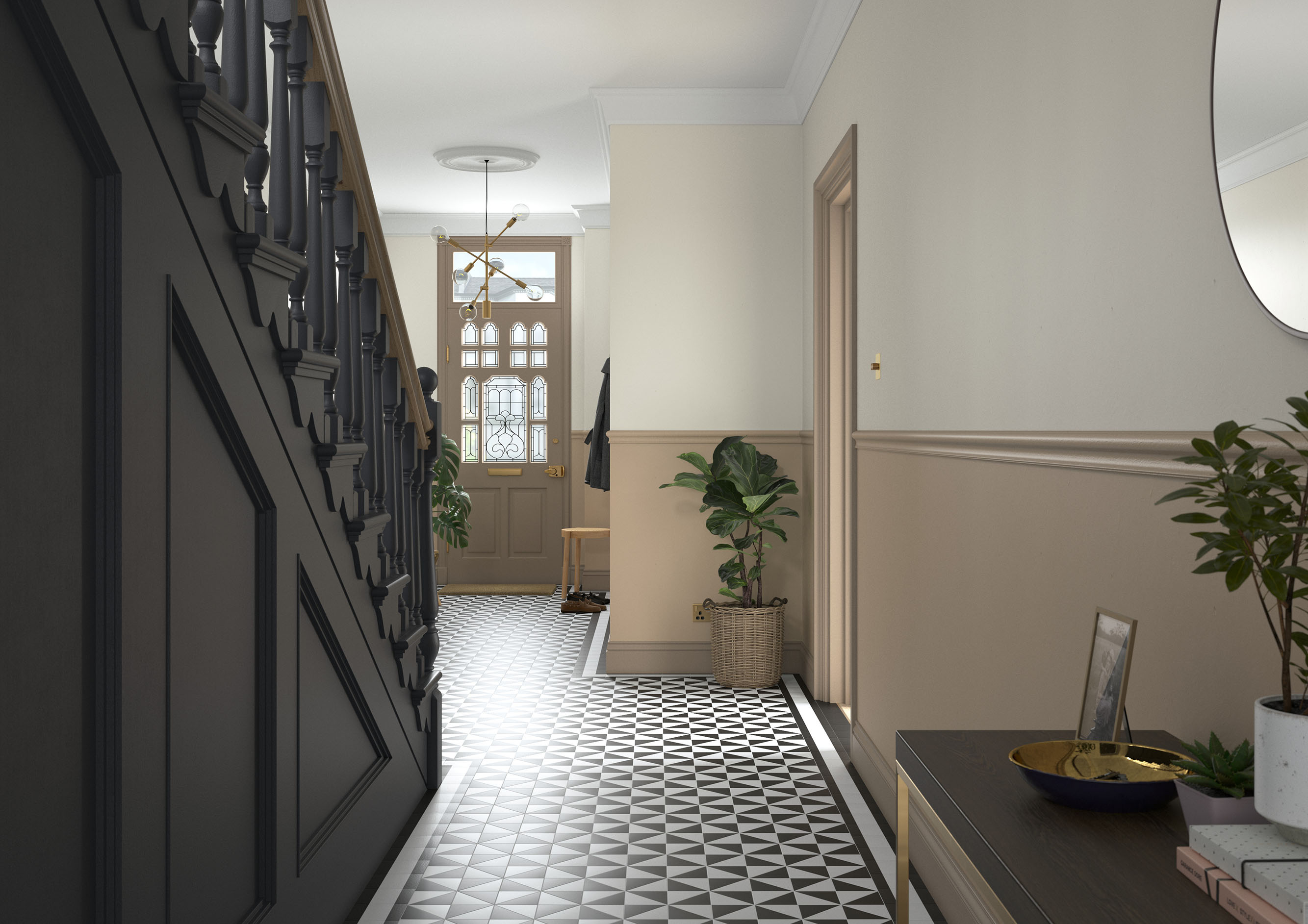 Warm welcome
A brown hallway? When it looks this good, it's far removed from the fashions of the 70s, and is brought bang up to date for contemporary living. To achieve the look, pair paler, lighter tans with richer, darker tones for a palette that feels beautifully balanced. Here, we've divided the walls with the lower-half in Dark Stone and the upper-half in Ochre White™, elongating the room and creating a point of interest. The skirting and ceiling have been painted in subtle Jenny Wren and soft Mallow White, respectively, while the stairs are striking in the darkest of deeps, Ravens Flight. The secret is light and shade – but tell only who you must.
Commit to colour
Not only does Dark Stone look beautiful, but it feels gorgeous under your fingertips, with a velvety matt finish for walls and an eggshell with a soft sheen for woodwork. Perfect for creating spaces that feel warm and characterful, the deep tone is absolutely timeless, and can be used in any room of the house. Try it today by ordering a tester or commit to colour by choosing a can.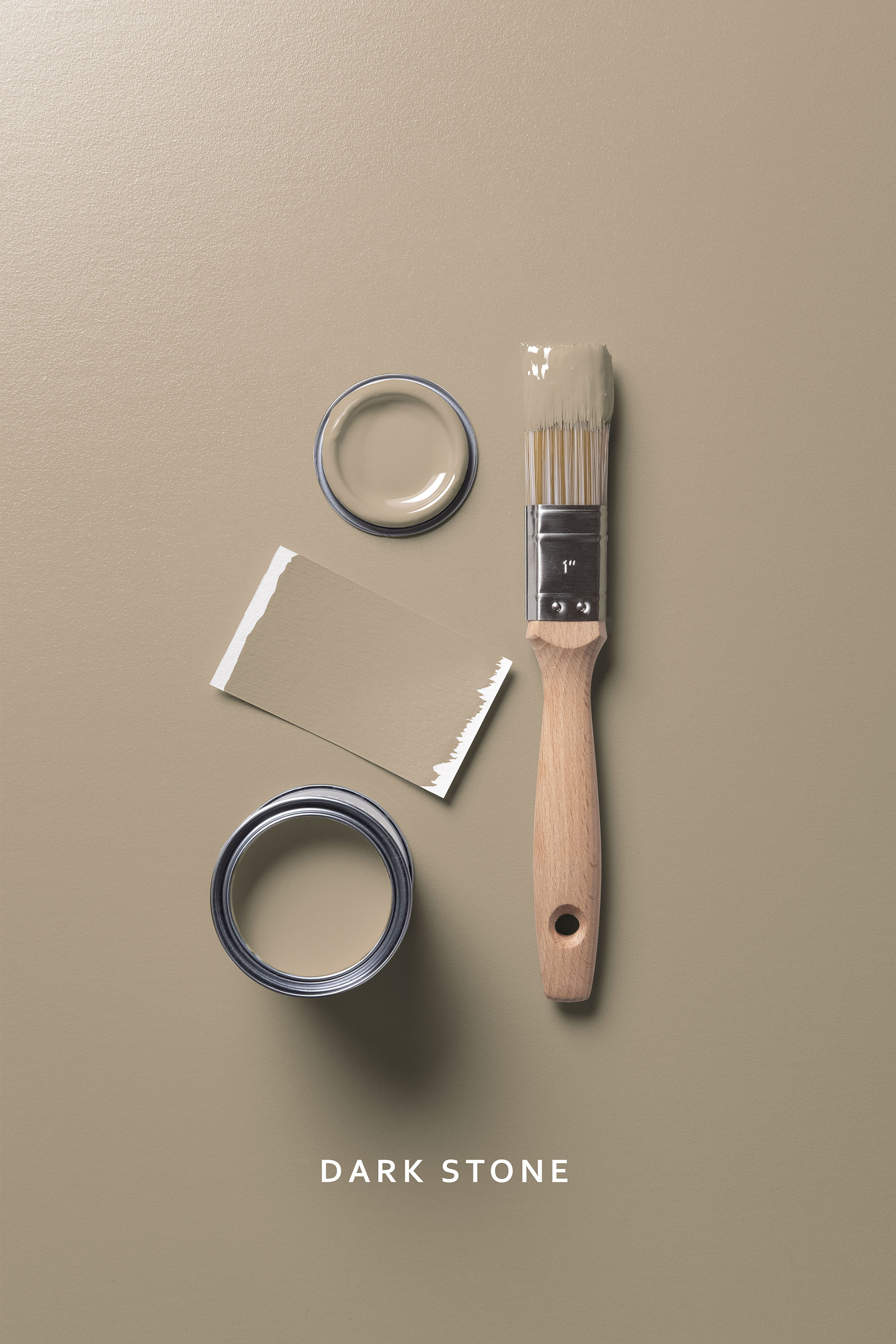 Share your Heritage colour story with us on social using #MyHeritageHome and tagging @DuluxHeritage – you could feature on our Instagram and Facebook pages.