Inspiration Article
Masterclass: Be Bold with Beige
Think beige is boring? Think again. Trendy new takes are putting a twist on the traditional colour – characterised by a greyish-tan – to make it truly contemporary for modern-day homes. At once positive and familiar, the cocooning shade feels warm and comforting for any room in the house, with new iterations within the Heritage Collection providing fresh inspiration for our interiors. And it's not only spins on the colour itself that's making beige seriously big news: across social media, people are using it in bold and unexpected new ways, whether neutral-on-neutral, or even teamed with blue… Your imagination, it seems, really is the limit.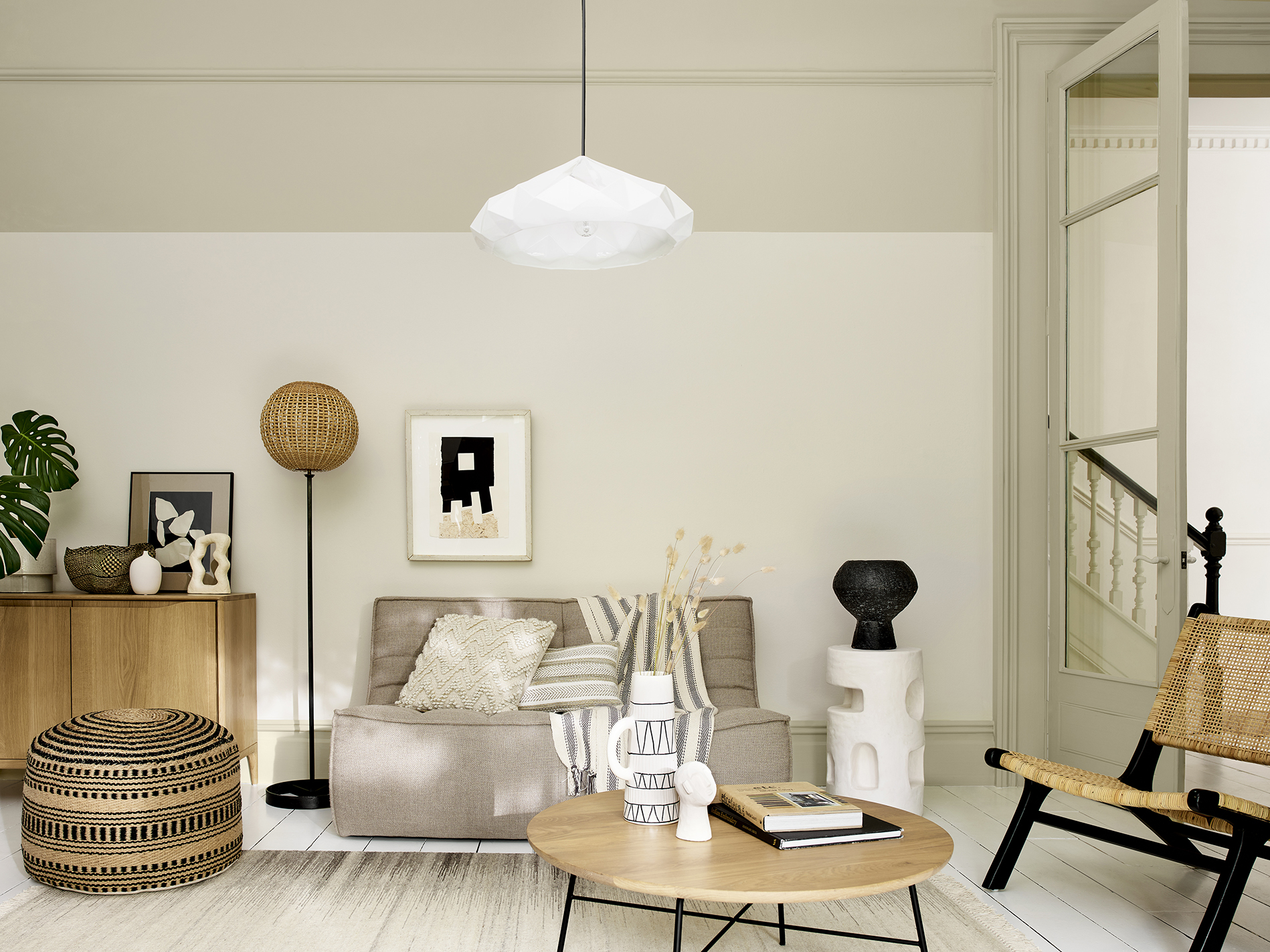 Simply beautiful
Neutral-on-neutral is everywhere right now, from fashion to interiors, so it's no surprise that it's finding its way into our spaces at home. The key is combining two neutrals that complement each other tonally but are distinct enough to contrast for depth and drama. Here, we've used muted Flax Seed on most of the walls as a subdued backdrop, and paired it with warm Rope Ladder on the upper-walls for a distinctive accent. Similarly neutral touches, from light wooden furniture to a wicker pouf and a cane chair, add to stylish simplicity and couldn't be more 'now'. The result is an understated but elegant living room that feels calm and gentle – perfect for rest and relaxation.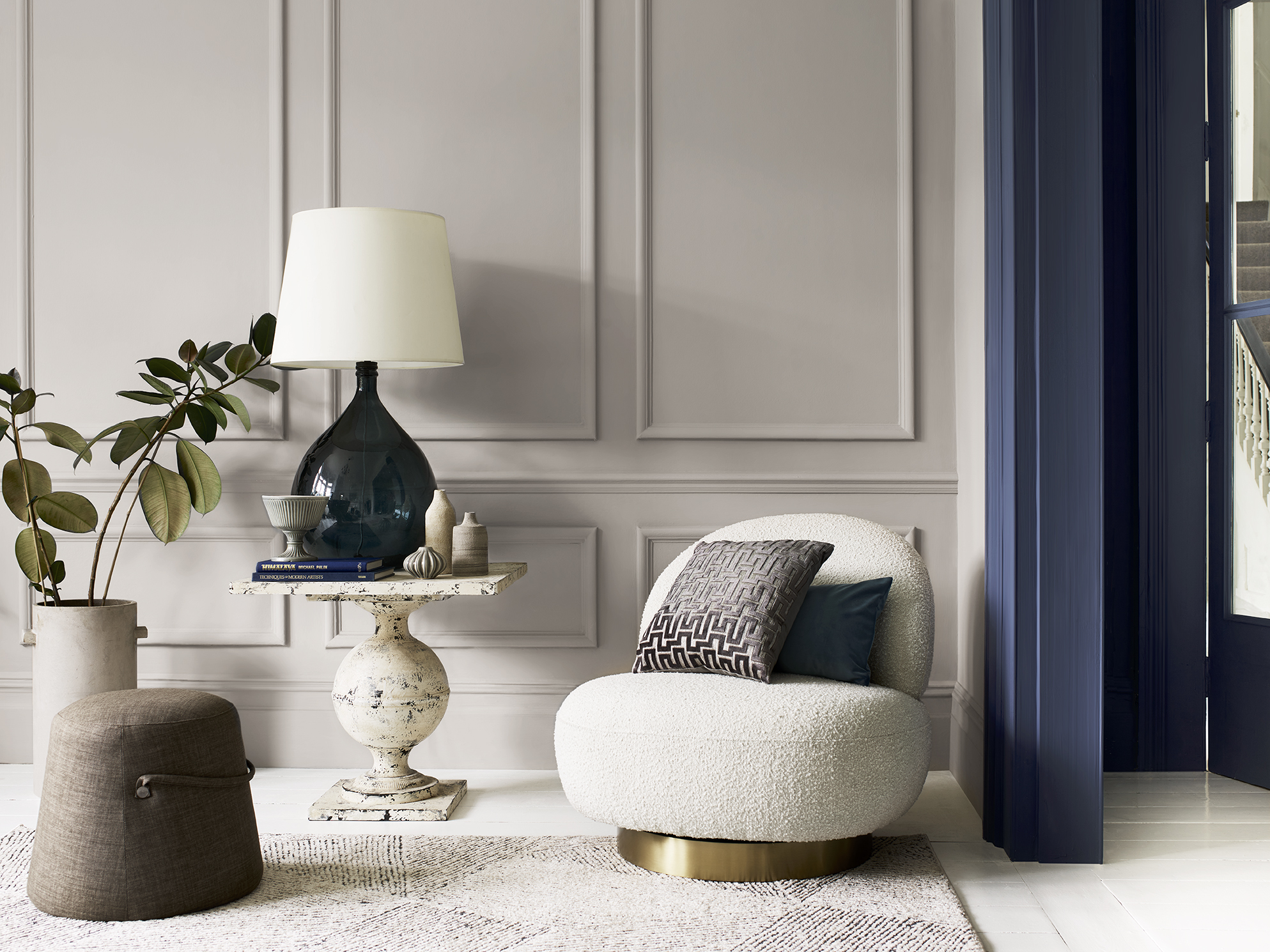 Out of the blue
Who knew that pairing beige with blue was a thing? It's quite the trend on Instagram with interiors influencers demonstrating their colour credentials by using the winning combo to spectacular effect on their feeds. It's particularly showstopping in this chill-out space, with softly-muted Pebble Grey on the walls offset by a door-frame in low-key DH Indigo, the two together creating a space that's beautifully balanced and practically zoned.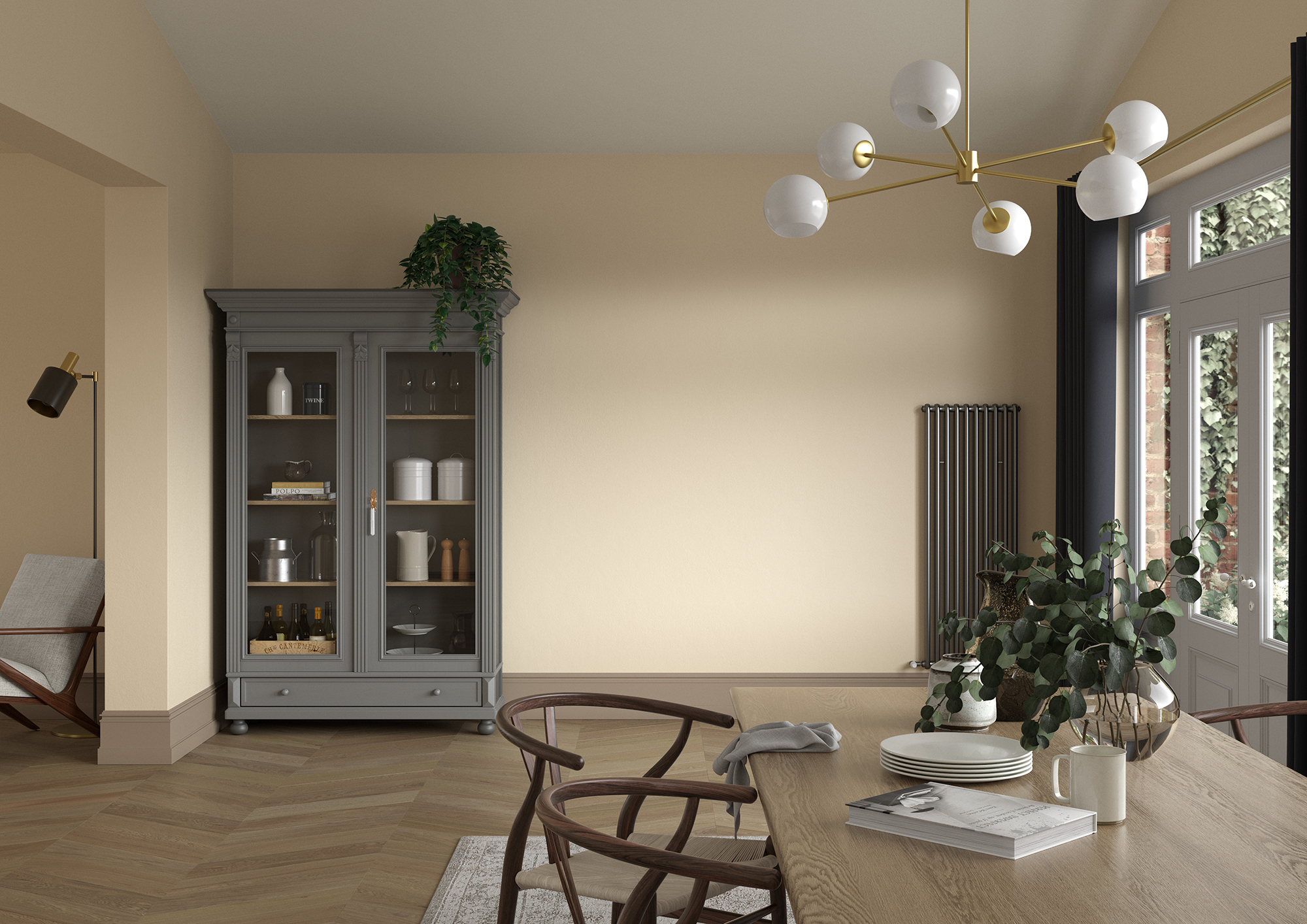 Wonder wall
Inspired by the immaculate architecture of the city of Bath, Bathstone Beige is a rich, mid-toned cream that proves the colour has come on leaps and bounds since its mundane beginnings. It's a brilliant beige to use by itself in a dining room, providing a cosy and warm backdrop to eating and entertaining, and looking as beautiful by day as it does by night. A tonal match for the woodwork in deep Jenny Wren – which sits on the fence between brown and green – and a cabinet picked out in dark Lead Grey ground the hero colour and ensure all eyes remain on the walls.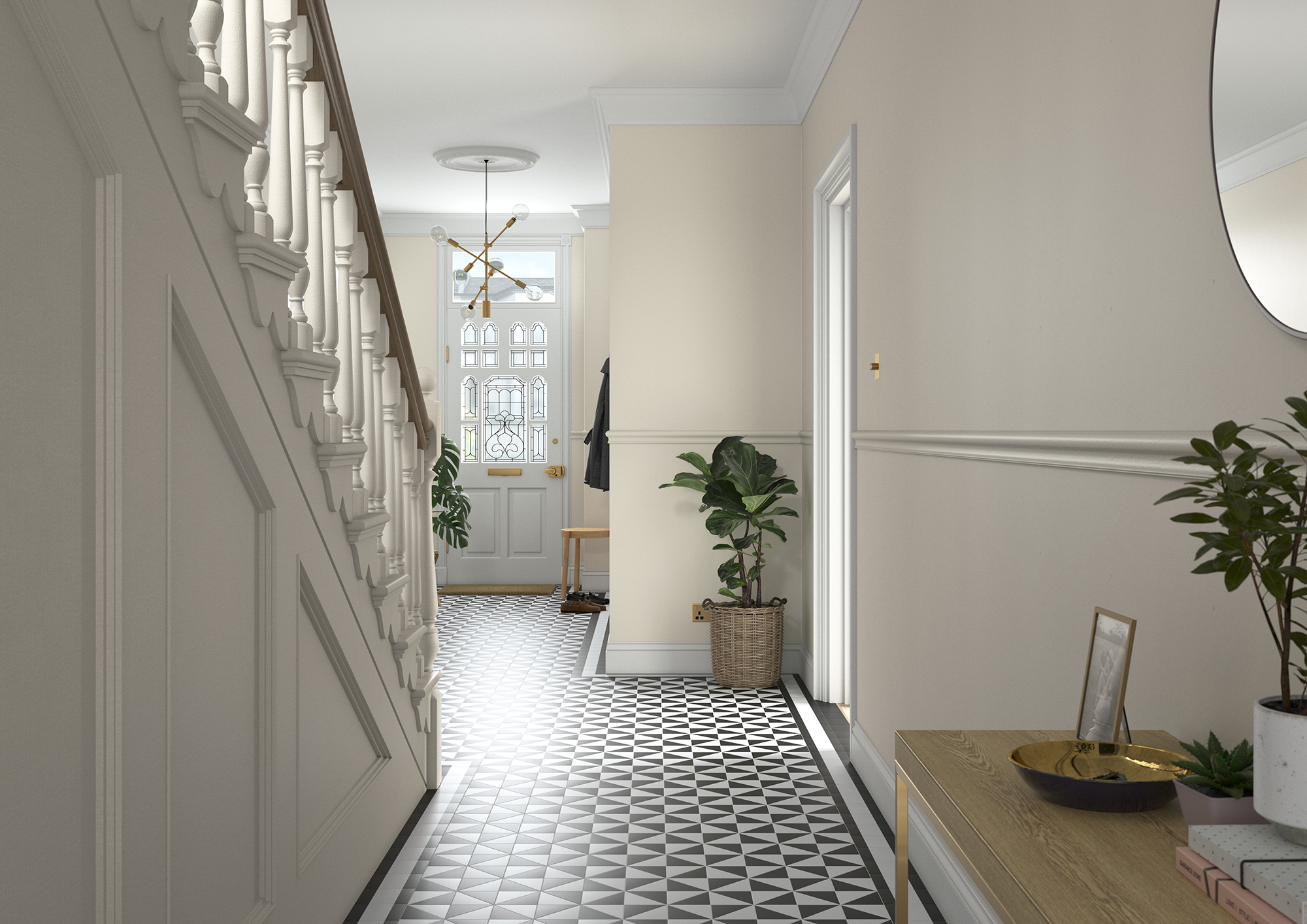 Cream dream
This hallway proves you don't need punchy hues to create an entrance, with substantial Cream and atmospheric Candle Cream™ on the lower- and upper-walls, respectively, and earthy Mid Umber on the door and skirting to frame the softer neutral surrounds. With colours this subdued, you really can combine more than two shades in a small space, as each complementary beige adds another layer of depth and interest. The stairs in matching Cream and the ceiling in crisper Mallow White complete the look.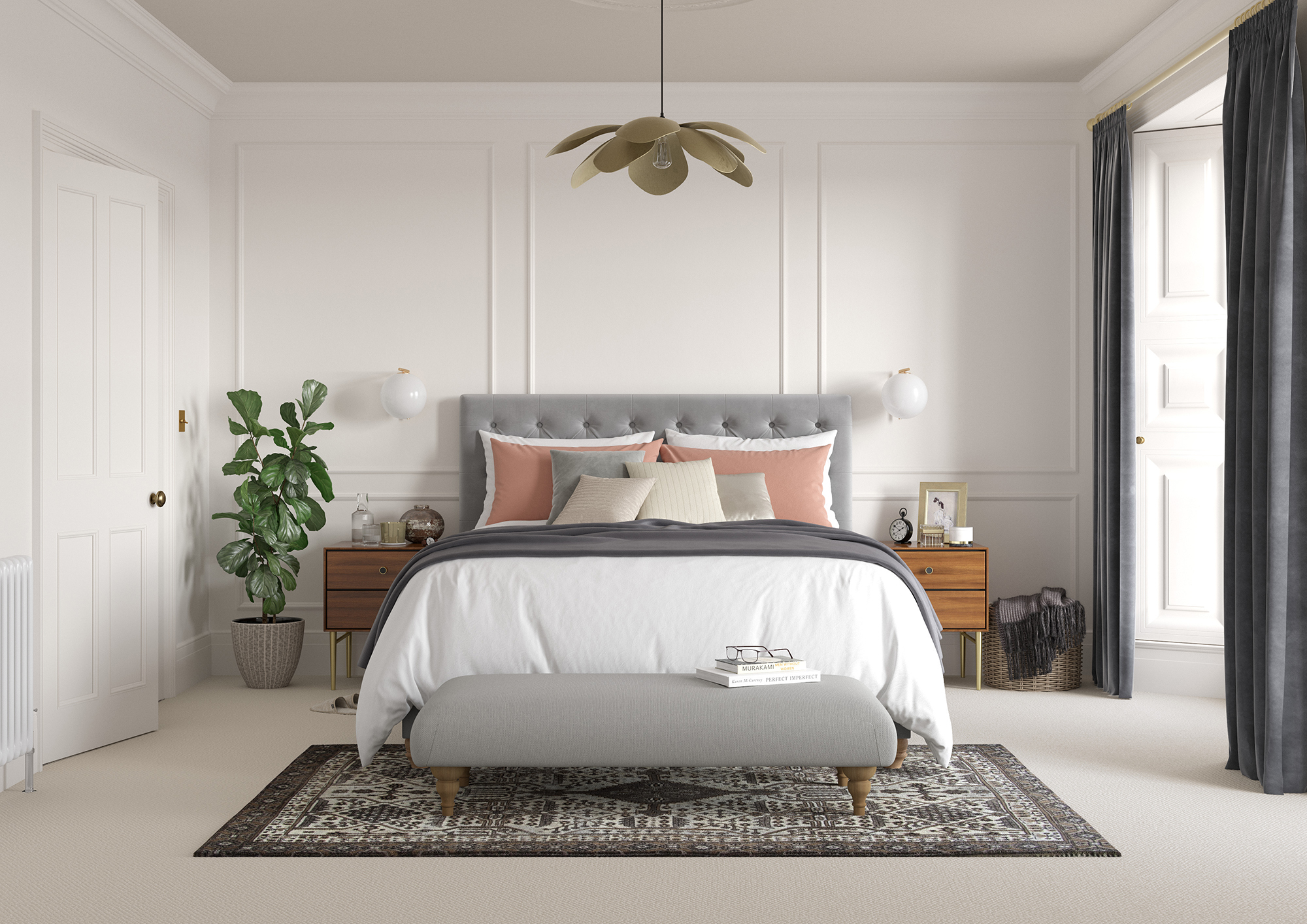 Embrace the fifth wall
Seen as old-fashioned for so long, it's normal to be nervous when it comes to a strong neutral such as beige. So flirt with the idea in the first instance, rather than commit, by picking it for a painted ceiling – often called the 'fifth wall' – rather than the whole room. Here, warm Pale Walnut makes crisp Roman White on the walls, cornice and woodwork really pop, while opening the space and softening the scheme. Refined and understated, the go-to neutral is a nod to the trend without going all-out, and can easily be paired with more beige on accents such as the woodwork over time.
Commit to colour
Whatever 'new-wave beige' you pick, or however you use it, we guarantee our paint will feel absolutely gorgeous under your fingertips, with a velvety matt finish for walls and an eggshell with a soft sheen for woodwork. Pick your palette today by ordering a tester or commit to colour by choosing a can.
Share your Heritage colour story with us on social using #MyHeritageHome and tagging @DuluxHeritage – you could feature on our Instagram and Facebook pages.