Inspiration Article
Tasting Notes: Country Sky™
Sometimes, it's periods in time or the things around us that inspire the classic colours in the Heritage Collection, but other times it's simply moments. Such is the case when it comes to Country Sky™, a relaxed blue-green that takes its cues from that blissful moment when the sun sets on another clear summer's day and sinks behind the horizon line. Clear blue as far as the eye can see turns into something altogether more enigmatic as warmth gives way to tranquillity. With an unexpected dash of black, Country Sky™ has a cool, muted look that creates soft, calming spaces for dreaming. Let your imagination run wild with a book in a beautiful living room. Shut yourself away with nothing for company but your thoughts in a stylish home office. Or get creative in an inspiring kitchen that encourages ideas. With Country Sky™, the world really is your oyster, and it all begins with colour on your walls.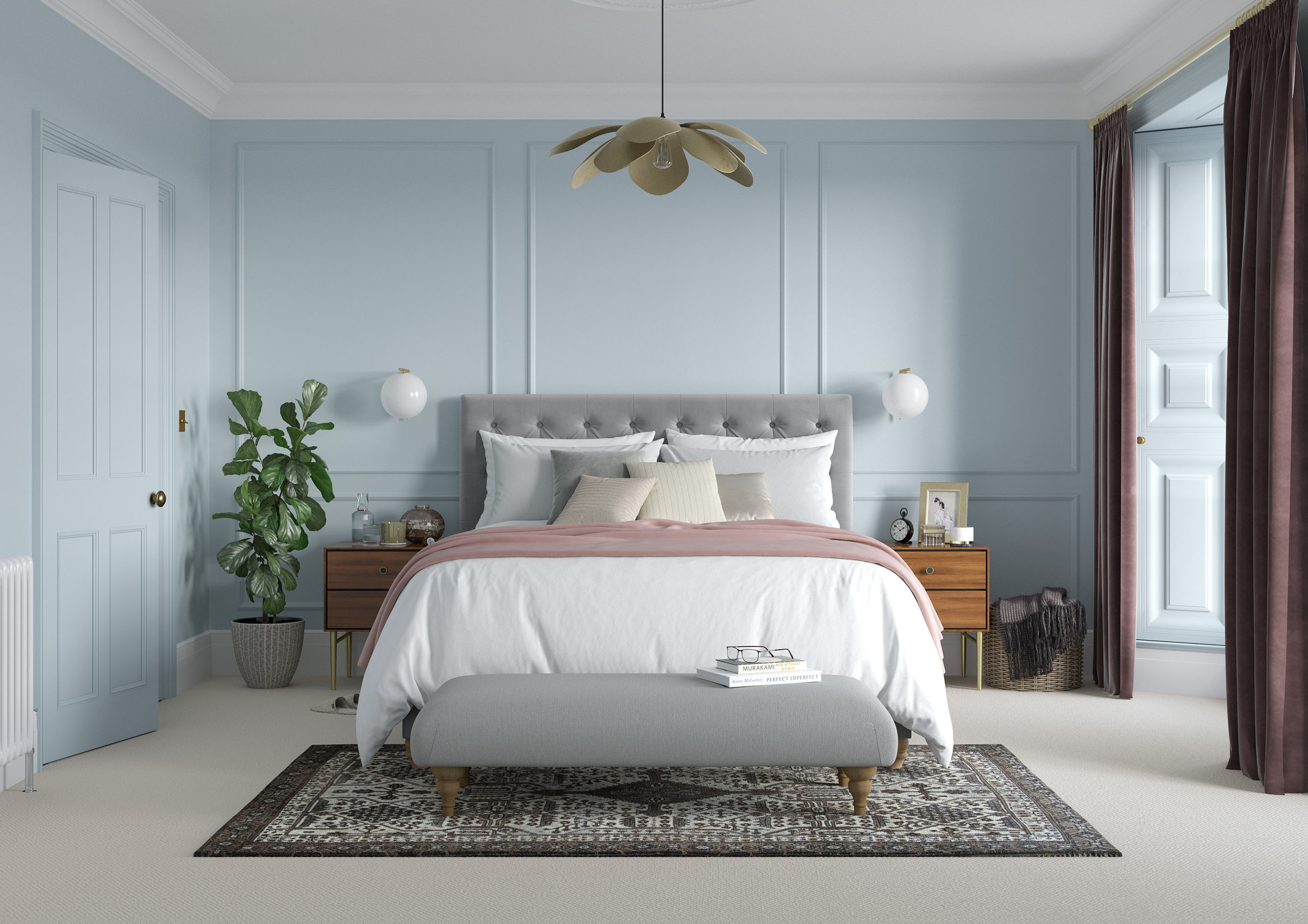 Serene dream
The brief for a bedroom is the same for everyone: make it a space for relaxation and sleep. It's a simple solution with Country Sky™, as the calming quality of the colour soothes with its air of calm and serenity. We've gone all-out with colour-saturation on the walls, door and woodwork, save for the skirting, cornice and ceiling, which complement in fresh and lively Wiltshire White™. The result is a room that beckons you to bed with a knowing wink – sweet dreams, this way.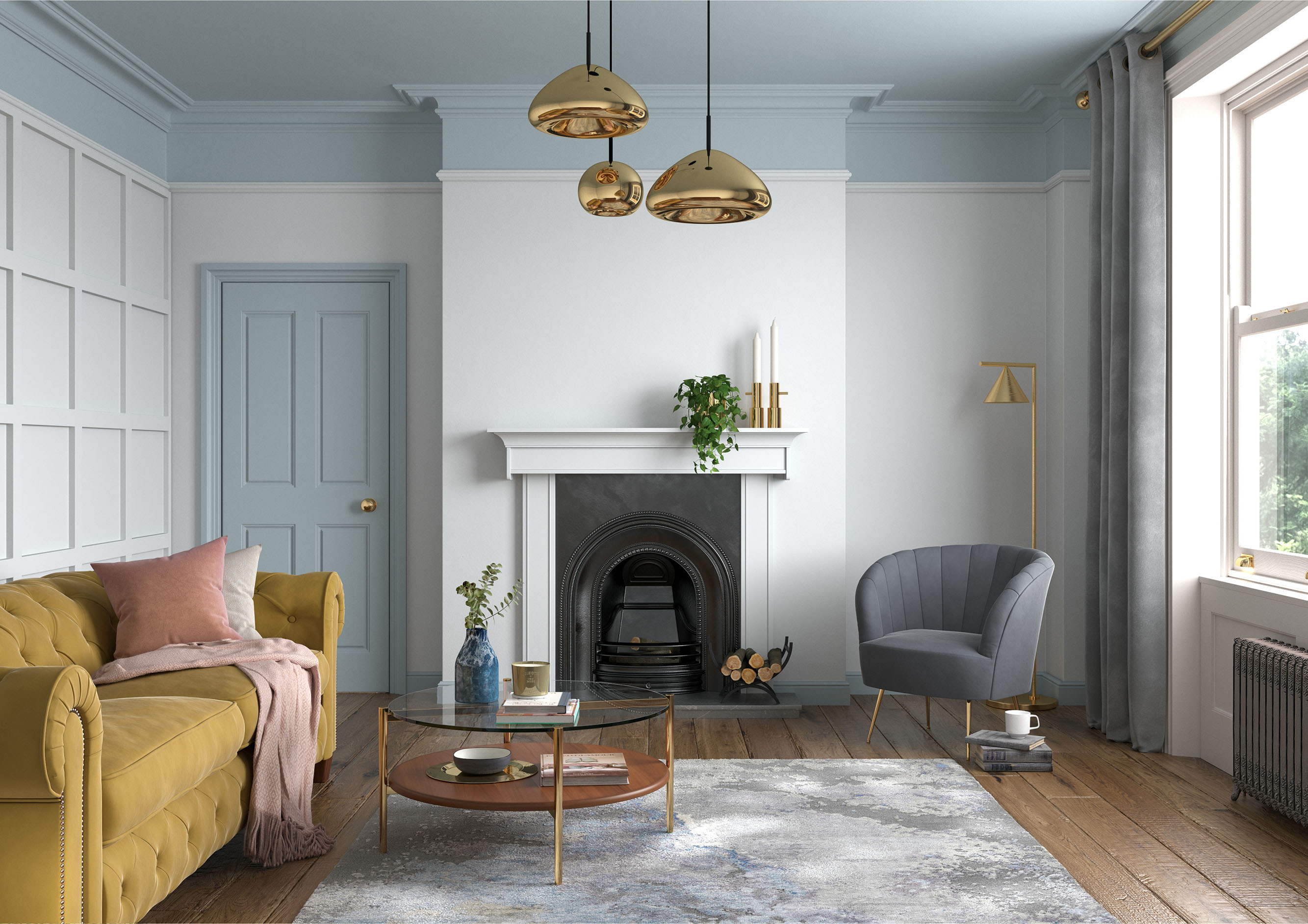 A room to relax in
In today's busy world, switching off can be easier said than done, which is why it's essential that your living room lulls you into a sense of relaxation. May we propose choosing a touch of Country Sky™ to add a little tranquility? Use it to paint the ceiling and cornice, extending all the way down to the picture rail, so that when you're lying on the sofa and look up, you'll be inspired to drift away… A matching door and surrounding woodwork create an equally dreamy entrance, while Swedish White™ on the walls and fireplace helps the whole space feel light and bright. A chill-out room that doesn't feel cold, who'd have thought it?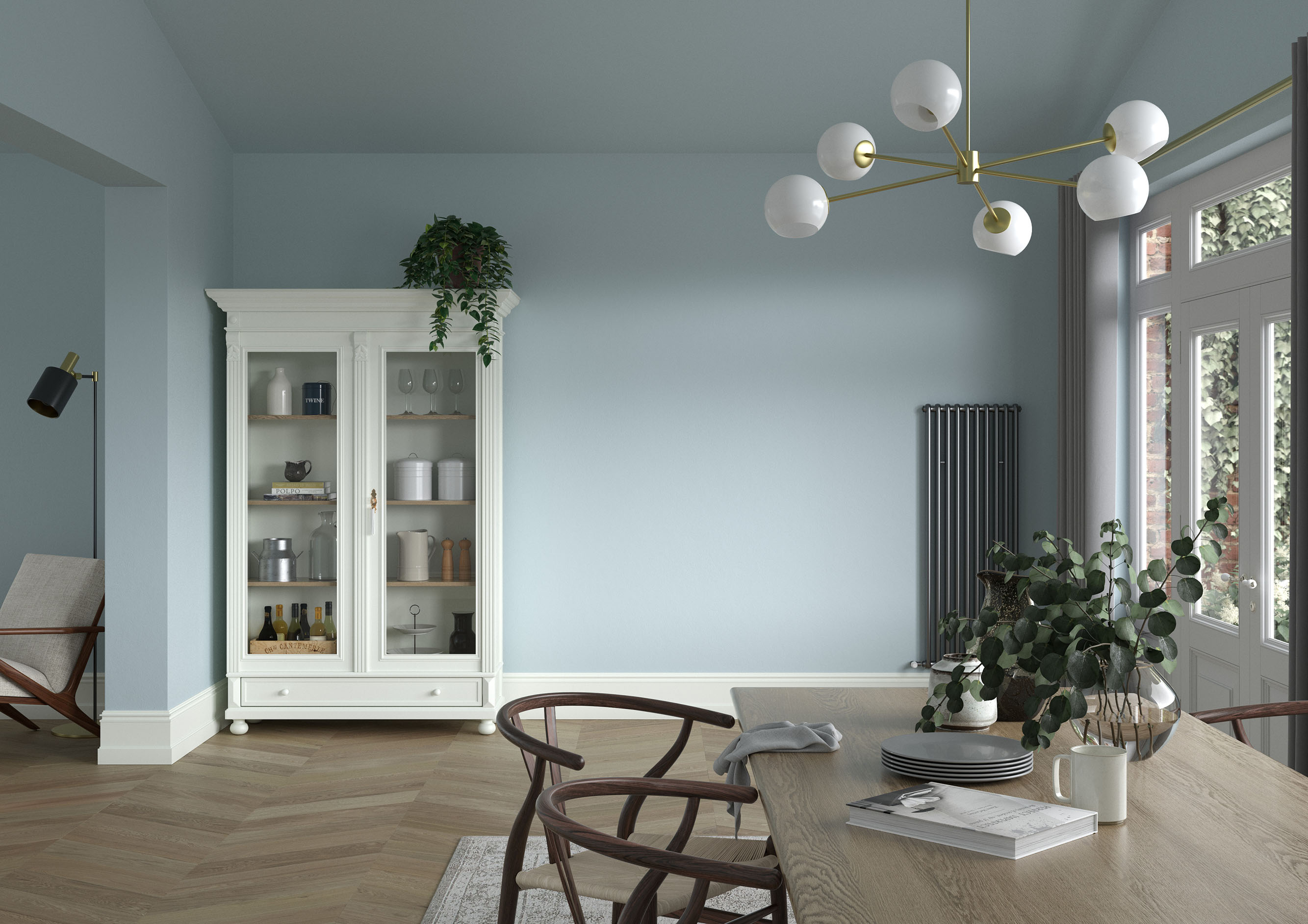 Cook up creativity
Classic doesn't have to be uncool, as this seriously chic dining room proves, with its pale tones creating a timeless but on-trend look. Country Sky™ on the walls and ceiling creates an inspirational place to cook and get creative, while Panel White on the skirting and dresser keeps things fresh and modern. The finishing touches? Brass accents and mid-century modern furniture to add a touch of fabulous.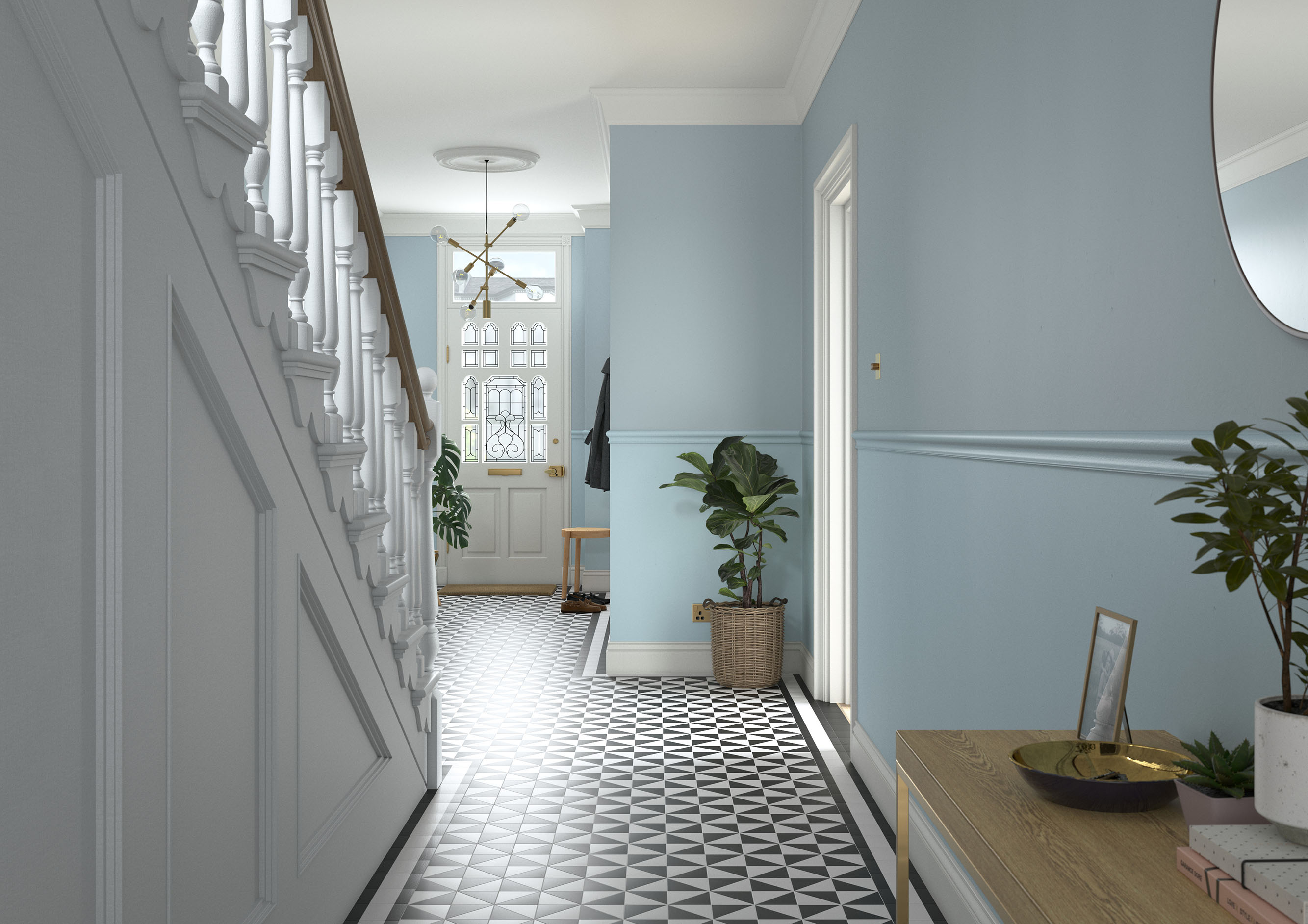 Step into serenity
Away from the hustle and bustle outside, coming home and shutting the door should feel calming, which is exactly what this hallway with Country Sky™ on the upper-wall creates. A similarly cool, pale tone sits beneath in Copenhagen Blue, while warm Edelweiss White on the ceiling, door and skirting complements nicely.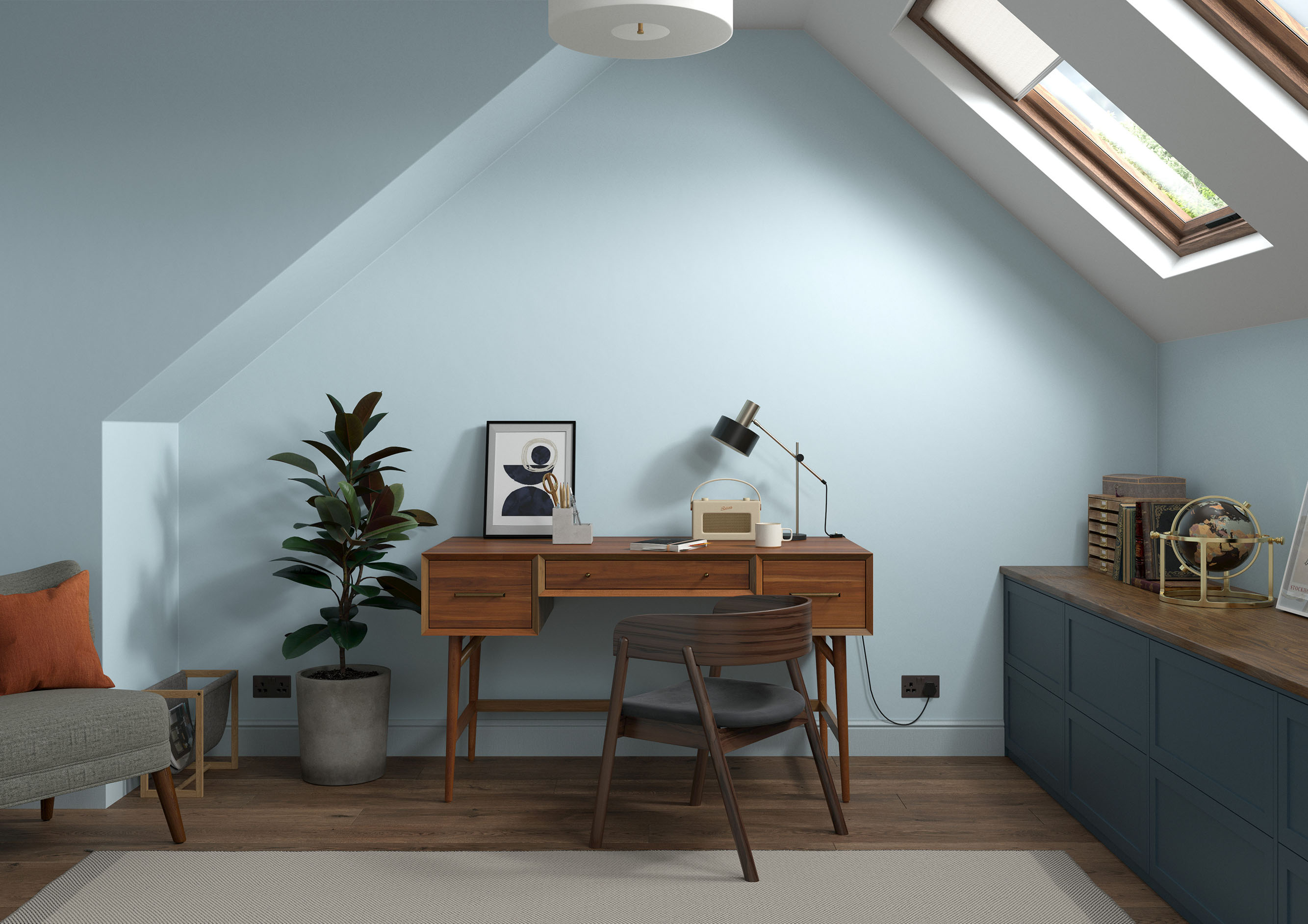 Soft focus
Whether you're WFH or returning to the office, careers require concentration, which calls for cool, calming colours. Here, we've teamed Copenhagen Blue on the walls with Country Sky™ on the skirting for a soft look that encourages focus, paired with deep Midnight Teal on the cabinet and dark woods for contrast. Stylish black accessories make a bold statement, meanwhile, while a crisp ceiling in Swedish White™ provides a clean and unfussy finish.
Commit to colour
Not only does Country Sky™ look beautiful, but it feels gorgeous under your fingertips, with a velvety matt finish for walls and an eggshell with a soft sheen for woodwork. Perfect for creating spaces that are soft and soothing, the pale tone gently lifts walls and woodwork, while teaming with its ideal partner Swedish White™ makes everything sing. Try it today by ordering a tester or commit to colour by choosing a can.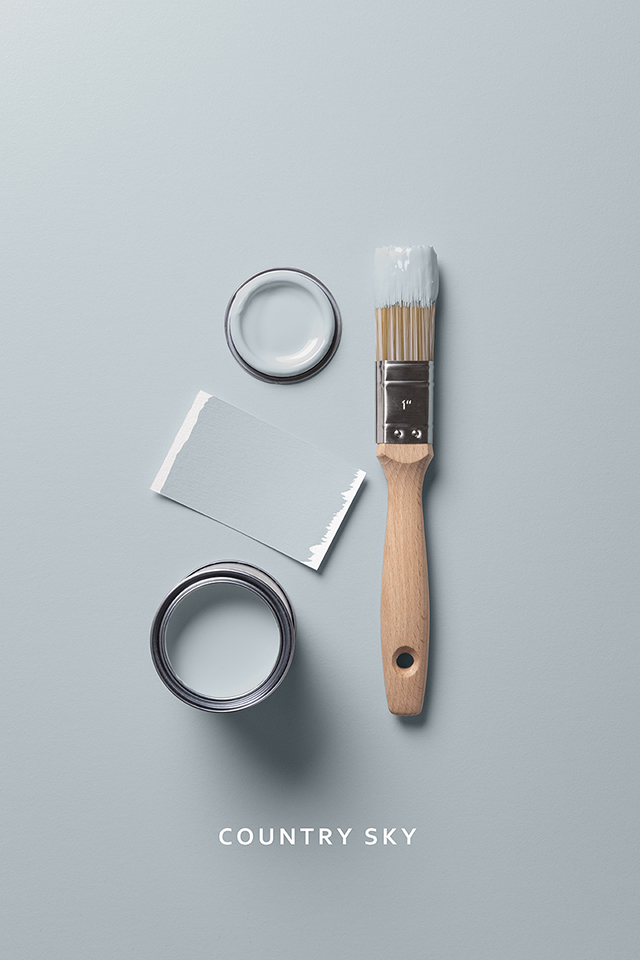 Share your Heritage colour story with us on social using #MyHeritageHome and tagging @DuluxHeritage – you could feature on our Instagram and Facebook pages.