Inspiration Article
Premium paint for discerning professionals
Crafted by our colour experts to meet the high standards of your discerning customers, it's hardly surprising that Dulux Heritage has become the premium pick for professional decorators everywhere. Plus, with 112 timeless colours in quality finishes that apply effortlessly, our unrivalled product doesn't only make your job easier, but more enjoyable, too. Because now, more than ever, you've got to love what you do. Here, we lift the lid on what makes Dulux Heritage a dream for decorators.
Enjoy the process
Imagine if every working day was as smooth as our paint? It can be with Dulux Heritage. As every good painter knows, a seamless paint project you can be proud of relies on quality product, which is where our two finishes in Velvet Matt (walls) and Eggshell (wood, metal) are your essential tools of the trade. A dream to apply, both go onto surfaces like butter, with quality pigments and blending clays creating finishes that are as lustrous as they are long-lasting. While other paint can drag on the brush and leave patchiness, decorating with Dulux Heritage never feels like hard work, but always looks like a work of art. Meaning a pleasurable process for you, and a professional finish for your client. Matt Gray, Skills Development Consultant at the Dulux Academy for painting professionals, says: "Since its launch in March 2021, I've been using Dulux Heritage Velvet Matt and Eggshell with fantastic results. Velvet Matt is so easy to work with: the cutting-in is crisp and clean which is complimented by the evenness and flow of the roller application. Not only will customers achieve great colour, but they'll enjoy flat and smooth surfaces, too. After sanding and preparing, the application of Eggshell is seriously easy, too, ensuring an even coating with virtually no brush marks and great coverage. Most of the application characteristics come from the high-quality pigments and cutting-edge technology that is used in the manufacturing of our product. But using good application techniques and tools will also help. Together, you're guaranteed a great-looking and long-lasting finish."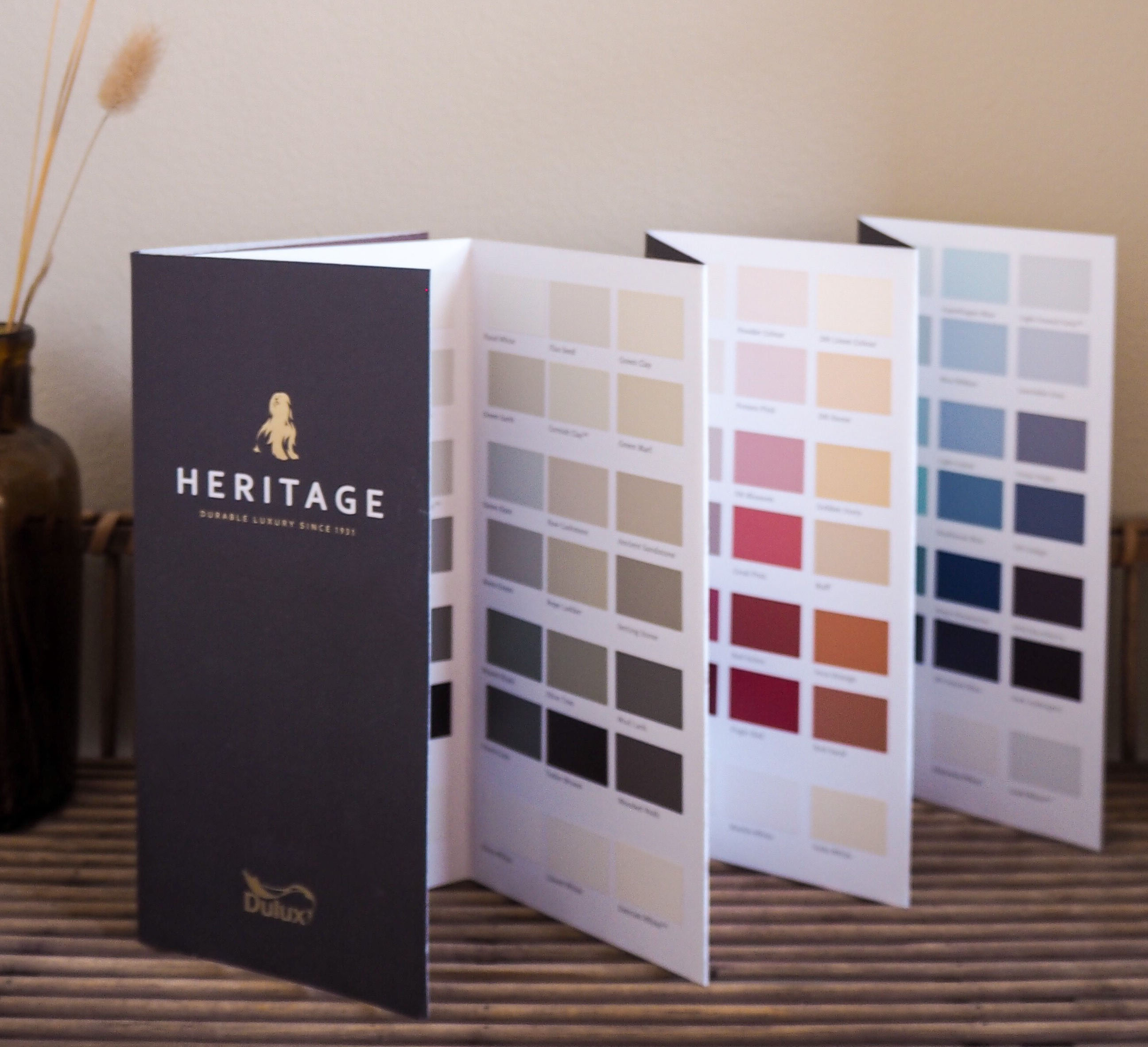 Unleash your creativity
Inspired to spark the creativity in your clients? Dulux Heritage empowers you with tools to tell the stories behind our exquisite colours. Informed by the past but influenced by current trends, browse our range of 'Tasting Notes' to discover the inspiration behind each shade, and become your own colour expert for each project. Better still, master the science behind the curated colours in our tonal palettes to find complementary shades for customers, and create the look and feel they want for individual rooms or complete schemes. Dulux Heritage provides you with an education in colour expertise that enriches your everyday and makes homes truly extraordinary. Our Creative Director, Marianne Shillingford, says: "Dulux Heritage has made the art of creating beautiful colour schemes simple. Inspired by the very best of past and future interior trends, our experts have curated a palette of over 100 premium shades alongside a range of resources that are easy to use so you, too, can become a colour expert for your clients. The free printed Colour Card and in-store display units feature real painted samples arranged in a harmonious flow of colours with columns of pale, mid and deep shades, plus a perfect white for every hue. What's more, our website has been designed so you can see what each colour looks like in a range of elegant room settings and across different surfaces, and recommends tried-and-tested combinations of colours that complement each other perfectly."
Dulux Promise
Better still, Dulux Heritage falls under the Dulux Promise, in which we commit to our paint giving you the perfect colour with a uniform finish and the coverage stated – or we'll replace it. No risk, just results.
Confidence in every can
From easy application to efficient coverage, we have poured over 90 years' of expertise and passion into our paint, which is why we're confident in every can. Love what you do even more with a lick of paint from Dulux Heritage.