Inspiration Article
Masterclass: 4 ways to add colour to your hallway
It's easy to overlook your hallway when decorating. This room tends to be smaller and narrower than the rest, and therefore presents more of a challenge. However, with the right paint colour and hallway inspiration, you can create just about any mood or setting, no matter the size or shape of your hallway.
Whether you want the space to feel light and airy or dark and dramatic, fun and bright or muted and atmospheric, you can choose the most perfect colour palette for your hallway using the beautiful shades from the Dulux Heritage range. Plus, this range is as durable as it is luxurious so you can be confident your hallway is protected.
If you're not sure what shade or combination of colours to go for just yet, cast your eyes over these four hallway paint ideas.
Hallway ideas number 1: Light and Airy
It's most likely that your hallway is one of the smallest rooms in your home and gets little natural light. So, it'd be no surprise if you wanted it to feel more open and more airy. Using a timeless neutral colour scheme is one of our favourite hallway wall ideas, as it can breathe new life into a space. York White, seen on the lower wall here, is a pale cream with a delicate hint of orange that gives the space a warm, bright feeling. We paired it with Grecian White on the upper wall, a sparkling champagne tint that has a soft sunlit glow to maximise space and light. Style the space with modern finishing touches, such as lush greenery and gold accessories.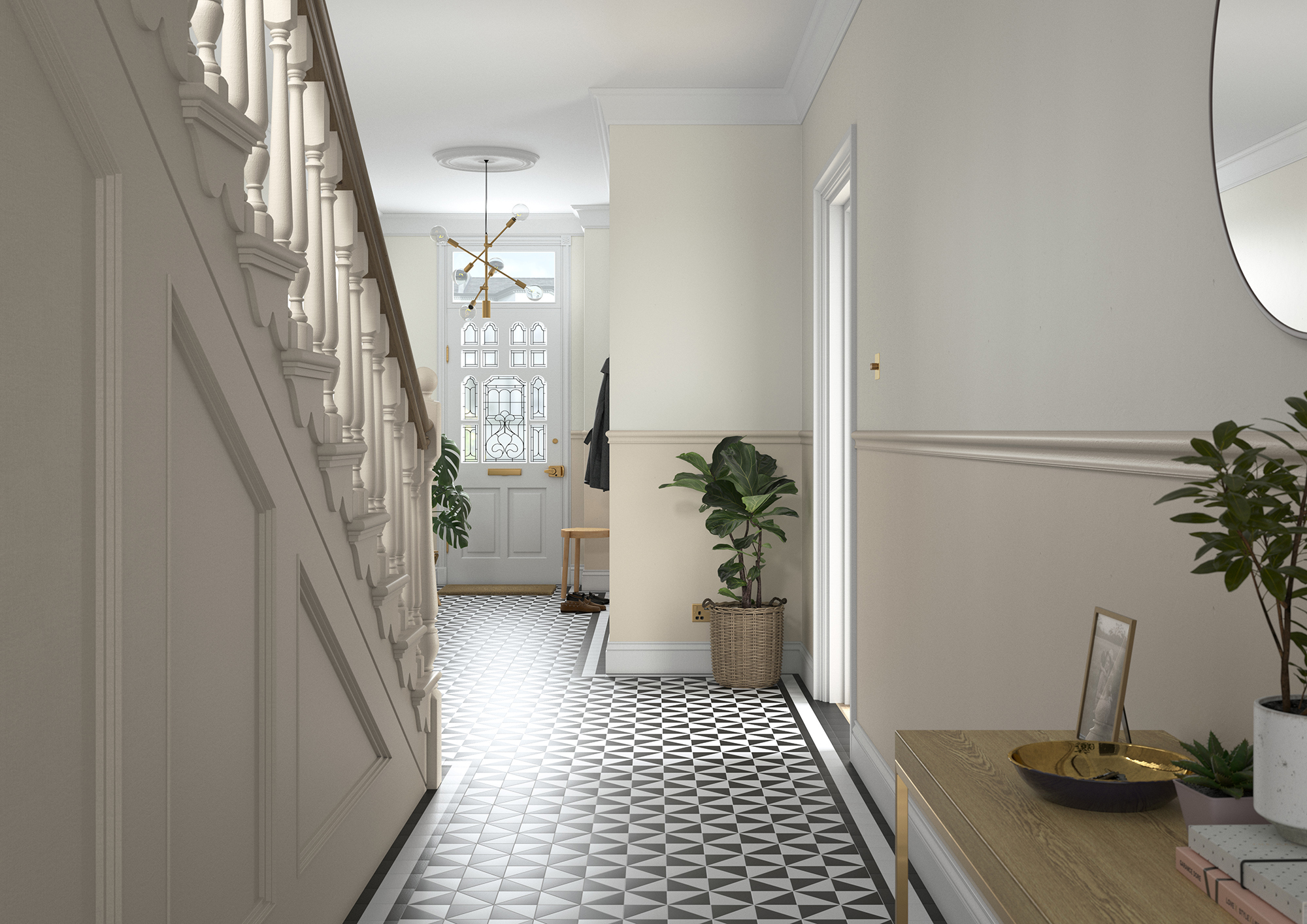 Hallway ideas number 2: Dark and Daring
Other hallway paint ideas include a dark and daring colour scheme. The style it dark trend is showing no signs of slowing down, and it could be the bold and beautiful move you've been looking to make in your hallway. Painting your walls and woodwork in very dark colours gives a room depth, which makes it appear more spacious. Imagine, if you will, the walls melting away. Ravens Flight, seen here on the lower wall, is our darkest of deep tones. This luxurious cool black, when paired with Forest Grey, creates a striking and dramatic statement.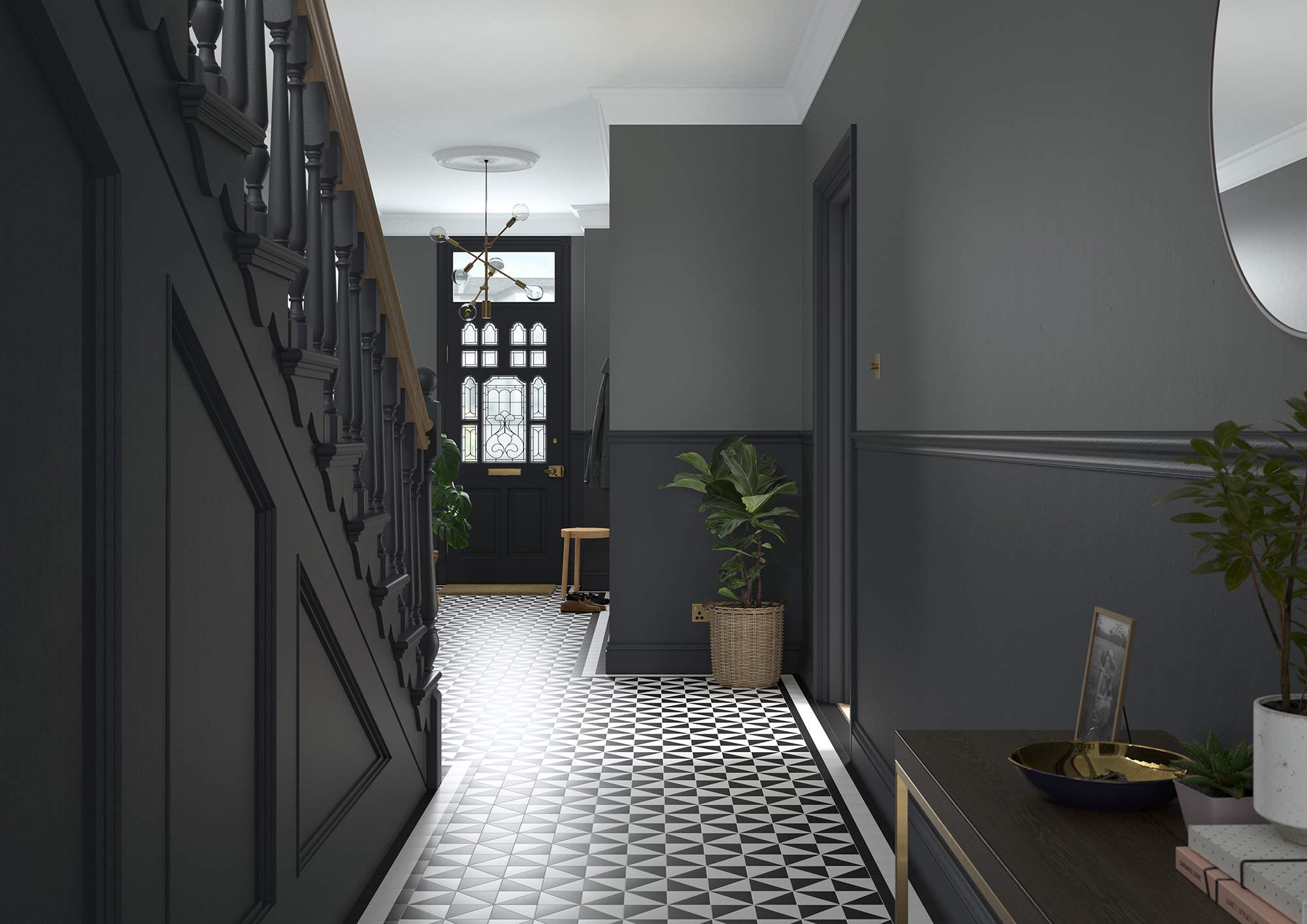 Hallway ideas number 3: Fun and Bright
Your hallway is the first space people see when they step into your home, which is another reason to show the area some attention. Bright colours for hallways can help make a great first impression. With Roman White as our base on the upper wall, we added Brushed Gold to the lower section of the wall to inject a burst of energy into the space. This deep, burnished yellow brings a sense of opulence, whilst creating a friendly and inviting entrance. Or if you're feeling brave, why not try Brushed Gold on your ceiling? Combined with Raw Cashmere on the lower wall and Roman White on the upper wall, you can really impress your guests.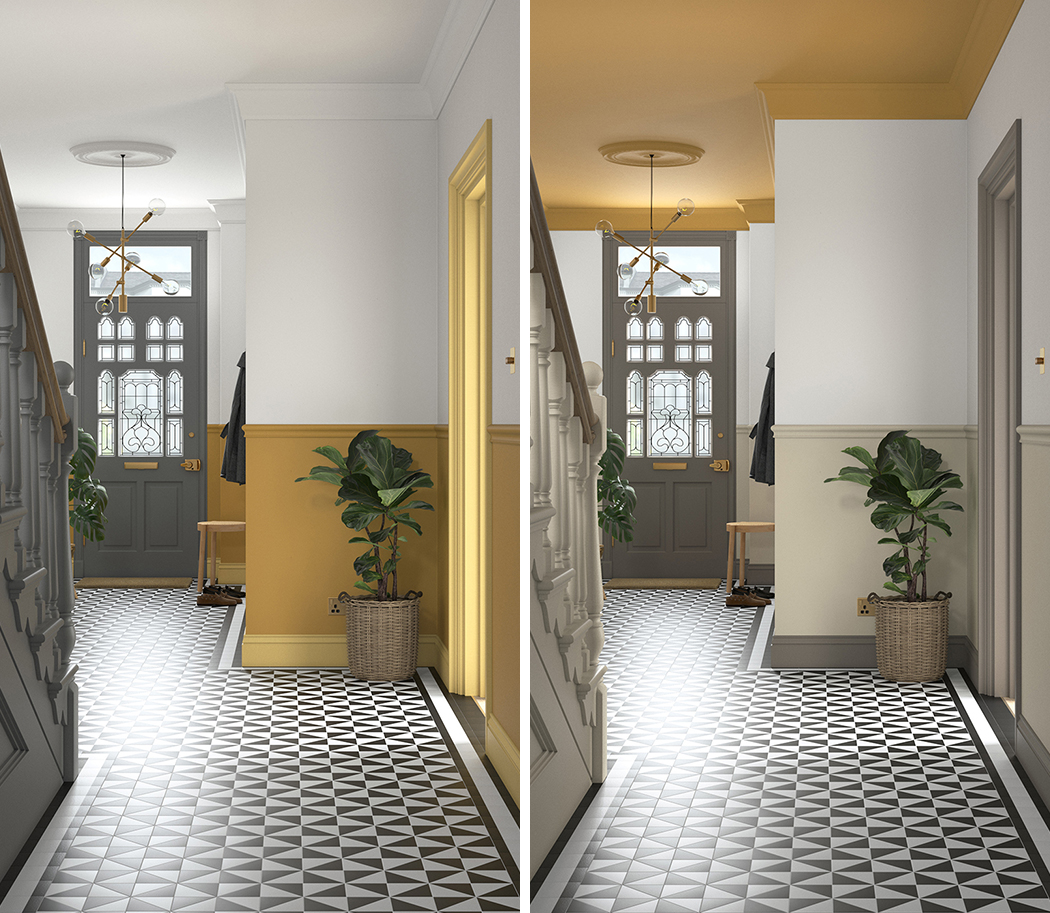 Hallway ideas number 4: Muted and Atmospheric
If a calm and quiet hallway is more you, lean into muted, restful shades of blue and green. Waxed Khaki is one of those colours that captures the great outdoors, and when painted on the walls of your hallway, it brings a sense of relaxed tranquillity into your home. It pairs well with Midnight Teal, a very deep and seductive shade that lends a certain grandeur and substance to a space. If you like this hallway inspiration, accessorise the room with light woods and other natural materials.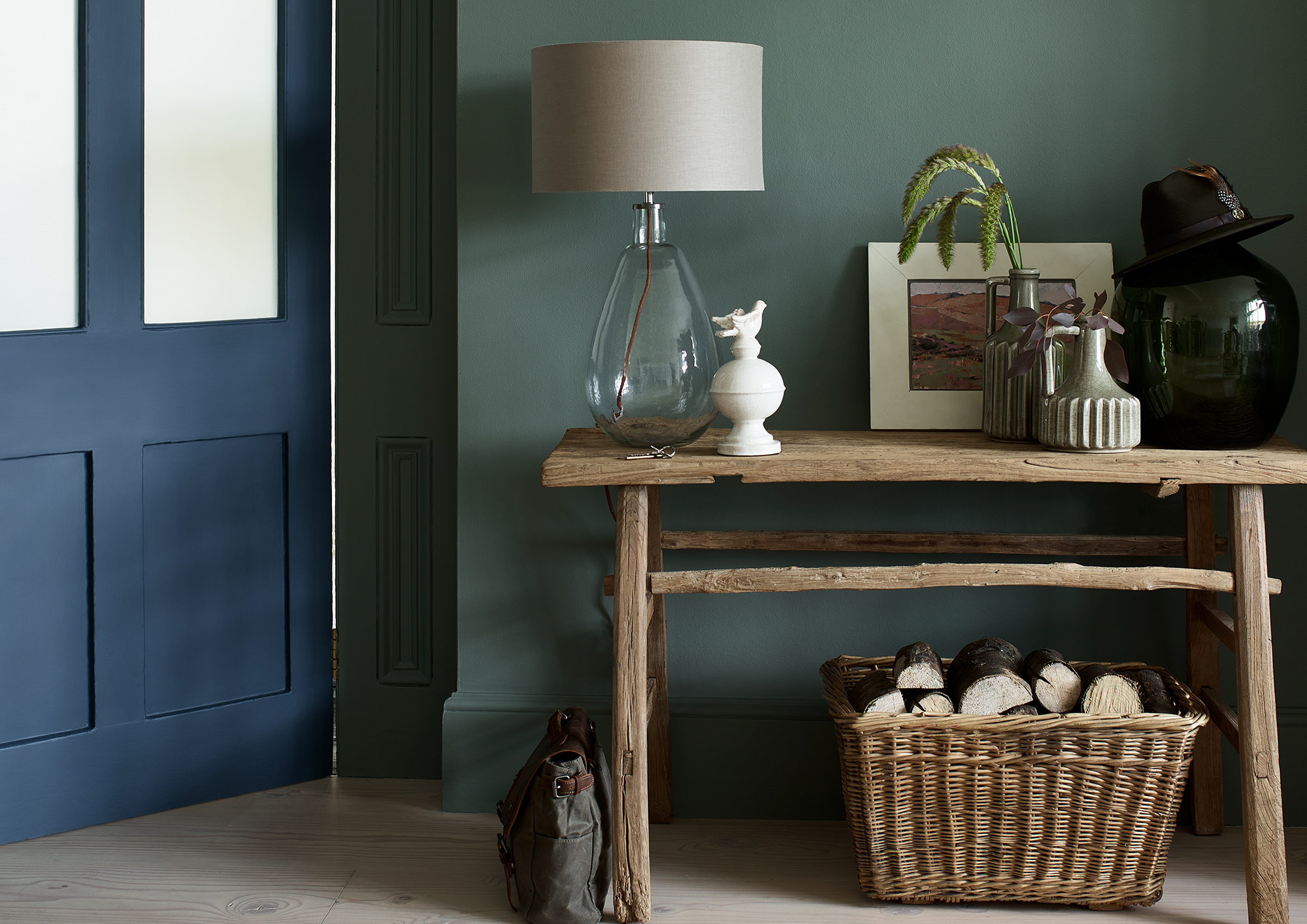 Ready to transform your space? You can find lots of hallway colour inspiration here.
Share your Heritage colour story with us on social using #MyHeritageHome and tagging @duluxheritage – you could feature on our Instagram and Facebook pages.