Inspiration Article
Masterclass: Elegant shades for entertaining this spring
With the passing of the pandemic, and the end of lockdowns, it's finally time to throw open the doors to entertain this spring. But welcoming friends and family after so long is about more than simply serving up good food and plentiful drink – for interiors aficionados, it's about showcasing a chic and comfortable home, too. Just in time for spring, we've created the ultimate guide to styling-up your space for the new season, from the colours to choose to the rooms you makeover. Playing host with the most at home has never been easier – just add your own personal brand of panache.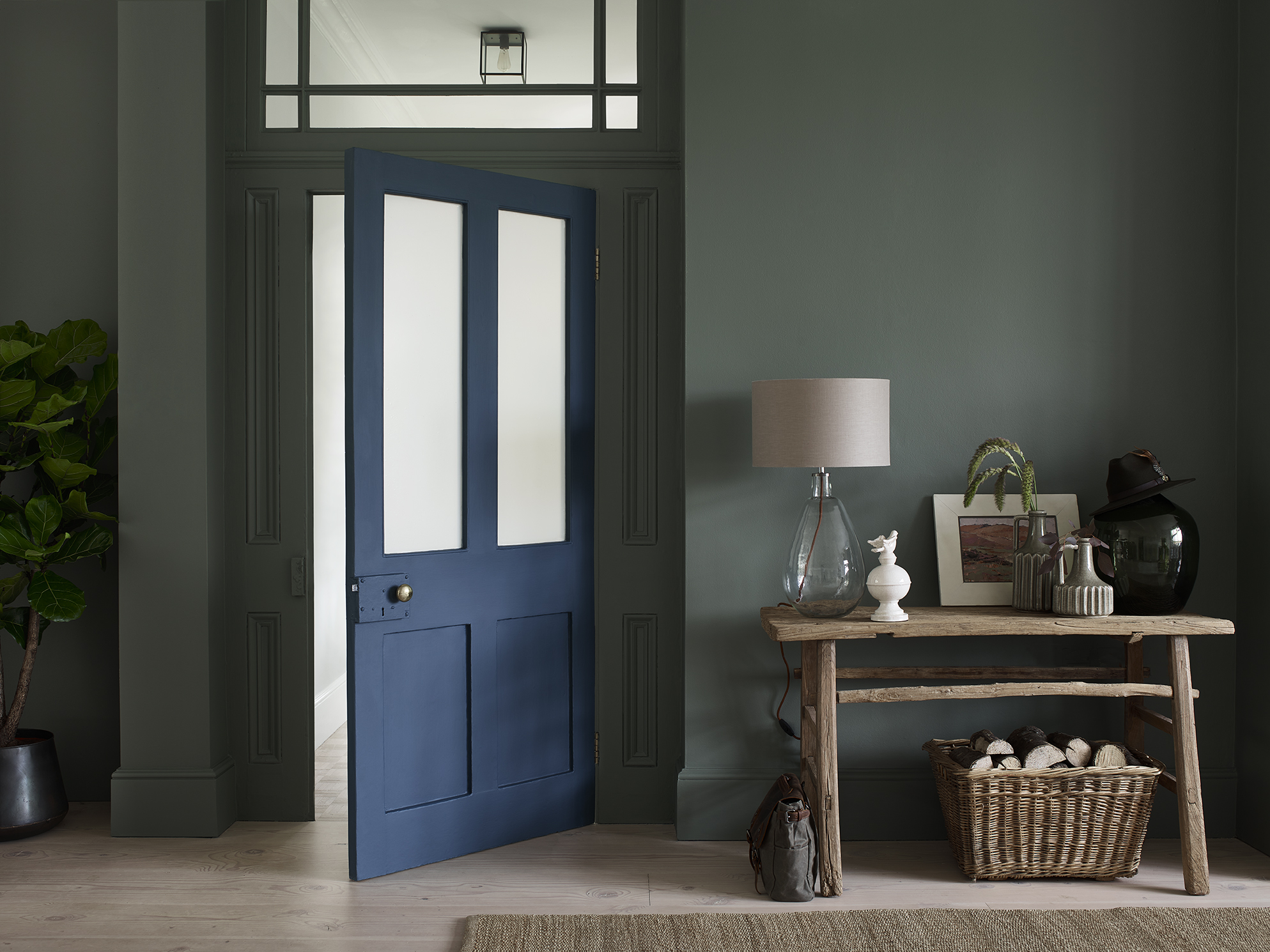 The warm welcome
When it comes to hosting, it all starts with the hallway. After all, it's the first space that visiting guests see as you usher them through the door, suitcases in-hand, and unsightly marks and scuffs just won't do. Go for something seasonal and fresh, such as cool and calming Waxed Khaki on the walls, with its lush botanical feel evoking all the joys of spring. Here, we've painted the front door in Midnight Teal to add a touch of grandeur, too. Elsewhere in the space, create a strong focal point with a slim table to display trinkets and treasures (swapping out photos of relevant friends and family, as and when!), together with neat storage solutions for stashing away shoes and coats. Finally, finish with low lighting that emits a flattering glow for early-evening arrivals, and a potted plant or two for a nod to nature.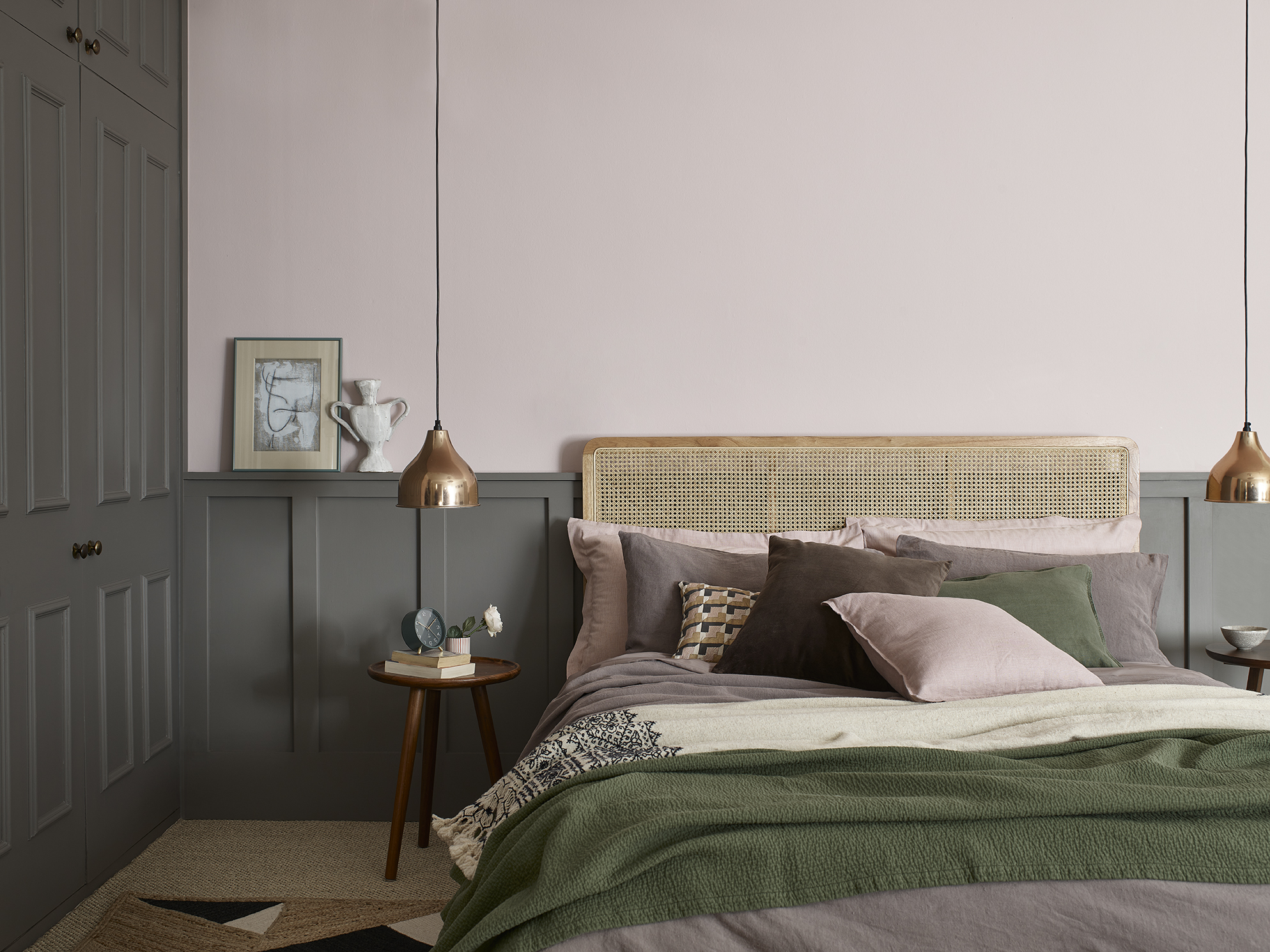 The boutique bedroom
And so, to bed: ensure your guests have a smooth check-in with a space that's as stylish as it is comfortable. You can't go wrong with a warm neutral such as Potters Pink on the walls – our guide to colour psychology in bedrooms details how it's conducive to good sleep – with a timeless quality that provides a soft and restful backdrop. We've teamed the ultra-feminine shade with equally soothing Mud Lark for the panelling and wardrobes, giving the scheme added depth and weight, with everything brought together via tonal furnishings and accessories. For a five-star review from friends, remember details such as various lighting options for reading in bed and applying make-up, and somewhere to hang-up smart clothes. Scented candles and mini toiletries also provide a nice touch.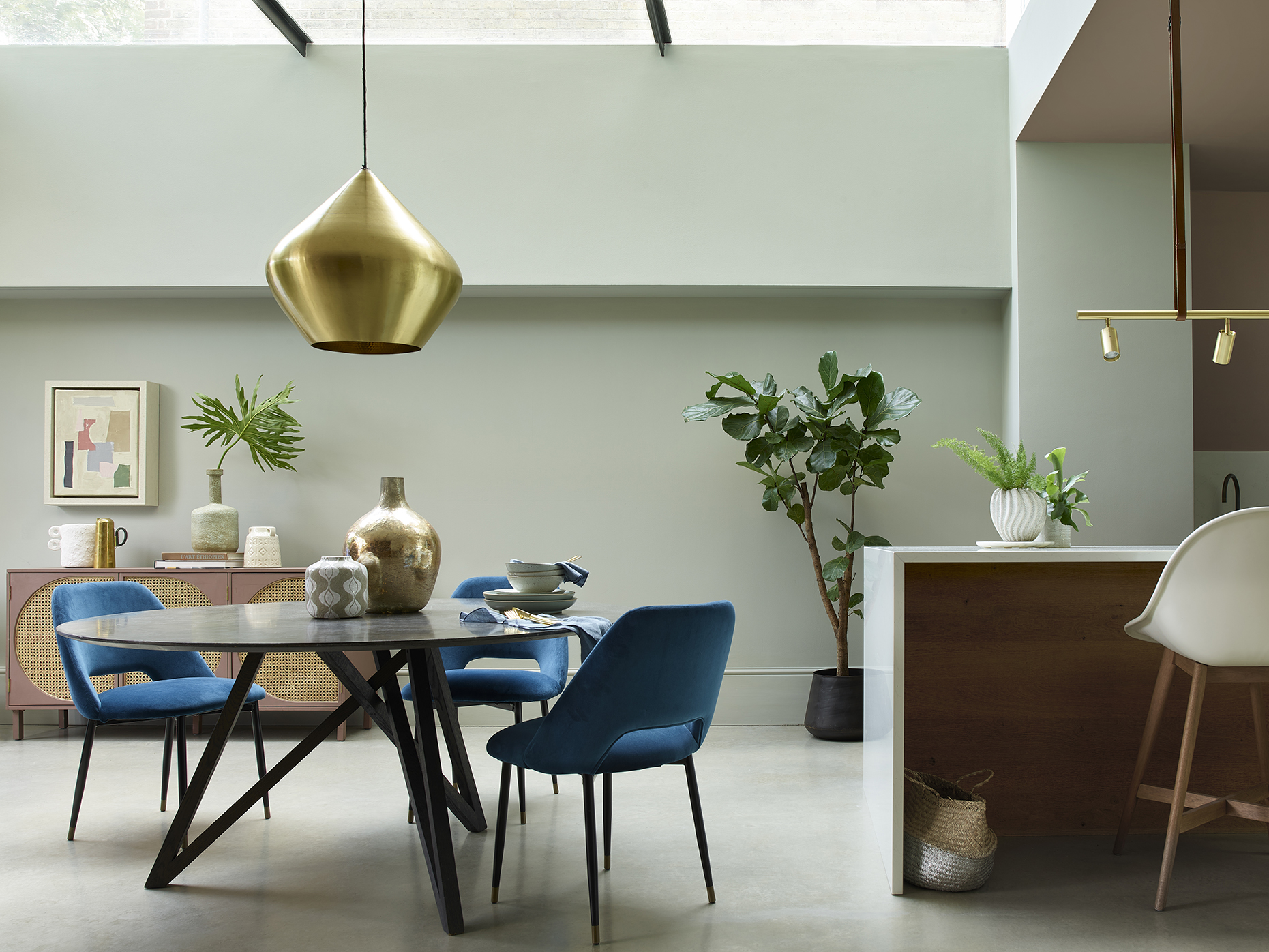 The breakfast bar
When it comes to rising and shining in the morning, what better place to congregate than around the breakfast bar, freshly-squeezed orange juice and homemade granola at the ready? Even if you don't have a spacious counter to style up, a kitchen table will do the job with a considered collection of breakfast paraphernalia in the centre, together with a stack of newspapers and supplements during weekend stays. Nothing puts a string in the step first thing quite like bright yellows or beautiful greens: here, we've plumped for muted Stone Green on the walls in the diner, paired with warm Mid Umber above the units in the kitchen. The effect is positive and uplifting – accentuated by gleaming metallic lighting, natural wooden furniture and plenty of comfy seating.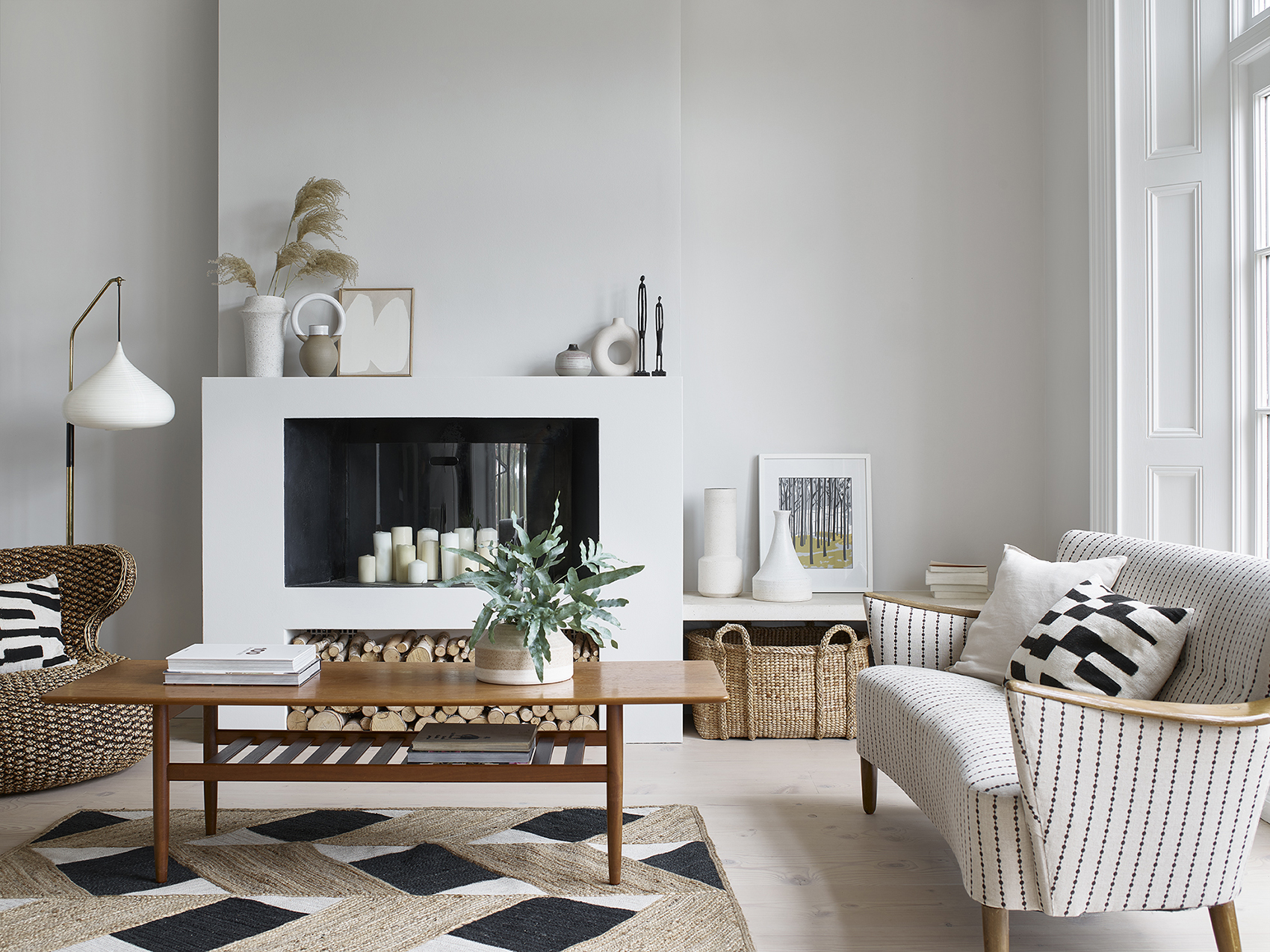 The luxe living room
A classy and calming living room to settle guests in as you attend to hosting duties is a must for well-prepared homeowners. We're fans of the hotel luxe aesthetic: clean and bright whites with structural chairs, graphic rugs and textural materials used to create five-star environs. Cool and contemporary Romney Wool™ is an immaculate neutral that provides an inspired feeling when washed onto walls. Finish with arty possessions and statement lighting as talking-points – sure to keep everyone occupied until you bring out another round of canapés.
Three more ways to use seasonal colour for entertaining this spring
1 It sounds obvious, but fill your house with seasonal blooms, as they add instant colour and cheer. Spring flowers like daffodils, tulips, snowdrops and hyacinths can be picked up fairly inexpensively and fashioned into striking bunches in an eclectic array of vases and vessels throughout your home – including in guest bedrooms.
2 Consider swapping out soft furnishings for versions in more seasonal colours and textures: lighter materials and brighter colours in cushions, sheets, towels and throws can change the whole look and feel of spaces without so much as picking up a paintbrush.
3 Turn your attention to the tablescape: stock up on seasonal tablecloths, crockery, cutlery and glasses for setting the scene. Spring-like yellows, greens, pinks and teals will transform a casual affair into an immersive experience in an instant – and differentiate the dinners you host from one season to the next.
Commit to colour
Not only does Dulux Heritage look beautiful, but it feels gorgeous under your fingertips, with a velvety matt finish for walls and an eggshell with a soft sheen for woodwork. Try it today by ordering a tester or commit to colour by choosing a can.
Share your entertaining spruce-ups on social using #MyHeritageHome and tagging @DuluxHeritage – you could feature on our Instagram and Facebook pages.