Inspiration Article
Tasting Notes: Olive Tree
Inspired by its namesake, Olive Tree is a classic shade in the Heritage Collection, and was a favourite in Georgian homes flooded with sunshine. As modern now as it was back then, it can still be used to spectacular effect in contemporary spaces, particularly those that are naturally light and bright. As one of the most versatile greens ever to be mixed, the mid-tone is famed for its muted tones and sophisticated hues, and can be used to create cosy, comfortable spaces. Deep green with golden yellow, it's utterly timeless, and has a smart air of tranquility that's perfect for rooms requiring focus and concentration. Lose yourself to its lushness in a study. Sleep deep against its warmth in your bedroom. Or feel a connection to nature complemented by pot plants in a kitchen. At once earthy and elegant, it brings the outside in beautifully, and has all the ingredients of a forever favourite.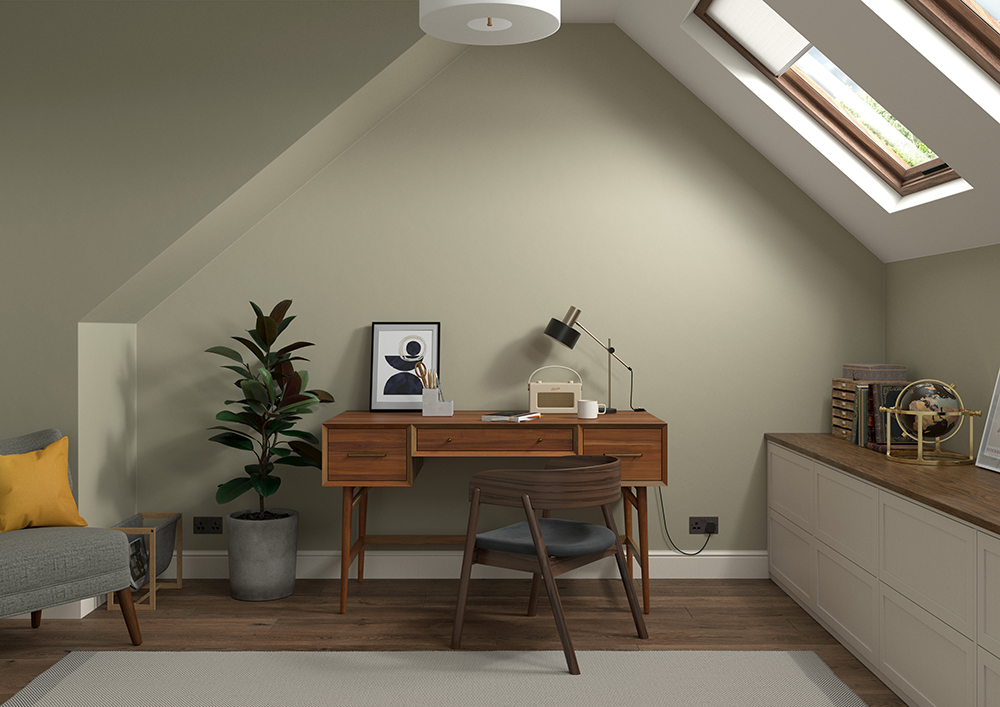 Lofty ambitions
Focusing the mind and calming the body, Olive Tree is a smart choice when it comes to selecting a shade for a home office, and looks sharpest when furnishings are kept slick and fuss-free. Make the most of odd angles in a loft conversion by painting them in Olive Tree and opening everything up. Linnet White painted on the ceiling – a dream with green – makes everything pop, while complementary woodwork and built-in cabinetry in Candle Cream™ complete the look. Sure to make colleagues green on all those conference calls.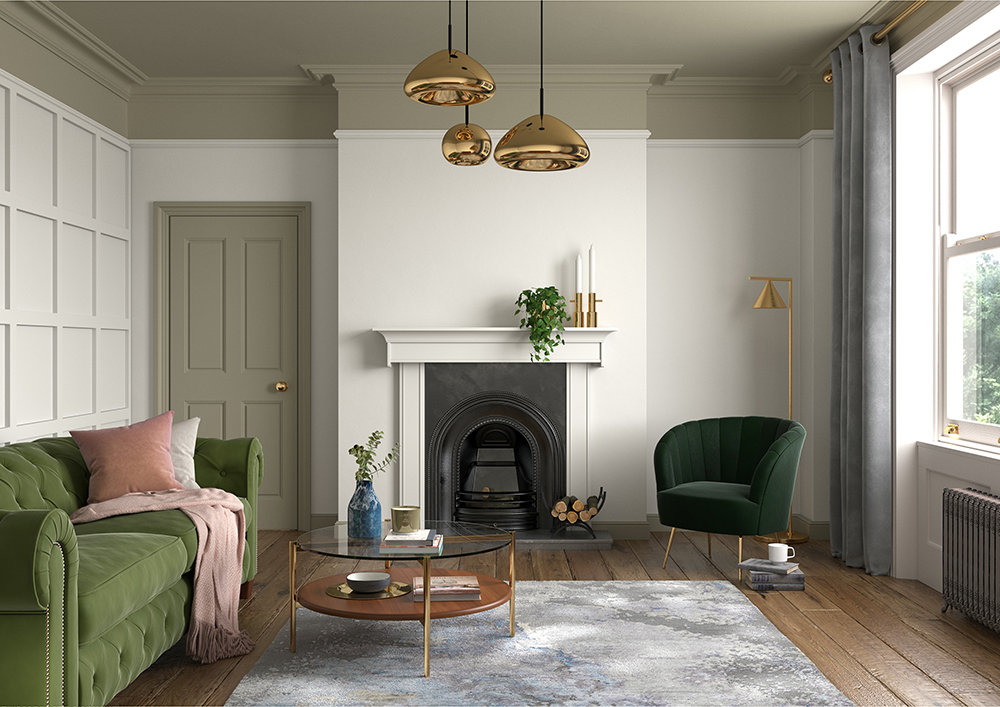 High and mighty
As a prevailing trend amongst tastemakers, the painted ceiling never fails to pack a punch, but the secret is in the shade you pick. We've plumped for Olive Tree across the entire surface, and extended the colour down to the picture rail, leaving the walls beneath in complementary Linnet White. The technique is particularly effective in period homes, where high ceilings can unwittingly create a cold ambience, and painting them helps to add warmth and cosiness. With light flooding in through a large sash window, the pigments in the paint are shown at their brightest and best, while the overall effect is one of soothing sophistication. Kick back and relax…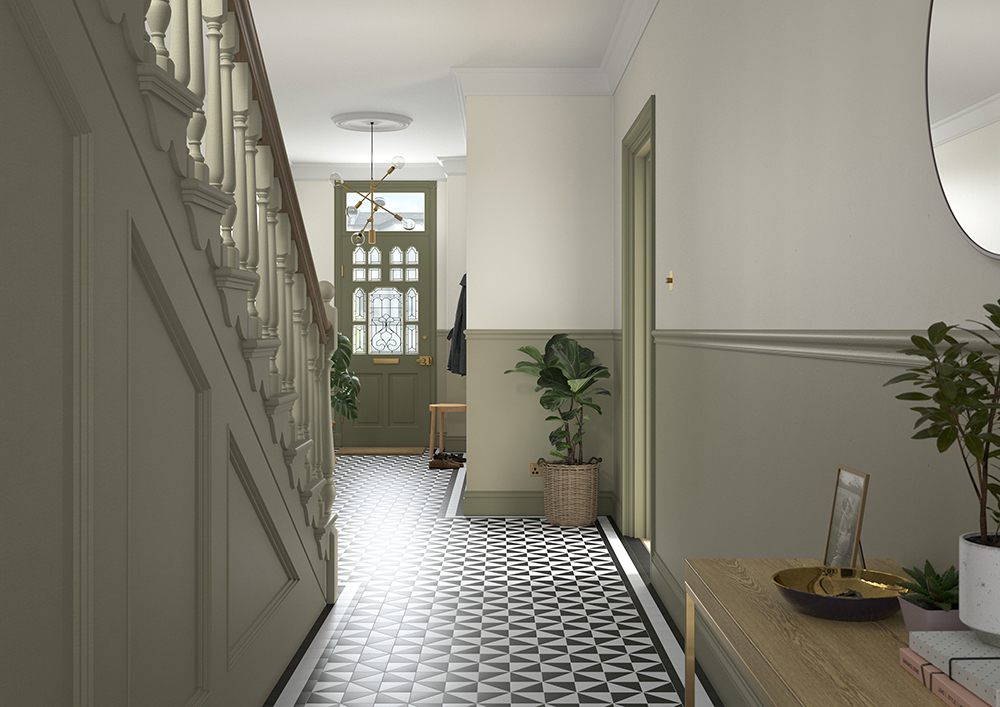 Stairway to heaven
Nothing makes an entrance quite like a painted staircase, and this one is no exception in smart and stylish Olive Tree. With matching under-the-stairs panelling and up-the-staircase bannisters, it makes intricate period detailing feel fresh and new, while a split-wall effect in the rest of the hallway creates the illusion of more height. Ochre White™ on the upper-half, Ash White™ on the ceiling and DH Drab on both the skirting and doors ties everything together. The effect is anything but drab, opening up an otherwise dark space, and creating a feeling of sanctuary as you come home. Now, close the door on the outside world…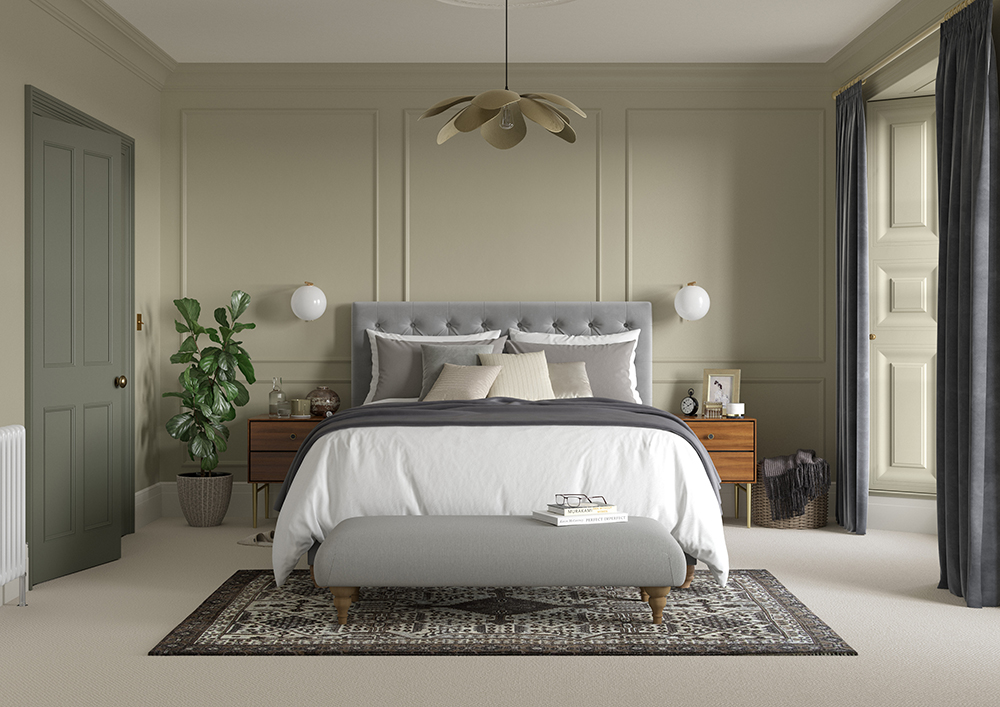 Calm and collected
Create the calming effect of a Mediterranean olive grove in the comfort of your own home with this classic colour on the walls and cornice. Enveloping you in soft hues that soothe and relax, it's the perfect shade for luxurious snoozing, and looks utterly sophisticated at the same time. To break up all-over colour, pick out a single accent such as the door in a darker shade like DH Slate, which works to accentuate everything else around it. Sweet dreams, guaranteed.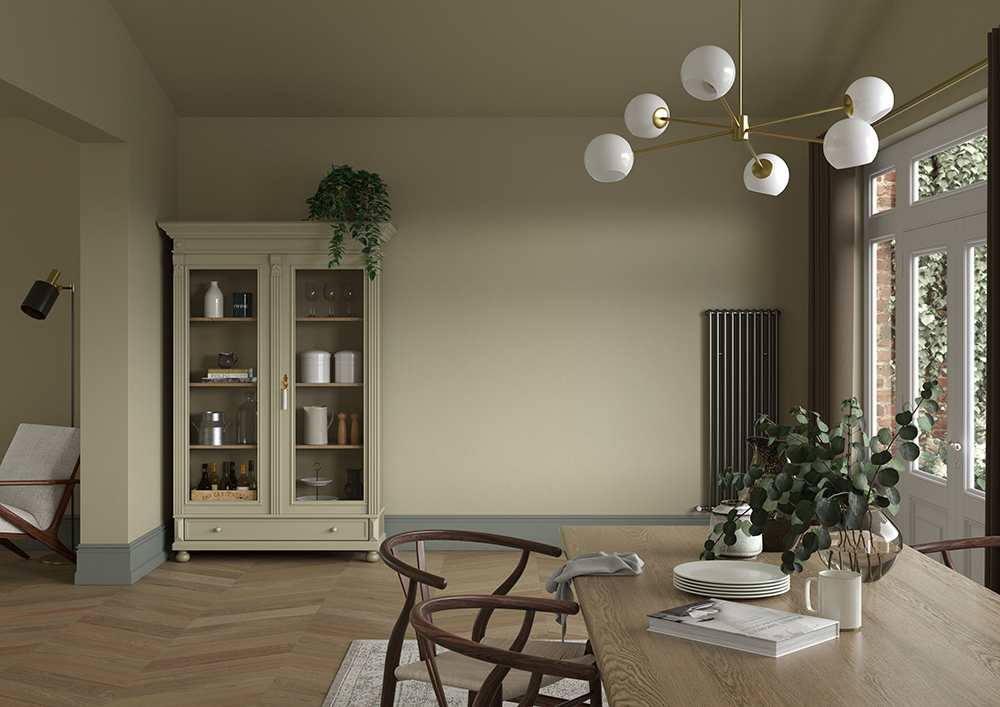 Dressing up
While a beautifully soft and subtle shade for all-over saturation, Olive Tree makes an impact also used sparingly, such as on an upcycled dresser in the kitchen. Set against a darker tone, such as lush and luxurious Waxed Khaki on the walls and ceiling, it really makes a statement in this dining room. Fill it with your most fashionable tableware to make it the talking point of every dinner party, and wrap it all up with a striking and crisp skirting boards in Panel White. Absolute perfection.
Commit to colour
Not only does Olive Tree look beautiful, but it feels gorgeous under your fingertips, with a velvety matt finish for walls and an eggshell with a soft sheen for woodwork. Perfect for creating spaces that are tranquil and sophisticated, team it with tonal greens and greys, or pair with a pop of colour in a powdery pink. Both classic and contemporary, it's the versatile green that's been grabbing headlines ever since it was created, and for very good reason. Try it today by ordering a tester or commit to colour by choosing a can.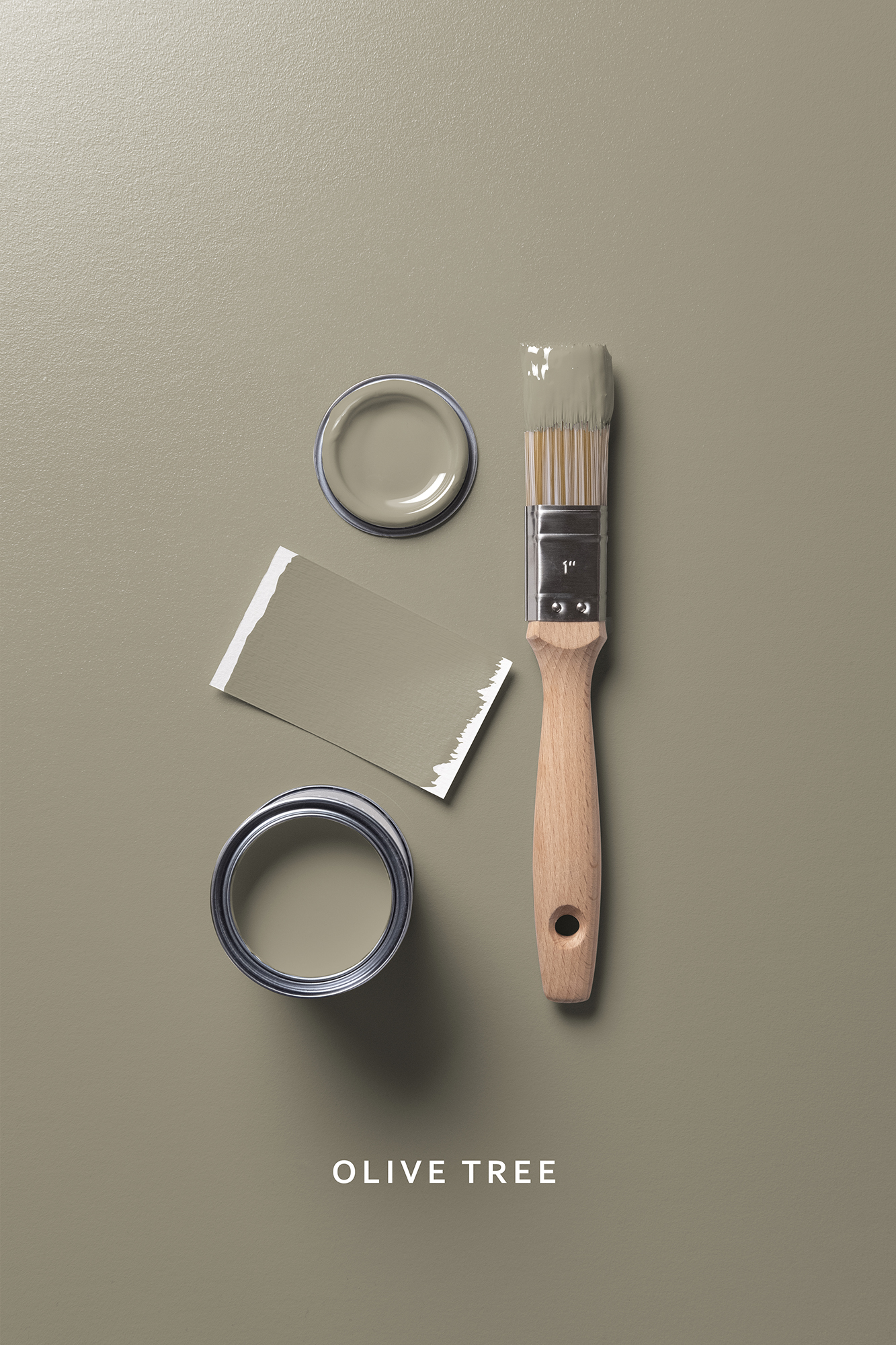 Share your Heritage colour story with us on social using #MyHeritageHome and tagging @DuluxHeritage – you could feature on our Instagram and Facebook pages.