Inspiration Article
Masterclass: Discover the Dulux Heritage paint shades to match your style
Expressing your style is so important when designing the look and feel of your home. You want your home to feel like you. To feel like home. Somewhere that brings out the best in you, creates the right moods and allows you to enjoy every moment you spend there.
When creating the luxury Dulux Heritage colour palette, it was important to us to ensure it offered timeless stunning shades to suit any style, in any home. So, whether your style is more minimal, or nature inspired, warm and cosy, beautifully bold or excitingly eclectic, we've made sure that we have a selection of shades that are perfect for the feel you want to achieve and inspire colour scheme ideas.
To help guide you to the colours we think you'll love, we've recommended the shades we think are most suited to your style below.
Like to keep things minimal?
If you're looking to create a simple and uncluttered space, boasting clean lines and plenty of room, we recommend choosing a monochromatic palette. Cool tones such as Romney Wool and Indian White are perfect for creating a really refreshing feel. While clean and functional, minimal style interior design can still create maximum impact. When it comes to accessorising, neutral colours in natural materials help to keep the styling beautifully simple. The question is, how to make a room cosy? Easy - natural textures can add that warmth that you worry you can lose with a minimal style. Don't think that you can't add colour to a minimalist style décor though. Pops of colour can really bring a space to life, without taking over. Use plants, flowers, pieces of art, or small statement furnishings to insert flashes of colour which you can swap in and out as the mood takes you. Minimalist is one of our favourite colour scheme ideas because it really is beautifully simple.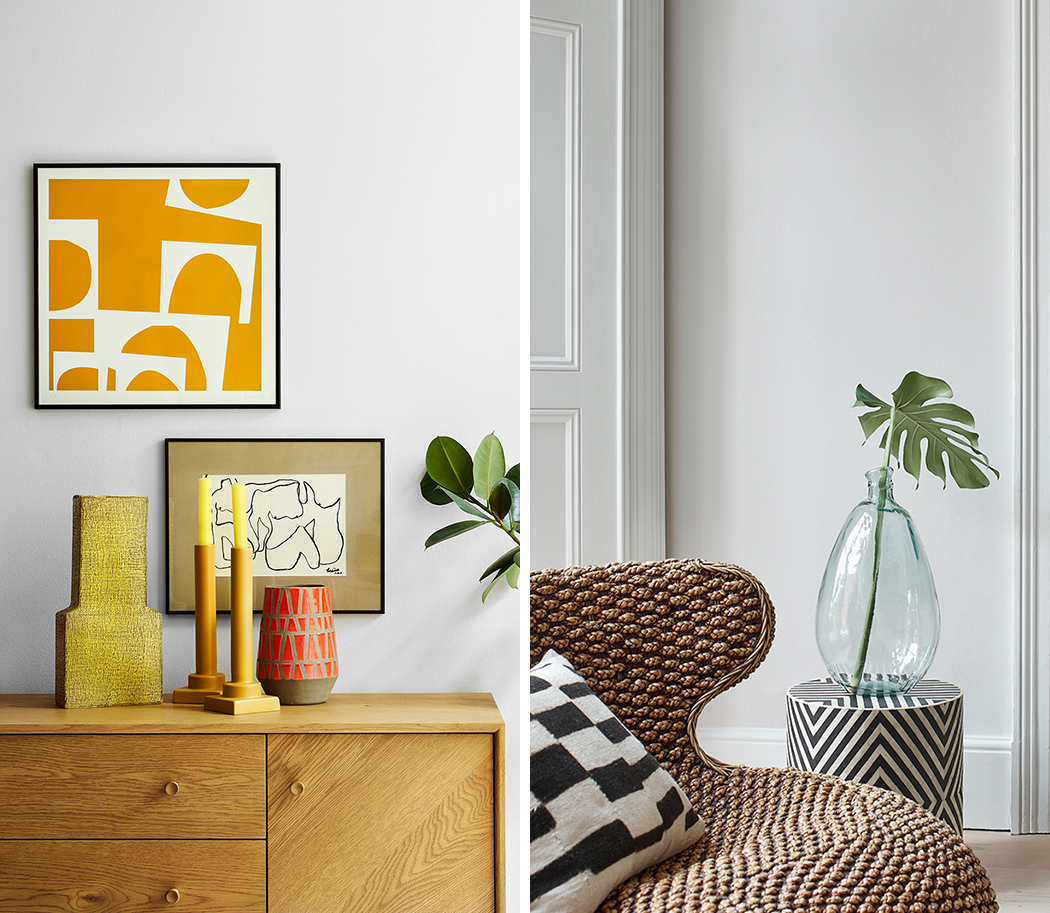 Channel eclectic energy through your home
Do you have an eye for bringing together different styles, textures and contrasting colours to create an eclectic look that somehow just works? Then we'd recommend choosing a selection of core, warm colours. Your core colours will give you a thread which can run through a room, or rooms, in your home, to help tie the décor together. We can show you some eclectic room design ideas in situ here, where we've used Red Sand and Dusted Heather, two stunning colours that complement each other perfectly when used in a split wall. Rust and copper coloured furnishings and accessories are really eye catching, and compliment the warmer colours on the walls. In our second room, we've used Dusted Heather with Coral Pink. Here, the walls really make the statement, so we've kept the accessories a little more muted and painted the woodwork in Heritage Eggshell Dark Aubergine to add depth. This room styling is proof that your space doesn't need to feel cluttered with accessories, or be over powered by a multitude of colours, to still have that eclectic vibe.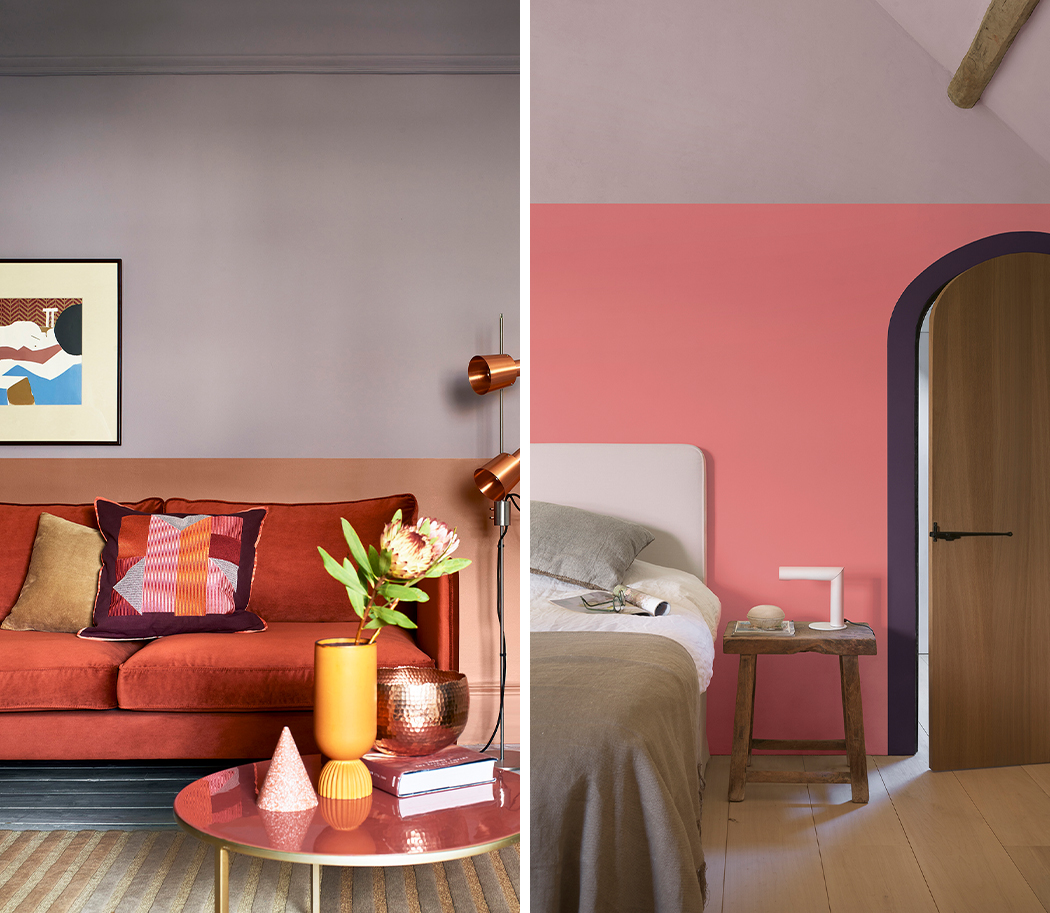 Bold colours for a sophisticated space
A sea of deep blue walls or an entirely burgundy room. Bold colour schemes can really pay off. Rich, deeper colours such as Mallard Green, Cherry Truffle or DH Oxford Blue have a lovely luxury, velvety feel that can make sure bold styles stay timeless and can elevate the sophistication of any space. Dark wood furniture works really well with deeper coloured rooms as they contribute to that classic look and feel. If you're looking to paint woodwork, two similar dark shades on the wall and the woodwork is subtle yet effective. Here, we've used DH Oxford Blue on the walls and Deep Ultramarine on the door. It's this kind of detail which brings the luxury finish to the room.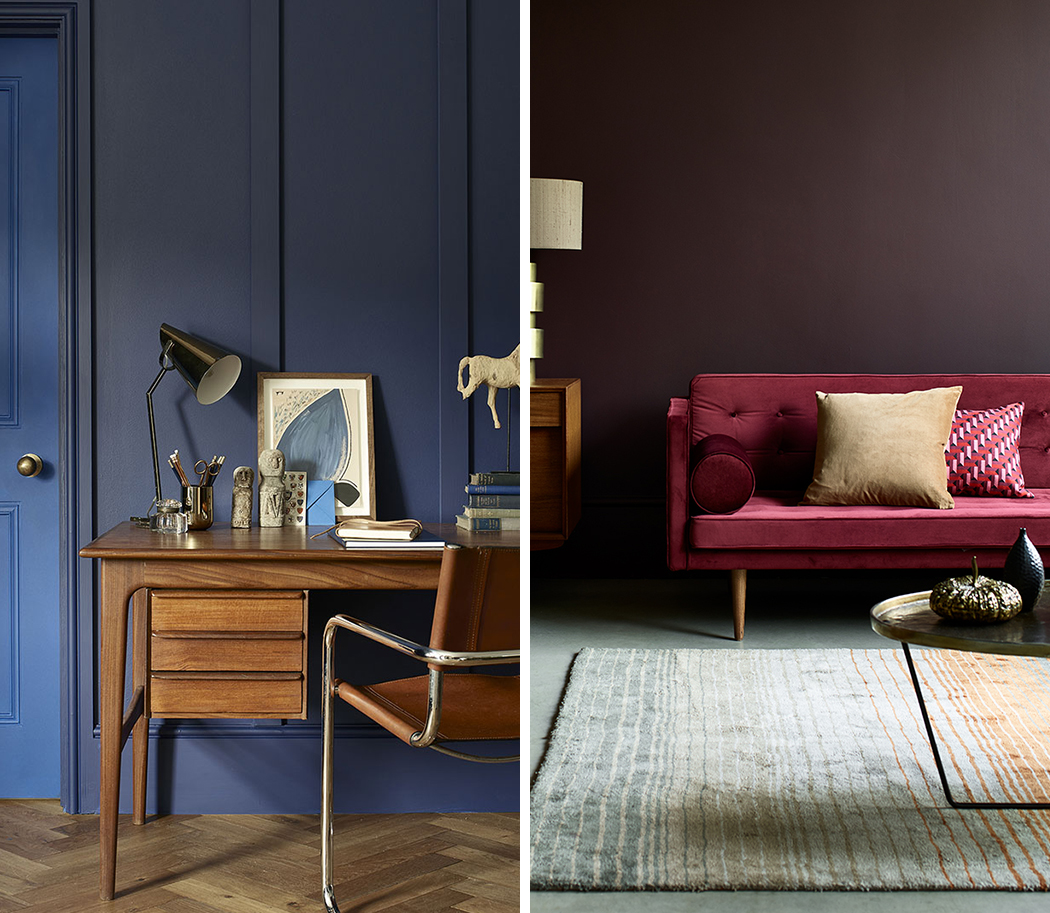 Time to get cosy
With colder, winter months on the horizon, many of us are looking to cosy up our home. So how do you make a room cosy? The best way to approach making any space feel cosy, is to make sure every paint shade, accessory and furnishing is chosen with comfort in mind. Warm colours schemes including shades like Flax Seed, Rope Ladder, Mid Umber and Potters Pink can help create that glow. Especially when paired with warm woods like mahogany, cherry and walnut. But warm colours aren't the only way to create a cosy feel - textured furnishings, from chairs and foot stools to cushions and rugs, all add layers to the space. These two rooms have two very different feels, yet both achieve that cosy feel in their own way.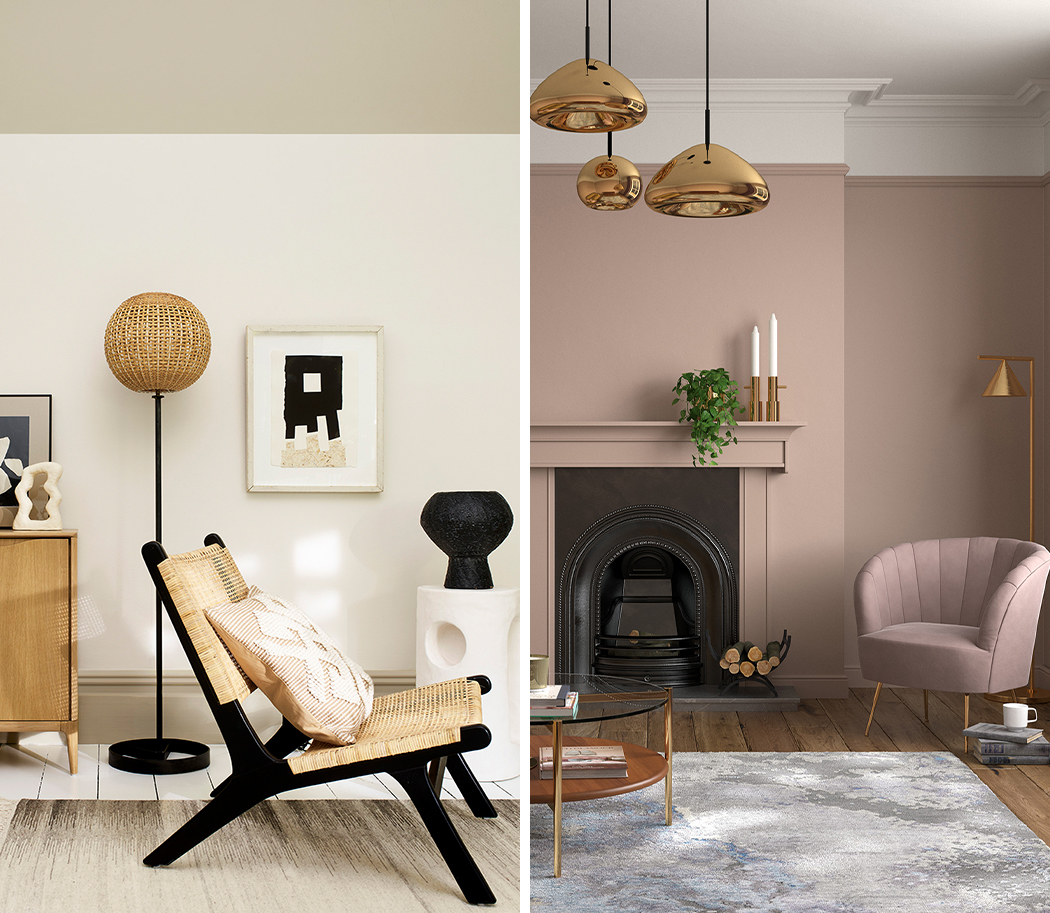 Be inspired by natural beauty
After spending more time than ever in our homes, we're all craving the beauty, freshness and serenity of the great outdoors. Nature inspired rooms need natural inspired shades like Waxed Khaki, Sage Green, DH Grass Green and Blue Ribbon. They can help you to bring the tranquillity of nature, its lush rolling hills and beautiful blue skies, into your home.
Here, you can see how we've used DH Grass Green to blend shelving and walls together to create an uninterrupted space – a fresh field of favourite books and accessories. We've also used Blue Ribbon to create a stunning sky coloured backdrop to a bedroom. Imagine waking up to blue skies every morning, quite a nice way to start your day, don't you think?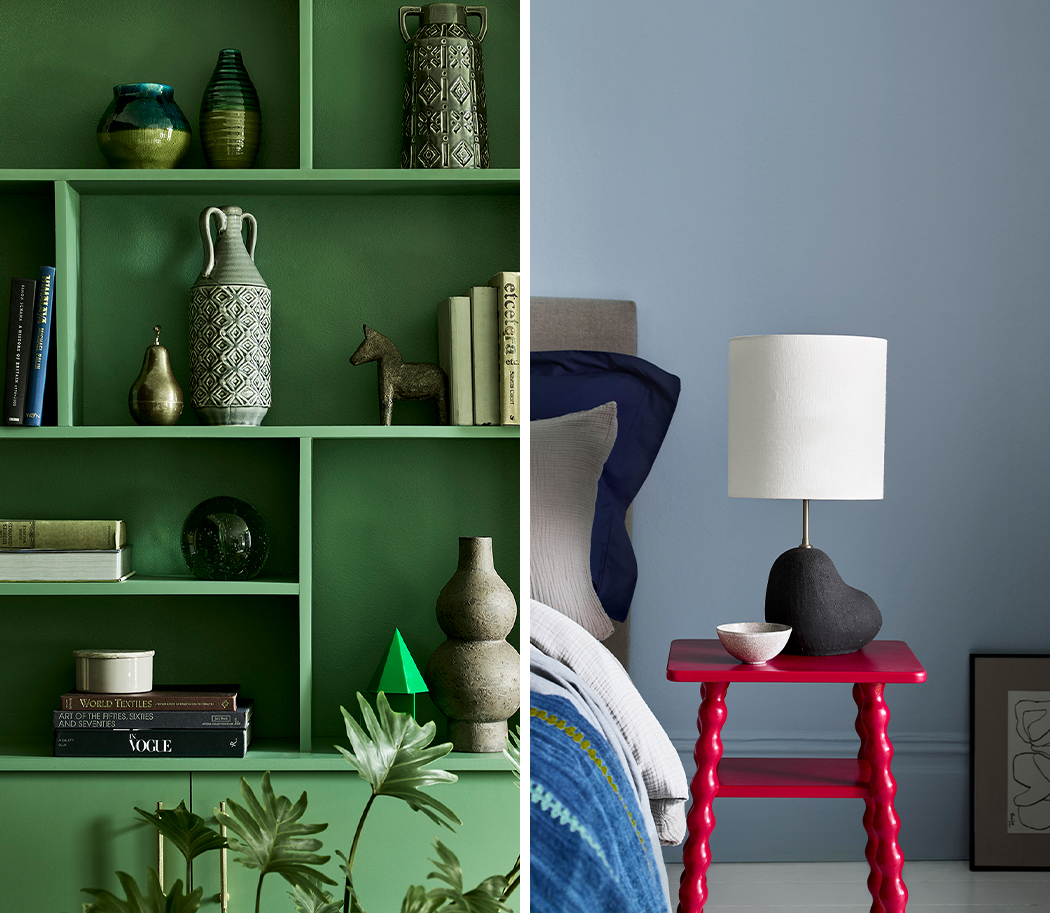 If you've seen a stunning shade that would suit your style perfectly, why not order a tester now? Or maybe it's one of our colour scheme ideas that has caught your eye? Don't forget to follow @duluxheritage for more home design styles.
Share your Heritage colour story using #MyHeritageHome and tag us for the chance to be featured on our Instagram and Facebook pages.