Inspiration Article
Tasting Notes: DH Indigo
At once low-key and luxurious, denim-inspired DH Indigo has a dual personality that creates rooms that are both restful and regal, and leads the charge when it comes to the new-wave of contemporary purples. Try it on all walls in a bedroom for a timeless yet trendy look. Have fun in a hallway with a pop of DH Indigo here and there to really make an entrance. Or try an of-the-moment painted ceiling to give glamour and grandeur to an otherwise understated living room. Sitting somewhere between blue and violet on the colour wheel, DH Indigo is an inspiring choice for your interiors, and proves that purple tones are firmly back in fashion. It's about time, we say.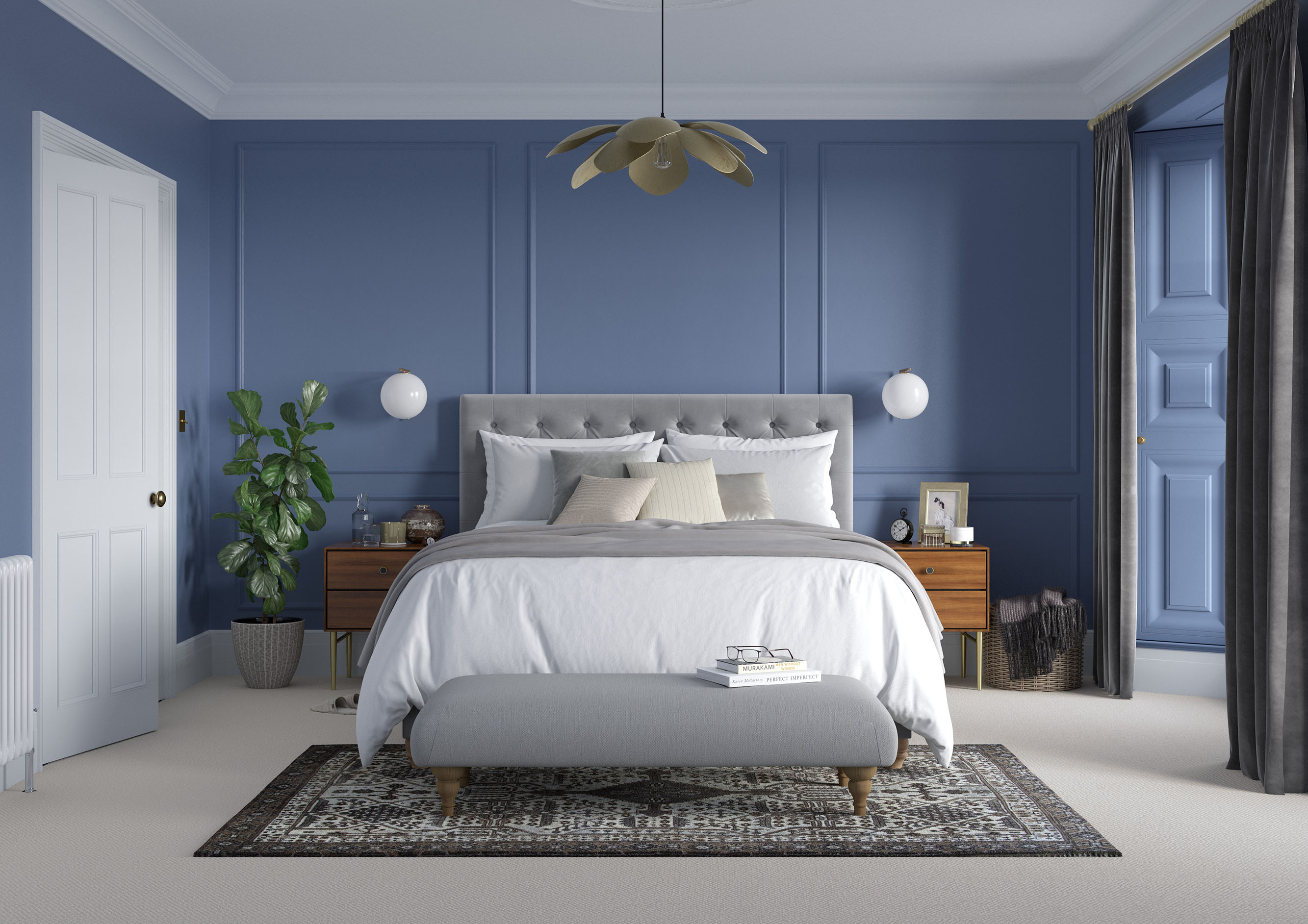 Bedroom beautiful
Harking back to times gone by, DH Indigo is an inspired choice for bedroom walls, particularly when painted on period detailing like panelling to make everything pop. Soft and soothing, yet bold and confident at the same time, the shade adds real depth to sleeping spaces and ramps up the glamour. Because it makes a statement by itself, pair with simple neutrals elsewhere, such as cool Light French Grey on the ceiling and cornice, and pale Lead White on the skirting and door. Finally, complement with soft furnishings in greys and whites to bring everything together, finishing with Mid-Century Modern furniture and gleaming metallic accents.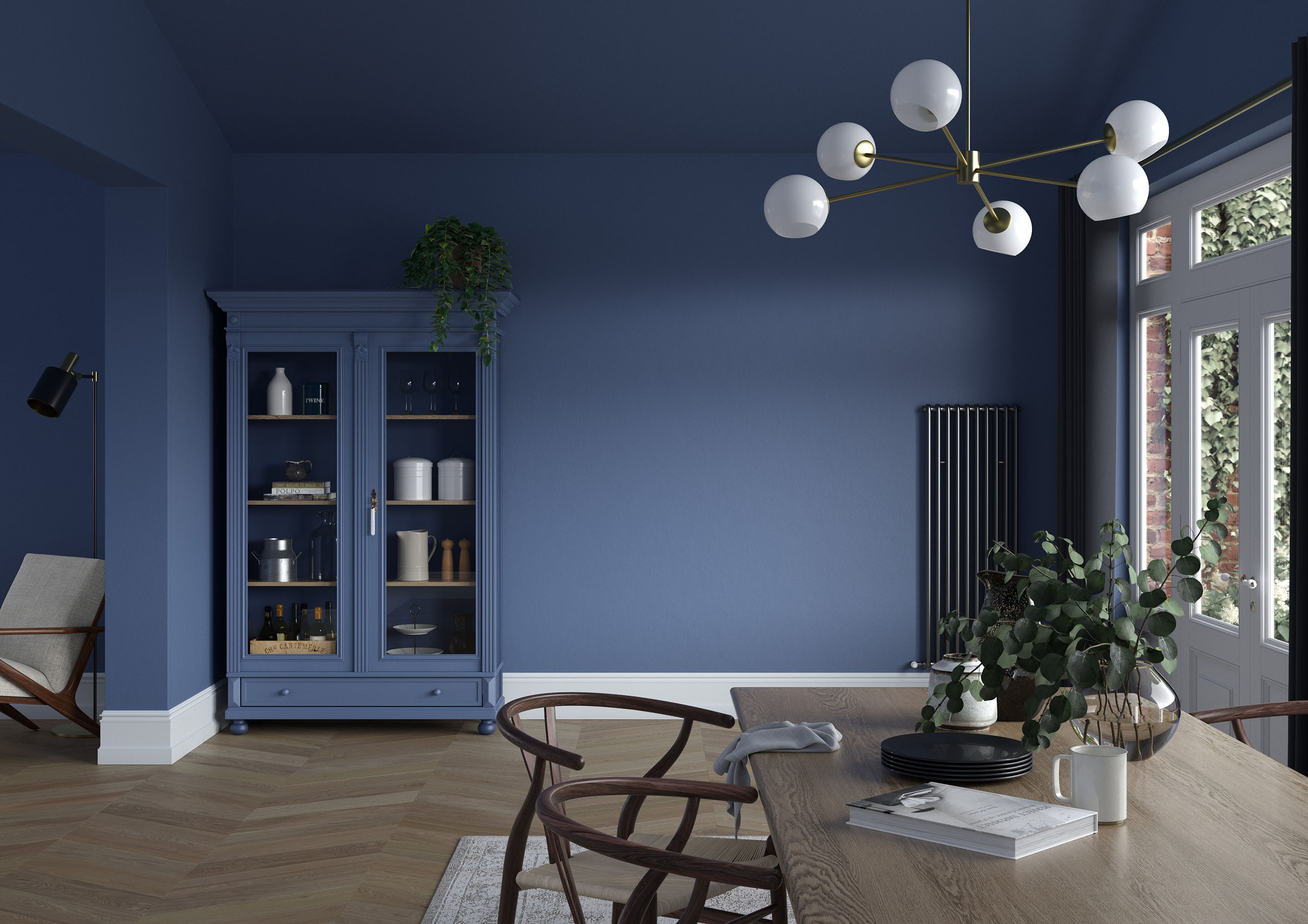 Dining decadence
With grey and beige remaining popular choices for colour in dining rooms, why not go for something a little different such as DH Indigo in yours? Sure to spark dinner-party conversation, the shade will provide a sumptuous backdrop to many a stylish gathering. Better still, DH Indigo painted on the ceiling and furniture creates a truly immersive interior, broken up only by crisp Lead White on the skirting. For added luxury, accessorise with a modern radiator in matt grey and look-at-me lighting in blingy brass.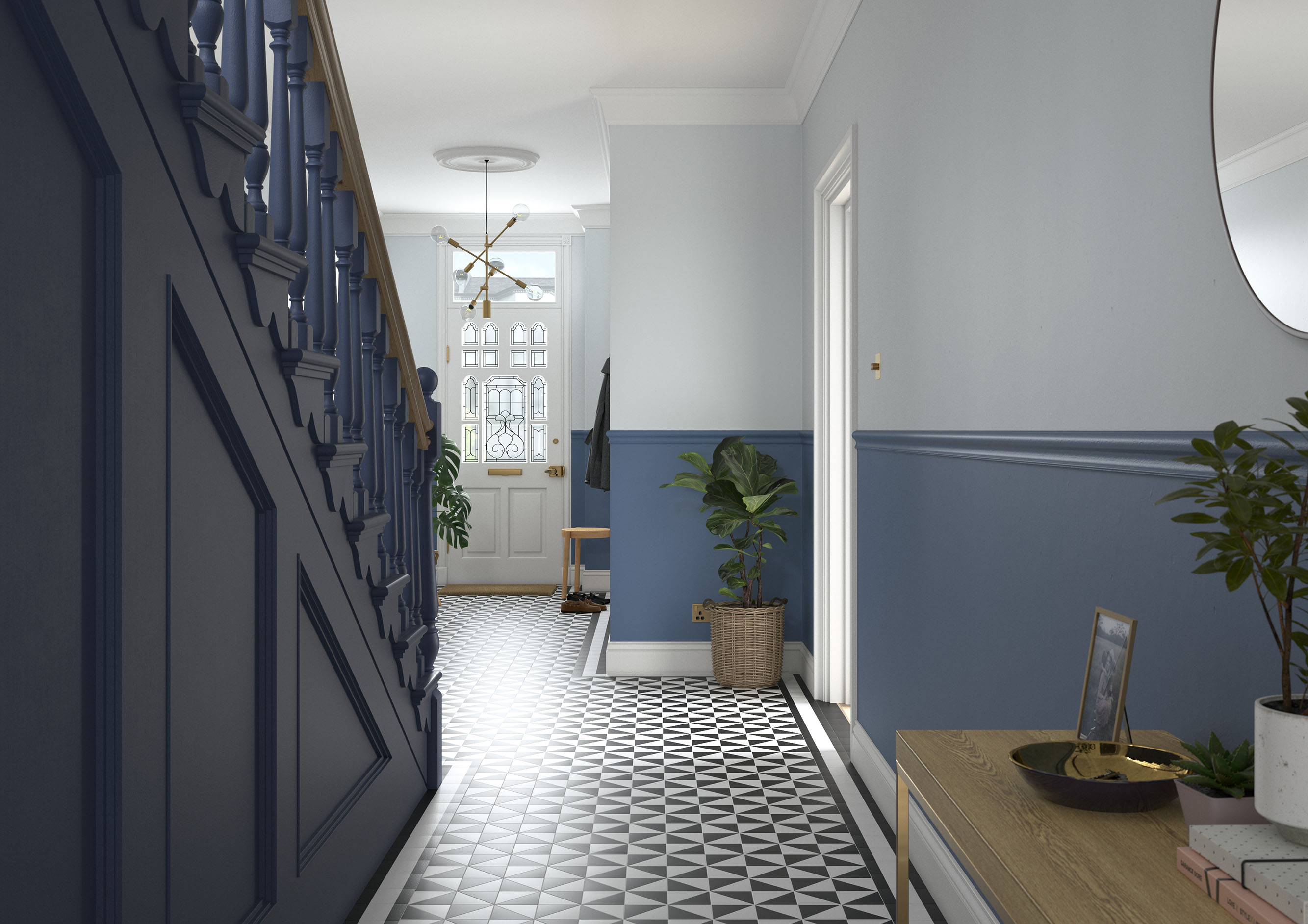 High-fashion hallway
A warm welcome home can be created by adding a surprising dash of colour to hallway walls. Here, we've painted the lower-half of the walls in DH Indigo, complemented by Lead White on the upper-wall. This not only creates a cosy effect, but also elongates the space, making the hall appear bigger than it is. Meanwhile, Wiltshire White has been used on the skirting and ceiling for crisp, clean accents, while DH Oxford Blue on the stairs adds another statement and picks up on the blue-ish tones in DH Indigo.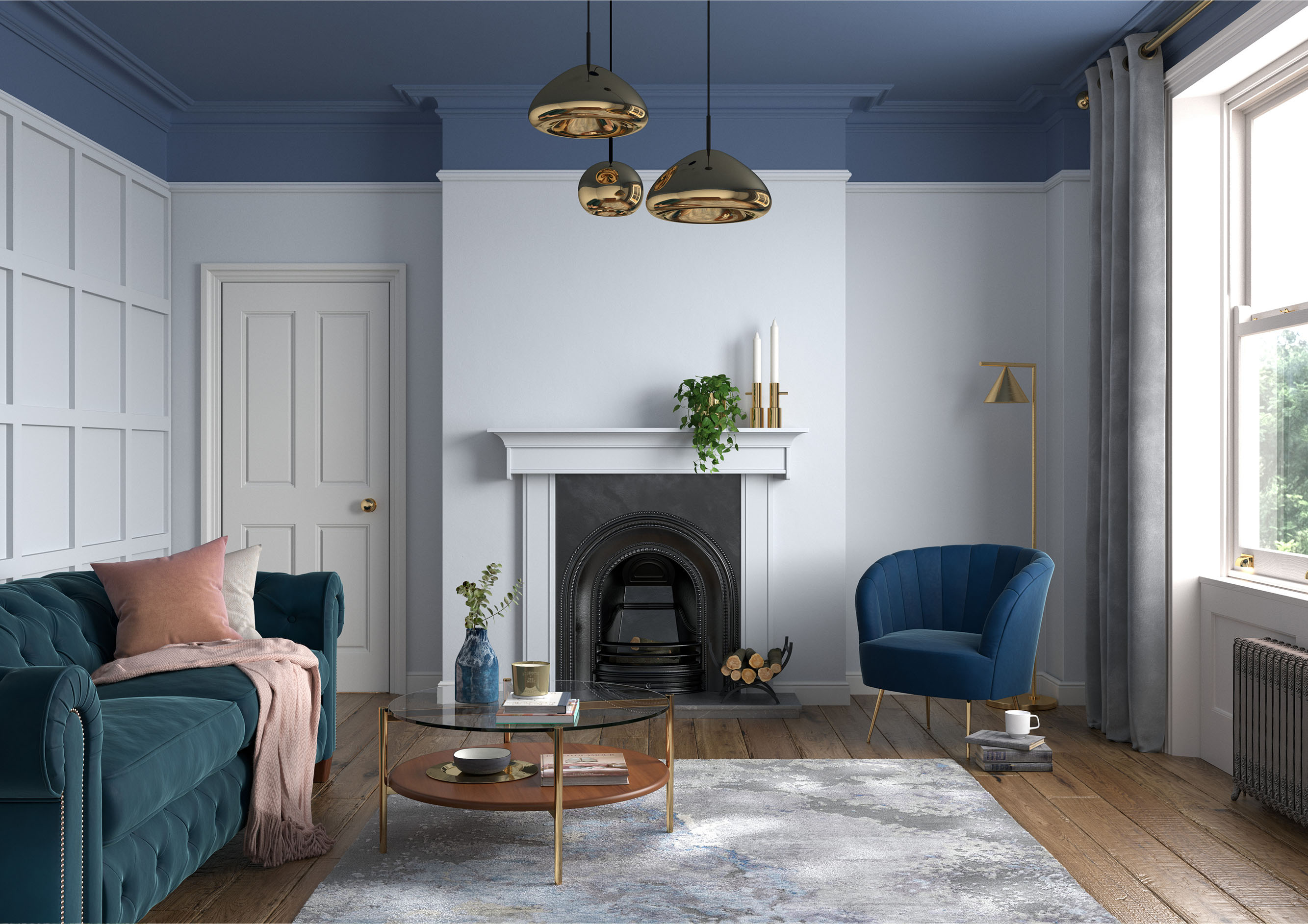 View from above
A painted ceiling is one of the hottest trends in colour right now – just have a scroll through Instagram – so why not choose DH Indigo for your own spin on the technique? Paint all the way down to the picture rail to draw the eye, and contrast with paler hues like Light French Grey on the walls and Wishbone White for the woodwork to keep things light and bright. Lastly, choose dark, decadent soft furnishings that complement the shade above, drawing on its jewel-tone properties in blues, greens and purples.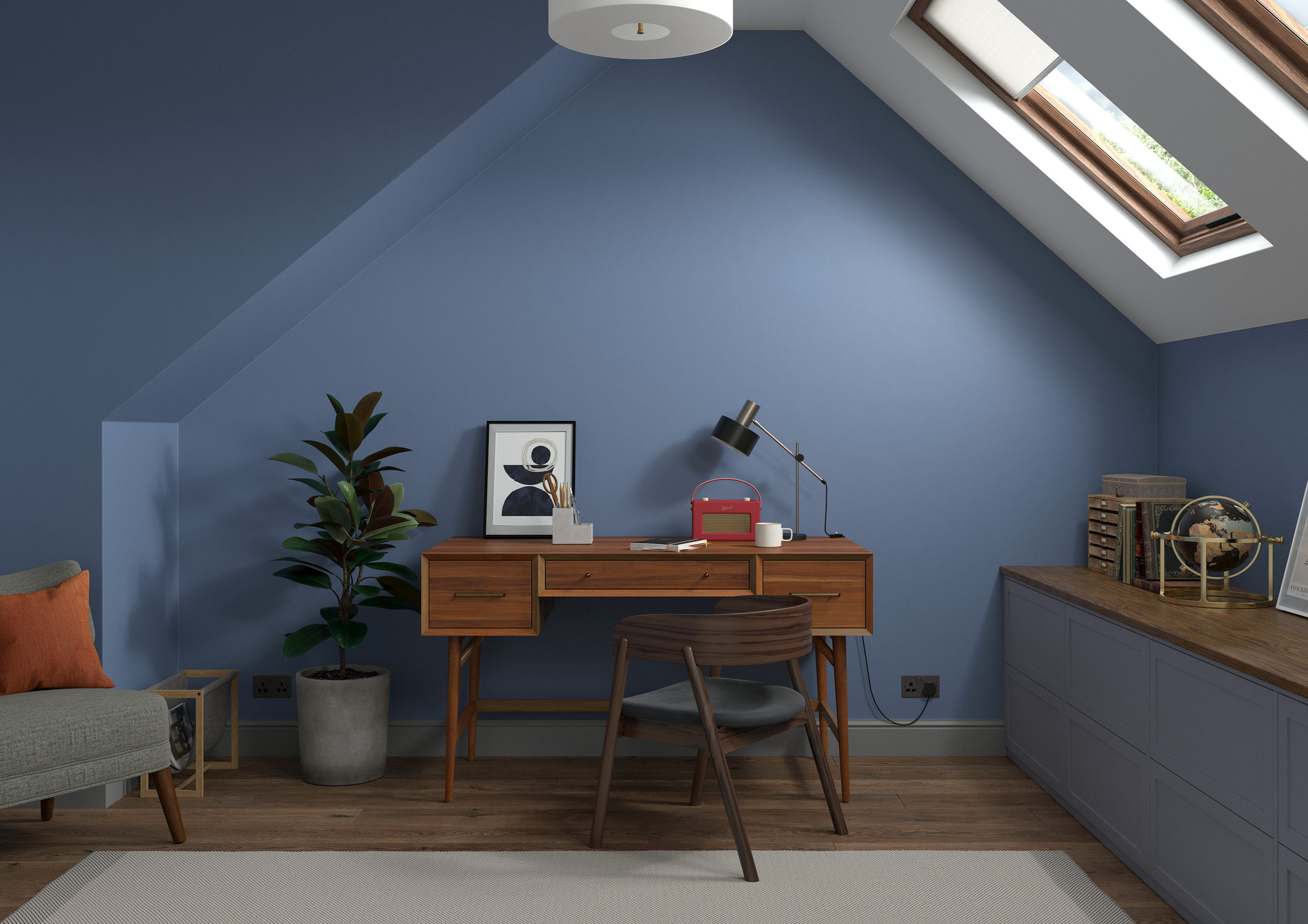 Elegant eaves
Who says a workspace needs to be boring and bland? Not us, particularly as WFH becomes the new norm, as least for part of the time. Give a converted loft a lick of paint in DH Indigo, using the colour on awkward angles as well as walls to open it up, and team with neutrals in a Lead Grey ceiling and woodwork in Lead White. Don't be afraid of purple on purple, either, adding further character with a cabinet in Violet Night. Orange accents – in objects and soft furnishings – work wonderfully here, too.
Commit to colour
Not only does DH Indigo look beautiful, but it feels gorgeous under your fingertips, with a velvety matt finish for walls and an eggshell with a soft sheen for woodwork. Both easy-going and elegant, it's a colour that can work in any room in the house, whether used tonally with other purples and greys, or co-ordinated with neutrals and browns. For a designer flourish, though, combine with pale greens or dusky pinks for pure impact. Try it today by ordering a tester or commit to colour by choosing a can.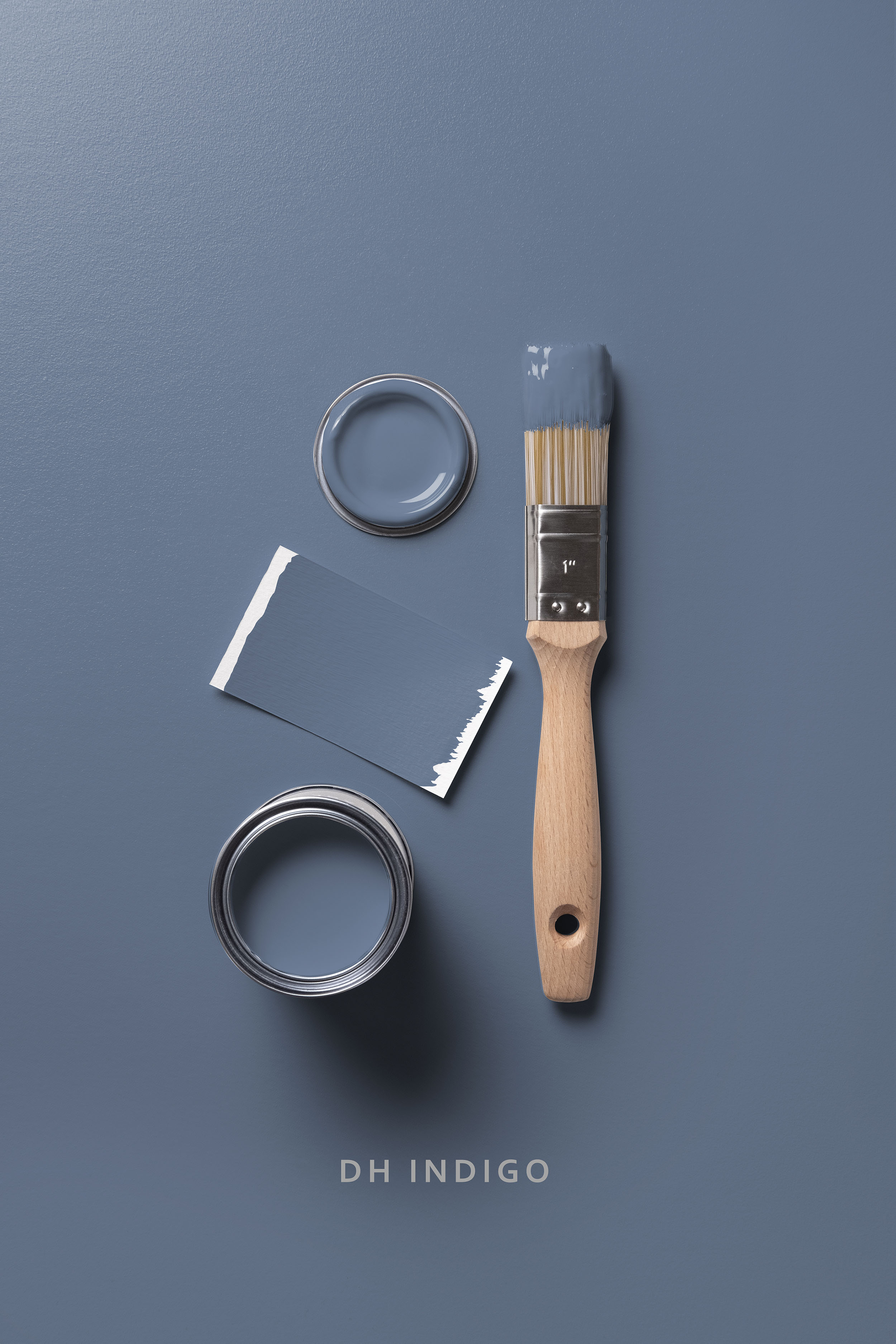 Share your Heritage colour story with us on social using #MyHeritageHome and tagging @DuluxHeritage – you could feature on our Instagram and Facebook pages.