Inspiration Article
Tasting Notes: Blue Ribbon
Clear, crisp mornings. Calm, still seas. Blue Ribbon evokes some of nature's most relaxing moments and has the power to recreate them from the comfort of home. What's more, the pale, misty blue works equally well in a country cottage as it does in a contemporary new-build, flexing the qualities of its pigments to suit any space. Pair with natural woods and slouchy furniture in a rustic setting. Team with glossy surfaces and shades of white in a modern house. Blue Ribbon is one of the most adaptable colours in the Heritage Collection, and creates a clean, comfortable feel wherever it's used. Dive right in…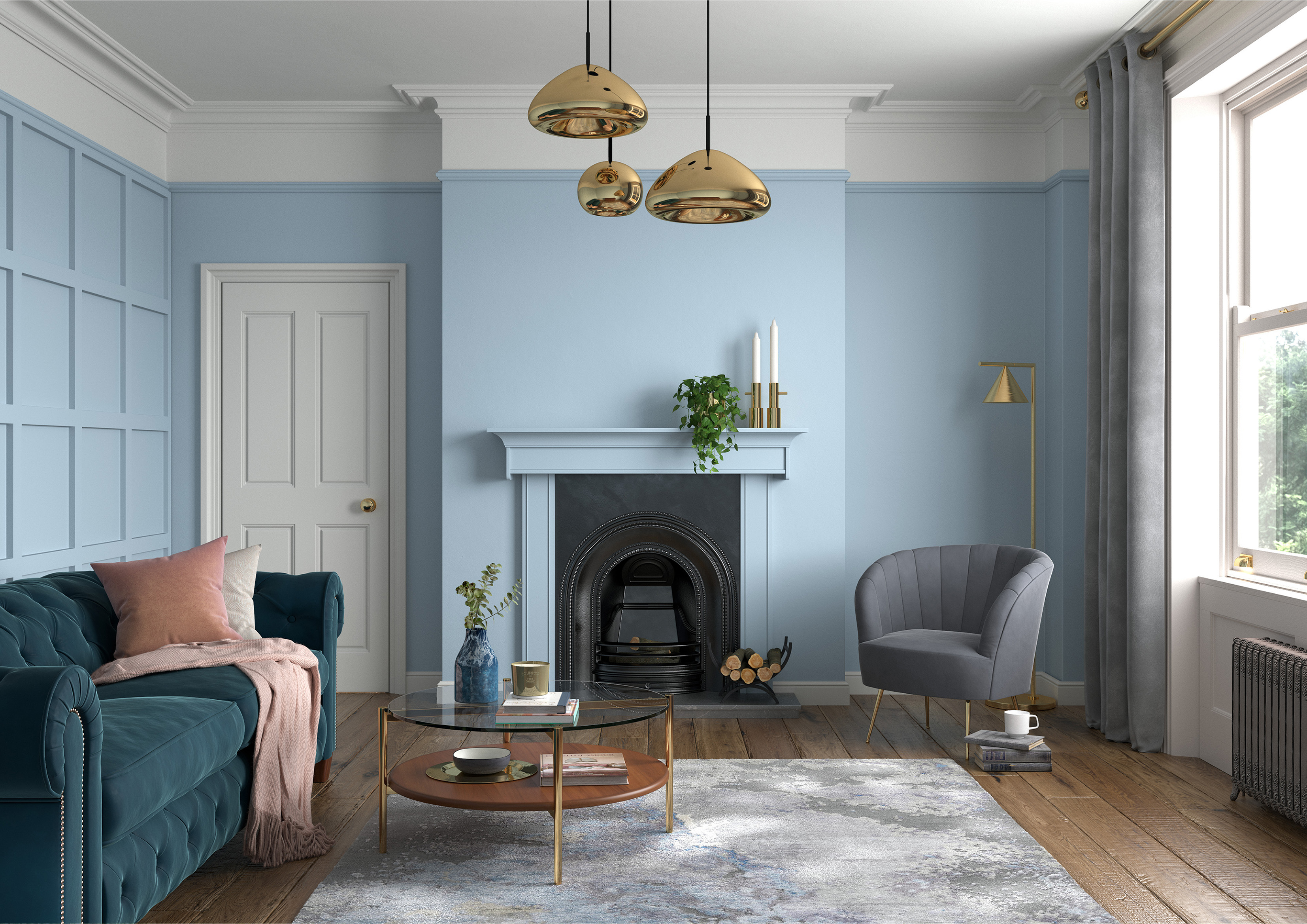 Hit reset
Blue Ribbon can be used to create a beautiful room for rest and relaxation after the working day is done. Soft and soothing, it's designed for absolute comfort, and works well painted on large sections of walls with accents such as the ceiling, cornice and woodwork picked out in crisp Edelweiss White. Better still, it highlights period detailing such as panelling, while painting up to a feature like a picture rail showcases the shade even more. Perfect throughout the seasons, Blue Ribbon always makes spaces light and bright, even in the darkest depths of winter.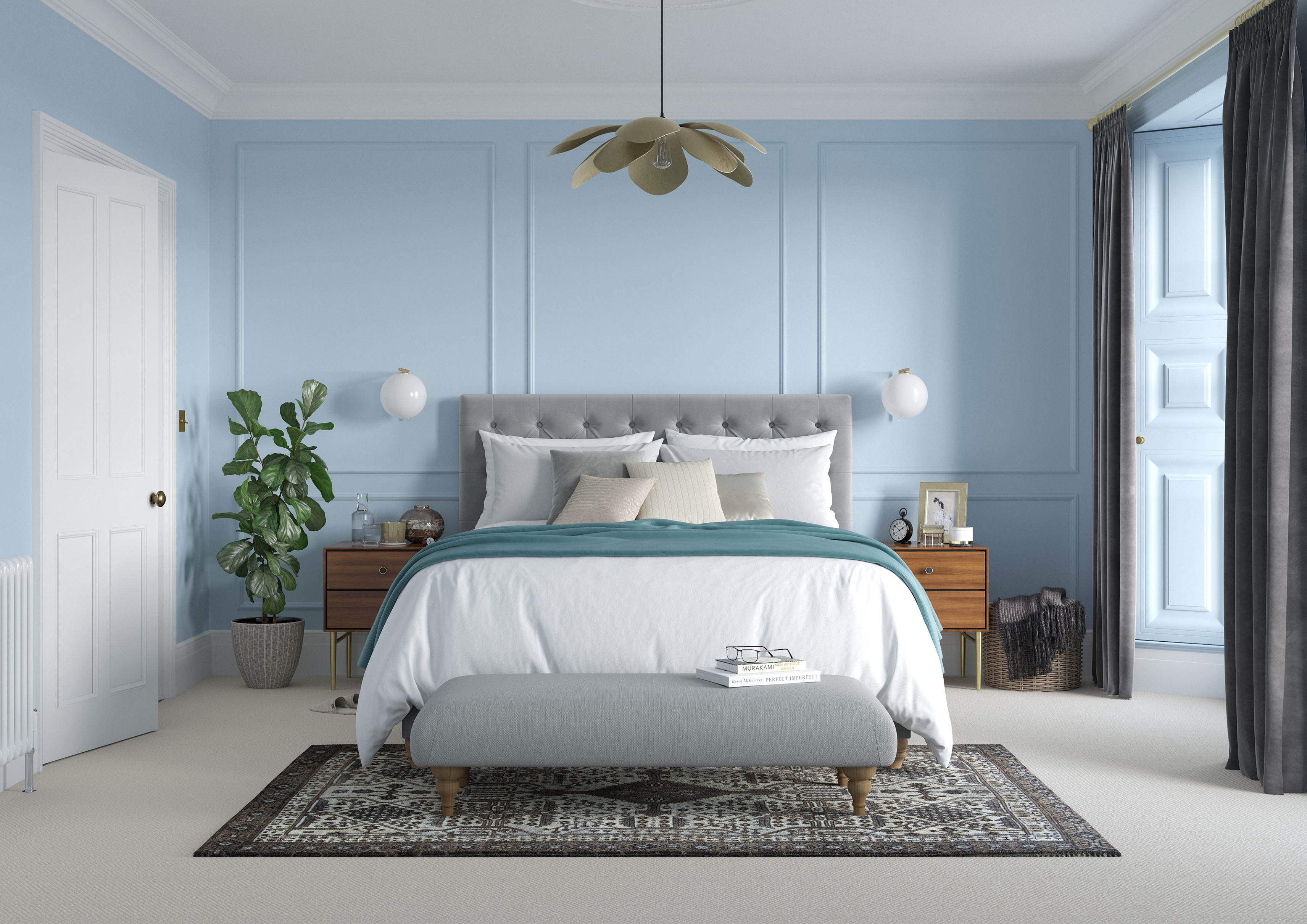 Positively dreamy
Dark and miserable outside? There's no need for the British weather to get you down when a summer's morning can be created inside your own bedroom using Blue Ribbon. Joyful and optimistic, the colour captures whatever little light there is coming through the windows, and lifts spirits when the walls are given a lick of paint. Wiltshire White is the perfect bedfellow for the ceiling, cornice and woodwork, while crisp white linen and muted grey accents wrap up seriously dreamy décor.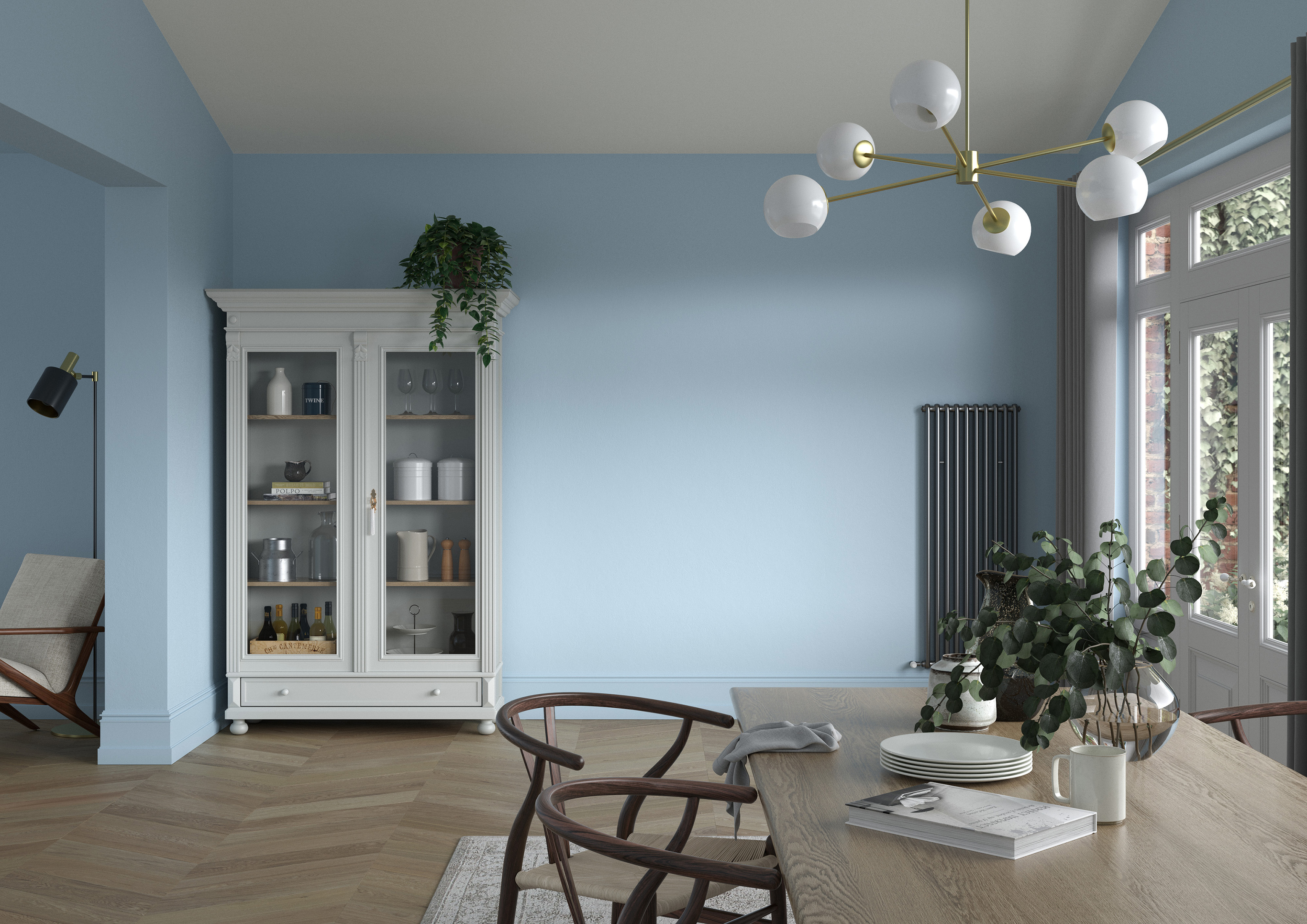 Set the scene
Unfussy and understated, Blue Ribbon sets the scene perfectly in a dining room, allowing friends, family (and food!) to be the star of the show. What's more, it's cool and casual by day, and subtle and sophisticated by night; plus, it works with all kinds of styling, whether your tastes lean towards classic or contemporary. Meanwhile, Edelweiss White up on the ceiling focuses the attention down at the walls, while a dresser in complementary Beachcomb Grey adds a classy touch.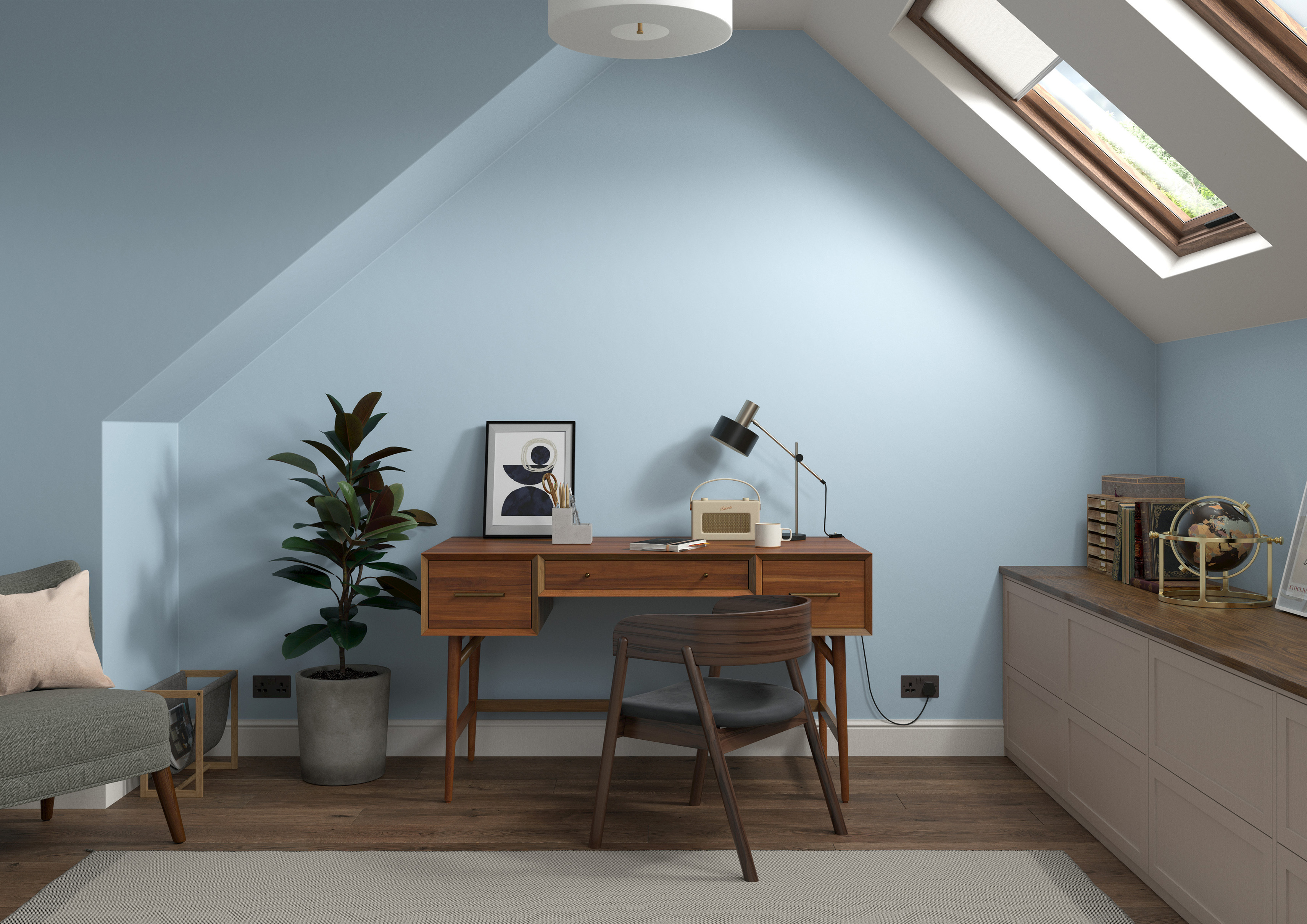 Working it
Make a small loft conversion feel bigger by keeping the walls light and airy in Blue Ribbon ­combined with darker accents in furniture and accessories. Cool and calming, the colour helps with focus and concentration in a home office, and is conducive to productivity. Peachy Roman White, with its signature pastel tint, adds warmth to the ceiling and woodwork, while a cabinet painted in Biscuit Beige cosies things up further.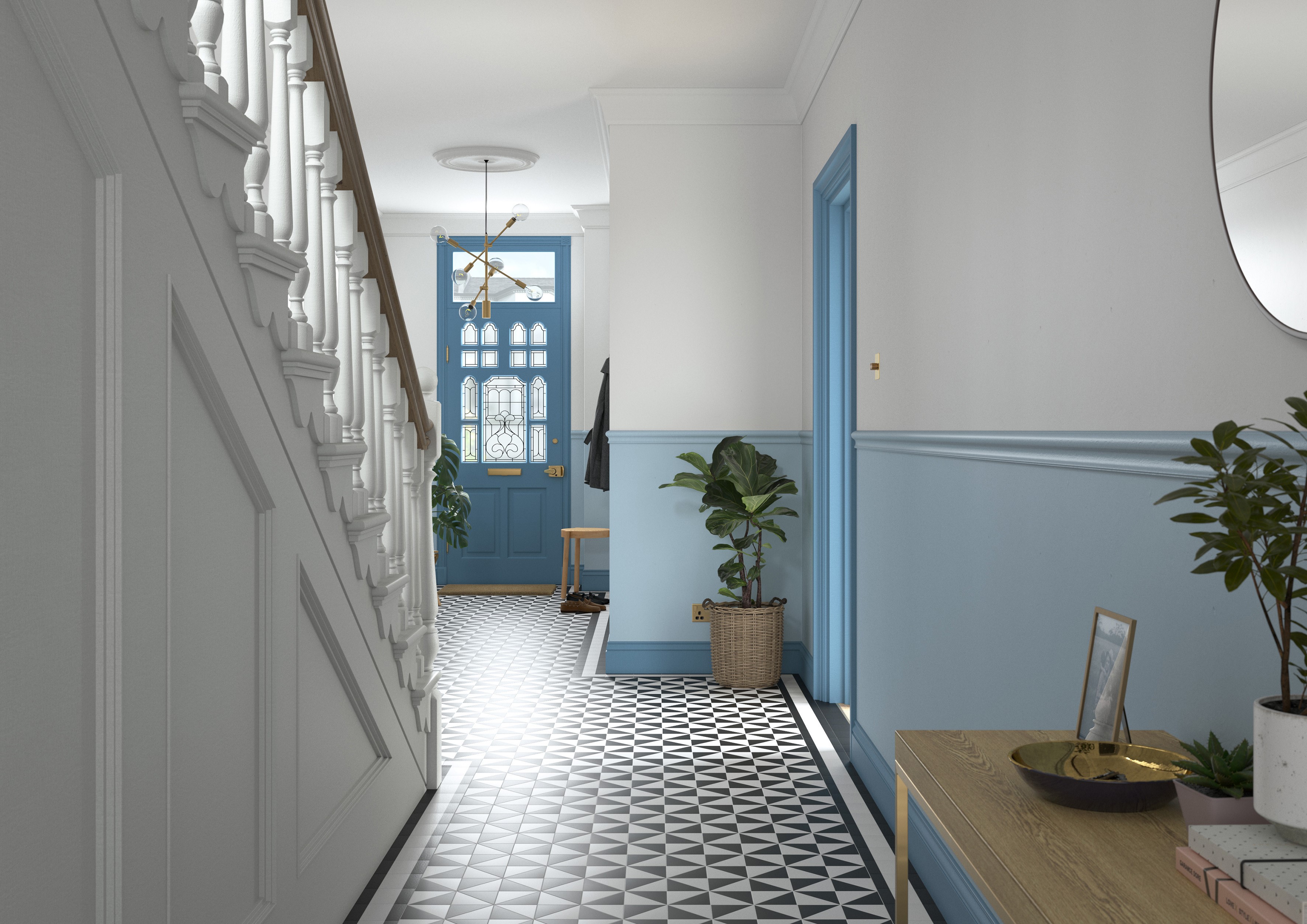 Into the blue…
Divide up the walls in a hallway by painting the lower-half in Blue Ribbon and the upper-half in crisp Wiltshire White. The skirting and door in darker Boathouse Blue together with modern accessories avoid the look becoming a seaside cliché, while Wiltshire White on the ceiling and Edelweiss White on the staircase ensures all eyes remain on the blue.
Commit to colour
Not only does Blue Ribbon look beautiful, but it feels gorgeous under your fingertips, with a velvety matt finish for walls and an eggshell with a soft sheen for woodwork. Co-ordinate with whites and browns; team with tonal matches such as walnuts and beiges; or add a luxe touch with jewel tones like teals and pinks. Try it today by ordering a tester or commit to colour by choosing a can.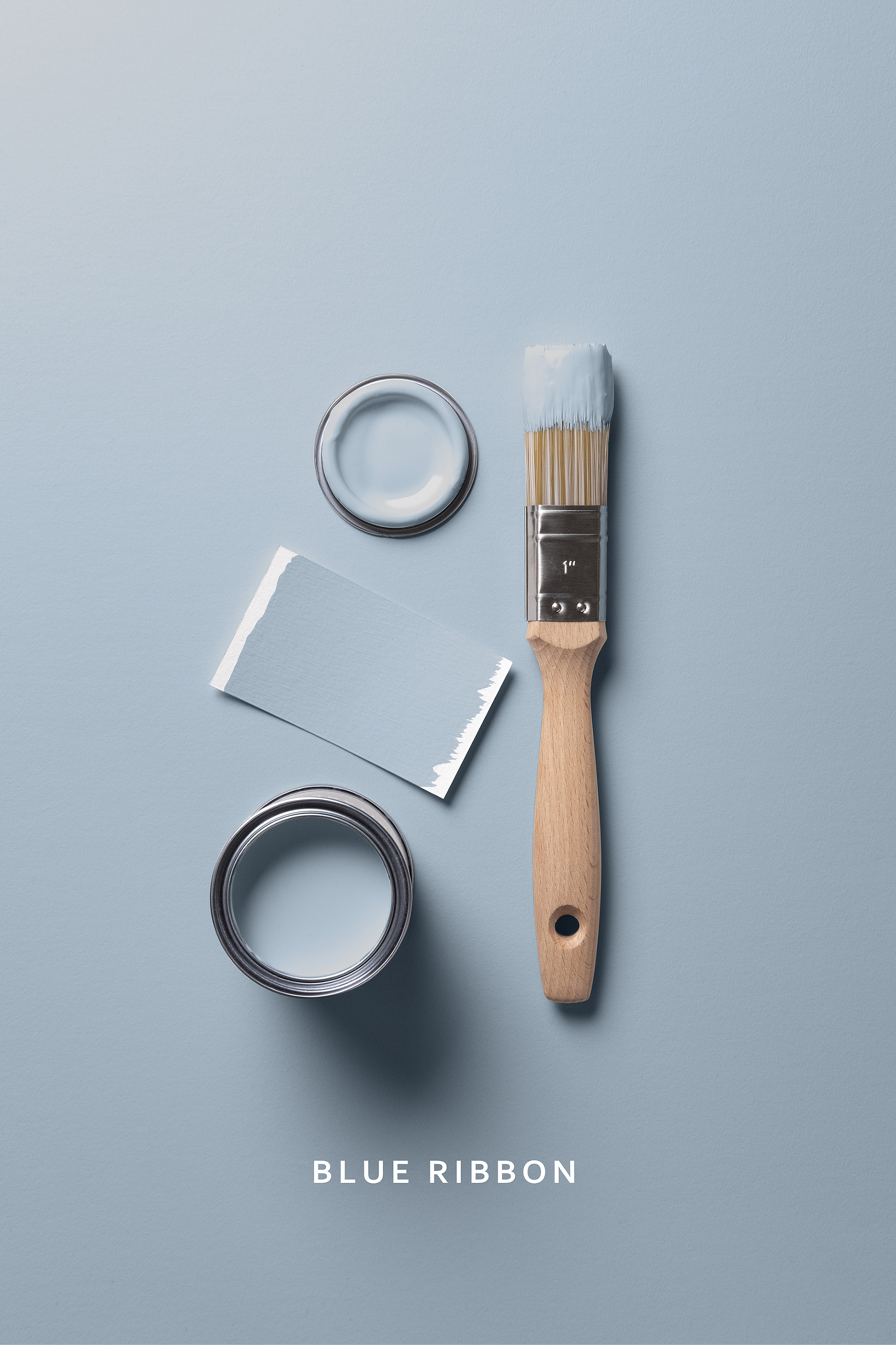 Share your Heritage colour story with us on social using #MyHeritageHome and tagging @DuluxHeritage – you could feature on our Instagram and Facebook pages.